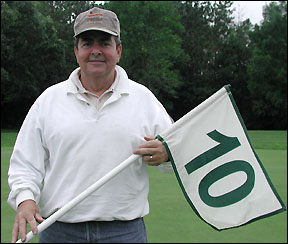 Summer resident Ron Regan aced the par-3, 167-yard #10 at Koronis Hills Golf Course on Wednesday morning, July 9.

Regan said he hit a high shot with his seven wood, right at the middle left pin on the elevated #10 green. "I heard a clang, and I hit it on the dead fly," he said.

The closest Regan had come to a hole in one before was hitting the pin, though high on the shaft, he said. This time, he knew his shot hit the pin low, but he did not know where it went after that. Regan searched the sand trap, around the green, and finally in the hole. "I was looking all over for it," Regan said.

"Why it didn't bounce out I don't know," wondered Regan.

"It was just a real fluke," he continued. For proof, he noted that he had three triple bogeys on the rest of his back nine round.

Regan lives in Minnetonka but has owned a cabin on Lake Koronis since 1981, when he first joined Koronis Hills. He was a part owner in a hearing aid company but is now retired.

At his peak, Regan played golf three times a week, he said, but Wednesday's round was only his seventh of the year.

His swing is so terrible, he said, that he has to be careful to not hit his own ankle on his backswing.

Regan actually played #10 by himself and had no direct witness for his shot. He played the front nine with Charlie Sparks and joined Glenn Bennett, Jim Ellis, and Dale Liestman on the #11 tee.

What amazed Regan is that the ball went directly in the cup, without leaving a mark on the green or on the cup. "The odds of this thing going in the way it did?" he wondered in amazement. "It would never happen again the way it did. It's unbelievable."
---
Contact the author at editor@paynesvillepress.com • Return to News Menu
Home | Marketplace | Community
---