Bob Peyton of Elkhorn, Neb., aced #17 at Koronis Hills on Sunday, June 12. A month later, his uncle-in-law Roy Lietzau of Bella Vista, Ark., aced the same hole.

Lietzau got his hole in one on #17 last week on Wednesday, July 6, when both men were in Paynesville for a family reunion.

Peyton aced the par-three #17, the signature hole at Koronis Hills with a steep drop from the tee and a view of Lake Koronis, with a seven iron from 165 yards. He was playing a charity event hosted by Lake Koronis summer resident Jim Weinzetl. (Peyton and Weinzetl are married to sisters; the event raises money for a scholarship fund in honor of Weinzetl's granddaughter called Sam's Fund.)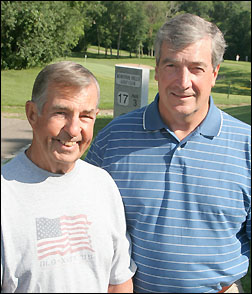 With the pin in the middle of the green, Peyton hit a shot at the flat that hit the green, took one hop, and went in. He knew it was a good shot right away, but the 18-handicap golfer called his hole in one a "one-time event."
Roy Lietzau of Bella Vista, Ark., and Bob Peyton of Elkhorn, Neb., both had holes-in-one on #17 at Koronis Hills. The relatives, by marriage, got their aces a month apart: Peyton on Sunday, June 12, and Lietzau on Wednesday, July 6.
"Isn't that something?" Peyton remembered thinking about his shot. "I wanted to say, 'Holy shit.' Unbelievable."
It was part of a round of 90 for Peyton. His witnesses were his son, Eric, and two college friends of Weinzetl's from Iowa.
"Bob drove all the way from Omaha and got a hole in one. The good Lord blesses charitable people," said Weinzetl.
Lietzau was in Paynesville last week for the Baldwin family reunion. His wife is the aunt of Peyton's and Weinzetl's wives.
He was playing Wolf with Weinzetl, his grandsons Cory and Tate Lietzau-Mourer, and Gene Baldwin of Trinity, Tex. Weinzetl, the wolf, had already hit his shot onto the green on #17, and he picked Lietzau as his partner when the ball was still in the air, headed toward the green and the pin. "In mid-air, I said, 'There's my partner,' and it goes in," said Weinzetl.
Lietzau - a 12-handicap golfer who has three previous holes in one dating back to the 1960s - was not impressed by Weinzetl picking him so soon. "He would take anybody who was on the green," he said.
Lietzau's shot - also with a seven iron but from 148 yards - hit about ten feet in front of the pin and rolled into the cup. Only Cory saw the shot go in, though. Lietzau did not believe that he hit a hole in one until he saw the ball in the hole. He went to the cup with his two grandsons - he taught all four of his grandsons to play golf - to retrieve his ball.
Unfortunately, his fourth ace did not salvage what Lietzau called a "bad round."
---
Contact the author at editor@paynesvillepress.com • Return to Sports
Home | Marketplace | Community
---