Senior John Hemingson became the seventh PAHS player to participate in the Minnesota Lions All Star Series this June.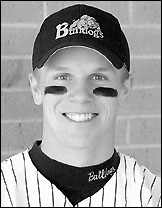 Hemingson, a four-year starter at catcher for the Bulldogs, was one of 80 seniors chosen for the game. Bulldogs head coach Brad Skoglund was also one of three coaches for the North team, which lost its two games to the metro teams and got rained out against the South.
Senior John Hemingson became the seventh PAHS baseball player to participate in the Lions All Star Series in June.
The Lions All Star Series was held in Chaska from Thursday, June 27, to Saturday, June 29.
Hemingson went 1-3 in the first game, catching five innings, and 0-1 in the second game, catching the last three innings. His hit was a bloop single and a courtesy runner for him came around to score. The North played only a half inning on Saturday before the game was rained out.
Hemingson said the weekend offered several highlights for him:
*At the Lions Eye Bank on Friday, during a tour at the University of Minnesota, he enjoyed hearing a 20-year-old woman, now blind, talk about her battle with glaucoma. It was an "eye-opener," he said, which is an appropriate term because her talk led him to count his blessings.
"God was telling me to go up there and talk to her," said Hemingson. "I said thanks for coming to talk to us."
The all stars came to play baseball, said Hemingson, but this visit showed them what the Lions do.
He was also proud that the North team were the best listeners during the tour. "I think our team was the most classy. Nice kids on our team."
*Off the field, Hemingson enjoyed hitting it off well with his roommate, Peter Goeman of Grand Rapids, including talks about their faith, and being part of the team.
"I really enjoyed the team camaraderie. I really got along with a lot of the guys," he said.
*On the field, his personal highlight was almost picking off a runner who had been selected in the recent Major League draft. His pickoff throw was in time to get the runner, but the first baseman was standing in front of the bag and did not get the tag in time.
Another highlight was catching the pitchers, who all threw in the high 80s or low 90s with good location. Many had explosive sliders, which Hemingson had not caught before.
At the start, he said he felt jealous that a catcher from Edina is going to the University of Minnesota to play baseball for the Gophers, but after playing he felt like he belonged on the field with the all stars. "I felt like I was one of the top two catchers," he said.
*Finally, combining his faith and his love of baseball, in one game a 50-foot fastball bounced and hit him in the throat, where it first hit his large cross necklace. There's no way to know if it saved his life, but Hemingson, who was momentarily shaken up but continued to play, is thankful for the extra barrier between the ball and his neck. "Skin on ball would have been worse," he said.
A teammate told him the necklace had saved his life, and he responded that the cross "saves all our lives."
Hemingson hit .458 for the Bulldogs this spring with five homeruns, 30 runs, and 25 RBIs. He went 9-1 on the mound this year with an ERA of 0.77 as the Dogs took second in state.
Other Bulldogs to play in the all-star series were: Adam Kampsen (2004); Josh Kampsen (2003); Doug Fuchs (2000); Ryan Wuertz (1996); Marc Schmitz (1983); and Lynn Hemmesch (1978). Major Leaguers who have played in the Lions series include: Kent Hrbek (1978) (who roomed with Hemmesch) and Joe Mauer (2001).
Hemingson - who will attend Augustana College in Sioux Falls, S.D., next year to play Division II baseball - hopes not to look back at this all-star roster and see what other guys made it.
"I want to be that guy," he said.
"I'm looking forward to becoming a better player and to concentrate more," he said of college baseball. "There's still a lot of work to do."
He is undecided about his major at Augustana, but he is thinking about the ministry.
---
Contact the author at editor@paynesvillepress.com • Return to Sports
Home | Marketplace | Community
---