Girls win two games at Star of the North
This article submitted by Cheryl Veldcamp on 7/12/00.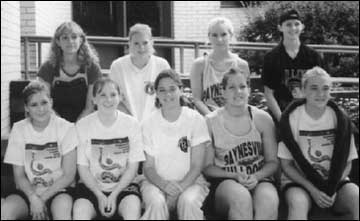 On June 23 and 24, two teams of Paynesville girls traveled to Roseville, Minn., for the basketball tournament at the Star of the North Games.

Dave Randgaard coached the junior varsity team, and Amber Michaelis, with assistance from Carrie Hemmesch, coached the varsity team.

Varsity members are pctured at right: Steph Krupke, Stacy Lieser, coach Amber Michaelis, Crystal Humbert, and Amanda Olmscheid; (back): coach Carrie Hemmesch, Lisa Hemingson, Katrina Orbeck, and Mellody Veldkamp.

With very little practice under their belts, the varsity team played their first game at 8 a.m. on Friday at the YWCA on Lake Street. Going up against McGregor, they played all out, getting a 14-6 lead by the end of the first quarter.

Coach Michaelis pushed the girls hard to rack up the win by a 36-28 final score.

After a nice break, they played Minnewaska at 1 p.m. The girls trailed 6-4 after one quarter, but battled back to lead 15-10 at halftime. They played smart to pull out this win, 24-16.

Tired but happy, they went into Saturday set to play.

They drew Staples as an opponent. The teams were tied at ten after the first quarter, and the Bulldogs led by one at halftime 19-18. Staples took the lead at 34-32 as the third-quarter buzzed and held on to win 47-44.

Determination and strong teamwork werenÕt quite enough against the Staples AAU team that had played together since fifth grade. The tournament ended for the Paynesville girls when they fell three points short.
---