Fuchs plays in all-star series
This article submitted by Michael Jacobson on 7/12/00.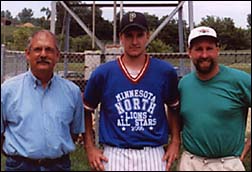 A pitch's location is more important than its velocity.

Doug Fuchs, a recent graduate of Paynesville Area High School, knew this before he participated in the 26th Annual Minnesota Lions High School All Star Game, but seeing all the flamethrowers at the game reinforced that lesson. "It's not all about speed," he said. "It's about location."

Fuchs' North squad featured hurlers like University of Minnesota signees Jeff Moen of Minnewaska, Josh Krogman of St. Cloud Apollo, and University of Iowa signee Cory Hollenhorst of St. Cloud Cathedral. "The pitching is a lot better down there," said Fuchs. "I used to think amateur pitching was fast, but it seems sort of slow (now)."

Doug Fuchs had his high school coaches, Dick Realdsen (left) and Brad Skoglund (right) in attendance for the Lions All Star Game.

Fuchs led the Bulldogs to a 19-3 record this spring. He was the fourth Paynesville player to participate in the all-star contest. He joins Lynn Hemmesch (1978), Marc Schmitz (1983), and Ryan Wuertz (1996).

The all-star weekend started on Thursday, June 22, with a practice and a banquet featuring the radio announcer for Gopher baseball.

The first game was held on Friday night at the Chaska Athletic Fields. Fuchs pitched three innings in the North's 15-6 victory over the Metro West. (Pitchers were limited to a maximum of four innings.) Fuchs thought he could have pitched better as he struggled with his control. He walked two batters and hit another with a pitch, but contributed to a win. He fared better on the mound than some of his harder-throwing teammates.

One challenge to Fuchs' pitching were all the mosquitoes. Fuchs said he could have been called for a balk on several occasions as he fidgeted in a haze of bugs.

On Saturday, the teams played doubleheaders. The North split its two games, losing to the Metro East 7-2 and rallying from a 10-run deficit to beat the South 13-12.

Fuchs played second base and shortstop on Saturday. "Hitting I could have done better," he said. "They were pretty good pitchers. I'm not used to seeing 90 mph pitches."

The pitching was so fast at the all-star game that Fuchs found himself choking up on his bat for the first time this season.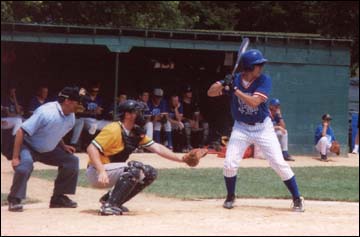 "Overall, I thought he played well," said Paynesville baseball coach Brad Skoglund, who attended the Saturday games with assistant coach Dick Realdsen and their wives. "(Doug) looked comfortable out there. He wasn't in over his head. He definitely has the ability to play at that level."
Fuchs' parents, John and Darlene Fuchs, attended the entire tournament.
The North squad finished tied with the two metro teams with the best record at 2-1. The South team went winless.
Fuchs and Skoglund said that Bulldog outfielder Ben Bork could easily have played in the all-star series as well. Fuchs wished that he could have brought a catcher with him, too. Both Jon Lieser and Scott Braun understand how he wants to pitch, Fuchs said, and would have made him more effective.
Skoglund said the Bulldog's record this spring aided Fuchs' selection to the all-star series. The Bulldogs won the West Central Conference North and were rated as high as third in the state in Class AA. They lost in the sub-section to St. Michael-Albertville, who went on to win the Class AA championship.
All in all, Fuchs had more fun than he expected at the tournament. He saw teammates blast 440-foot home runs, met lots of area baseball stars, enjoyed the accommodations, and played against some of the top talent in the state.
Seventeen Lions All Stars have gone on to play in the Major Leagues, including former Twins Tim Laudner, Jim Eisenreich, Kent Hrbek, and Terry Steinbach. Another former participant and Major Leaguer is Atwater native Mike Kingery.
Maybe a future Major Leaguer was on the field with Fuchs. "It'll be cool to know you played with and against some of them," Fuchs said of the elite competition.
Fuchs said he wants to play college baseball someday, but plans to work for a year before going to school. The all-star series was watched by professional and collegiate scouts. Fuchs has been getting calls from schools since the game.
This summer, Fuchs is busy playing baseball for the Lake Henry Lakers and the Lake Henry American Legion baseball teams. Between games and practices, he is on the baseball field at least four nights a week.
All-area honors
Fuchs and Bork received post-season honors by the daily newspapers that cover our area.
Both Fuchs and Bork were named All Area in baseball by the West Central Tribune. Fuchs, who was also named the Most Valuable Player in the West Central Conference North, hit .447 with ten doubles, a triple, six homers, and 40 RBIs. He also was 8-2 pitching with an ERA of 1.36.
Bork, the son of Bruce and Elaine Bork, hit .492 as the leadoff batter for the Bulldogs. He had four doubles, a triple, three homers, and 15 stolen bases. He set a school record by scoring 34 runs this season. He also played excellent defense in centerfield.
Fuchs was also named to the St. Cloud Times all-area team. Bork was named honorable mention by that newspaper.
---