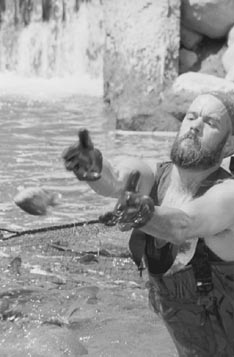 In a semi-annual ritual, members of the Paynesville Sportsmen's Club netted the fish at the carp trap by the outlet bridge on Lake Koronis on Saturday afternoon. Three tons of carp were removed and sold to an operation that exports the fish to Romania.

Ken Olson separates a rock bass from a net full of carp.They returned all the game fish to Lake Koronis and sold the carp.

Club members separate the game fish and return them to Lake Koronis. On Saturday, 59 bass, 65 crappies and sunnies, 24 walleyes, and one catfish were returned to Koronis. Club members didn't find a single northern pike in the net.

The carp, classified as a rough fish, dig up the bottom of the lake. "It just gives the game fish more room," said club member Jim Stanger of the removal of the carp. "The game fish need the weeds. The carp wreck their habitat."

"We've got too many (carp) in the lake already," added Stanger.

On Saturday, the club members only netted the carp trap once, instead of twice or three times as usual. Club members will be netting again this Saturday afternoon. Work should start at the trap around 1 p.m.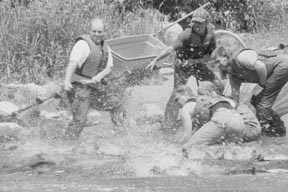 Koronis was once fished commercially, read the story in this week's View from the Lake.
---
Contact the author at paypress@lkdllink.net • Return to News Menu
Home | Marketplace | Community
---