Area youth learn baseball in new little league
This article submitted by Aaron Ziemer on 7/7/99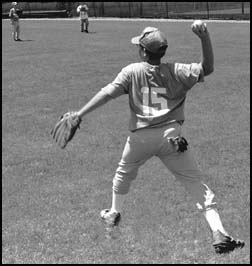 There has been a new little league formed in Paynesville this year. The little league is made up of four local teams.

The teams are each sponsored by an area business. The businesses that have sponsored teams are Melrose Credit Union, Corner Drug, Farmers and Merchants State Bank, and Community First National Bank.

"With the businesses sponsoring the teams we were able to get new uniforms and new equipment for the kids, to make the league look like a first class program," said Matt Dickhausen, a community education employee.

The league offers the chance for area youth to compete in baseball while learning some valuable skills to the game.

The coaches in the new little league are: Tim Beier, Dan Stanger, Steve Fuchs, Rick Paul, Randy Jacklitch, Otto Naujokas, Dale Hess, and Ron Mergen. All of the coaches have kids involved in the program.

"One of our main goals was to have parent involvement," said Dickhausen. "Without the parent involvement only so much can be done."

The league plays games on Tuesday and Friday nights at the high school baseball field.

The kids also have occasional games against other communities. They have been going to some tournaments around the area as well as playing some area towns.

"We have about 17 games scheduled this year during our in-house league," said Brad Skoglund, varsity baseball coach for Paynesville Area High School. "Then we have a couple of games with other towns as well."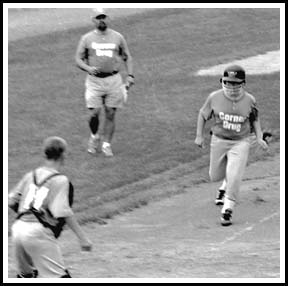 "The kids are playing a lot more baseball and they are getting more real game situations," said Fuchs, coach of the Community First team.
The kids also have two one-hour practice sessions a week. Skoglund works with them at this time. The kids will either come on Mondays and Wednesdays or Tuesdays and Thursdays from 12:30-1:30 p.m.
"I have seen definite improvement throughout the summer," added Fuchs.
There are 54 kids enrolled in the program. There are about 13 on each team, with one team having 14.
"I think the league has gone better than planned," said Skoglund. "We have had great turnouts for practice."
There are many reasons that changes were made to last year's format for little league.
One of the reasons was that the kids were not getting enough game experi-ence and they needed to have more. With more game experience the kids will have a greater opportuinty to improve their skills.
"I have seen definite improvement," said Naujokas. "Every player on all of the teams has shown improvement since we started in May."
Skoglund has a little different reason of why some things needed to be changed.
"I think baseball for youth has been a dying sport," said Skoglund. "The Major League Baseball strike has really hurt baseball."
Skoglund went on to say that he needed to think of a way to keep kids interested in the game and, hopefully, this is one way.
Another major reason that things were changed is because it wasn't easy for parents to see their kids play during afternoon games. With evening games the parents can see their kids play more and it encourages their involvement.
"This little league will set a good basis for the baseball program if the kids continue to improve," said Naujokas.
One of the reasons Skoglund wanted to make this an in-town baseball league was to not to discourage kids from playing baseball.
"I know a community that is cutting kids for a traveling team at 10 years old," said Skoglund. "I did not want that to start happening here."
Skoglund added that this way all of the kids can compete and learn how to play baseball.
"With this league we are able to give the kids more one-on-one attention," said Fuchs. "Years ago when I coached it was two adults to 60 kids. Now it is eight adults to 60 kids and it makes a big difference."
When thinking of how to form a new league, Skoglund looked at many other programs to try and find out what some towns are doing and how it is working.
"Brad and Matt are owed a big thanks for all the work they have done for the league," said Fuchs. "We should also thank the parents and businesses for making this possible."
---