Amateur state qualifier held at Koronis Hills
This article submitted by Michael Jacobson on 7/7/99.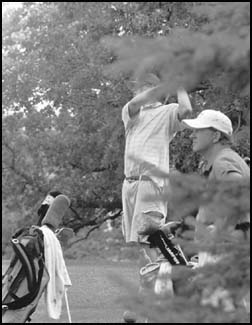 Koronis Hills Golf Club hosted 62 top amateur golfers from around the state for a Minnesota State Amateur Qualifier on Wednesday, June 30.

The top 11 scorers over 18 holes qualified for the Minnesota State Amateur Tournament later this summer.

Sauk Centre's Pat Beste shot the lowest round Wednesday morning, an even-par round of 71. He was exempt, however, having qualified already at another qualifying tournament.

Nick Malmberg led the qualifiers at Koronis Hills with a round of 36-37=73, two over par. Mark Kurtz (36-38) and Dave Carothers (39-35) tied with rounds of 74. James Dolan (38-37) and Paynesville native Dave Cameron (38-37) both shot 75.

A three-way tie at 76 included Marcus Holm (38-38), Mike Simonich (38-38), and James McElhaney (44-32), who was eight over on the front nine but three-under on the back.

Six golfers tied at 77, with only three spots available. In a playoff, Paynesville native Tom Notch (39-38), Kevin Horvath (39-38), and Chuck Lundeen (39-38) earned spots. The first of four alternates is Paynesville resident Bob Pederson (38-39).

Koronis Hills golf professional Ron Rebrovich said he heard "oustanding comments" about the course. "A hidden gem, you could say," he added.

Other golfers with local connections competiting in the qualifying tournament were Bart Brodt, David Johnson, John Lieser, Jeff McCarron, Steve Herzog, and Tom Welle.

Senior men's tourney
A Senior Men's Tournament was held at Koronis Hills on Tuesday, June 29.

Golfers were grouped according to age in three groups. Prizes were awarded for low net and low gross scores. Each golfer was limited to one prize, though.

For ages 50-59, John Lieser won low net with a score of 37-36=73. Ben Sieck shot 38-42=80 for second. For low net score, Dick Bjur shot 37-44=81-16 (handicap)=65 as did Mike Atkinson 39-37=76-11=65. Berlyn Birkholz was third with 43-46=89-21=68.

For ages 60-69, Terry Moorehead (37-39=76) and Doc Hanson (38-38=76) tied for low score. Bill Zapf (38-40=78) was third, and Bill Magenson (41-39=80) was fourth.

For low net, Chuck Chesness shot 40-39=79-17 (handicap)=62. Harris Anderson (41-44=85-22=63) was second, and Conrad Patch (47-55=102-38=64) was third. Jim Drimel (42-43=85-20=65) and Jack Binsfeld (38-41=79-14=65) tied with 65s, and Joe Voss (40-41=81-15=66) and Bim Weidner (40-39=79-13=66) tied with 66s. Jim Weber (45-44=89-22=67) had a net score of 67.

For golfers 70-years-old and older, the gross winner was Roger Kuhlmann (38-38=76). Dan Ridler (40-37=77) was second, Walter Bauer (38-44=82) third, and Linus Guggenberger (43-40=83) was fourth.

For net scores, Glenn Bennett (47-45=92-37 (handicap)=55) shot 16 strokes below his handicap for a net total of 55. Gerald Thune (50-50=100-38=62) was second with 62, and Harold Tisdell (52-45=97-33=64) was third with 64.

Fourth was Bill Schultz (50-49=99-32=67) with 67, and Florian Noll (43-52=95-27=68) and Dick Ferree (43-41=84-16=68) tied for fifth with 68.
---