For the third straight year, the Bulldogs tied for the baseball title in the West Central Conference North this spring. And for the third straight year, a PAHS player has been named the Most Valuable Player of the conference.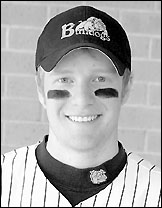 Senior pitcher/catcher John Hemingson was named the MVP of the WCC North this year, and six of his teammates also garnered conference honors. Seniors Mark Andrie, Trent Hansen, and James Paul and juniors Alex Naujokas and Cory Nietfeld were named All Conference, while senior Derek Stanger was named honorable mention.
Mark Andrie, All Conference
The Dogs went 21-5 this spring, including a ten-game winning streak to reach the Class AA finals, placing second at state. They tied the school record for wins, set last year when the Dogs went 21-6.
They won their fifth straight subsection title and advanced to state for the third time in the last five years: placing fifth in 2002, first in 2005, and second in 2006.
"First in the conference, first in the subsection, first in the section, and second in the stateŠnot a bad season," said coach Brad Skoglund after the Dogs' state tourney run.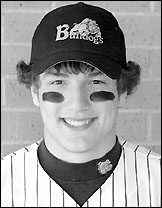 The players, Skoglund added, were "a great bunch of kids" and "fun to be around."
Trent Hansen, All Conference
According to school records, six Bulldogs have been named conference MVPs in baseball: Tim Haines (1981), Ryan Wuertz (1996), Doug Fuchs (2000), Adam Kampsen (2004), Justin Butkofski (2005), and Hemingson (2006).
Hemingson also joined Kampsen as three-time All Conference players for the Dogs. (Hemingson was honorable mention as a ninth grader for his defense at catcher.)
Hemingson, a four-year starter at catcher, led the Dogs by hitting .458 (33 for 72) this spring, with four doubles, two triples, and five homeruns. He also walked 18 times.
This spring, he and Paul formed a 1-2 pitching duo for the Bulldogs. Hemingson went 9-1 with an ERA of 0.77 this spring. Both Paul and Hemingson tied Tim Haines (1981) for the second most pitching wins in a season with nine. Chris Beier set the school record with ten pitching wins last year.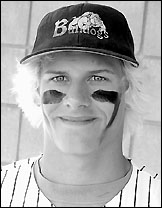 Hemingson's ERA tied for the second best in school history with Jim Schmitz (1982). Jason Schlecht holds the school record with an ERA of 0.55 in 1997. Hemingson, after pitching eight scoreless innings in the first two games at state, lowered his ERA to 0.29 before he allowed five runs in a relief appearance against St. Anthony Village in the Class AA final.
Alex Naujokas, All Conference
With 85 strikeouts this year, Hemingson ranks third on the all-time single-season strikeout list. Haines holds the school record with 117 in 1981 and Pat Thompson is second with 87 in 1975.
Hemingson's .458 average this year ranks eighth for the best batting average in school history in baseball; his 30 runs scored tied for second behind Ben Bork's 34 in 2000; his 25 RBIs tied for seventh all-time; his five homeruns (including a walk-off homer in the subsection final against Litchfield) is sixth on the school record list; and his 33 hits tied for sixth.
Hemingson finished his four-year career with the Dogs with a .427 average (100 hits in 234 at bats) with 68 runs scored, 65 RBIs, 15 doubles, eight triples, and five homeruns.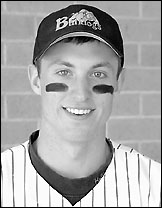 Hemingson was named the Player of the Year by the St. Cloud Times and to the all-area team by the West Central Tribune.
Cory Nietfeld, All Conference
Paul was named to the all-area teams by both the St. Cloud Times and the West Central Tribune, and Nietfeld was named to the all-area team by the West Central Tribune. Hansen, Naujokas, and Nietfeld were all honorable mention to the Times' all-area team.
Paul was 9-2 this year on the mound this year with an ERA of 2.92. (His ERA was 2.11 going into the state tourney.) He matched Hemingson in having the second most wins in a single season in school history. In his three-year varsity career, he finished with a pitching record of 15-4 and an ERA of 2.69.
This year, Paul hit .373 for the Dogs (25 for 67) with six doubles and a triple, 25 runs scored, and 20 RBIs. A starter at shortstop the last two years, Paul played catcher as well this year. He finished his three-year career with an average of .387 (91 for 235) with 74 runs, 13 doubles, one triple, 45 RBIs, and 35 stolen bases.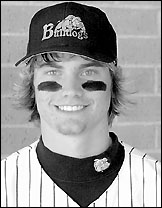 Paul stole 20 bases this year, second on the team to Naujokas, who stole 21. Naujokas ranks third in the school records behind Ron Fuchs, who stole 29 bases in 1987, and Mike Tangen, who stole 22 in 1993. Paul ranks fourth on the stolen base list. He set a school record with 39 hits last year.
James Paul, All Conference
Nietfeld, a junior rightfielder, hit .367 for the Dogs this spring (22 for 60) with four doubles, a triple, and two homeruns. He was second on the team with 24 RBIs and scored 17 runs. He also stole six bases.
Hansen, Naujokas, and Nietfeld formed a fleet defensive outfield for the Dogs this spring.
Naujokas, as the Dogs' leadoff hitter and leftfielder, hit .303 this spring (23 for 76), stole 21 bases, and scored 23 runs. He was second to Hemingson with 14 walks.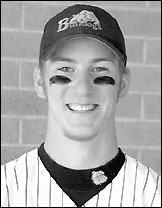 Hansen played stellar defense in centerfield, including many highlight catches, and was second on the team with 26 runs scored and third with 12 walks. He hit only .224 (17 for 76) but had a .330 on-base percentage due to his discerning eye at the plate. He stole nine bases.
Derek Stanger, Honorable Mention
Andrie played first base, including several nice scoops, and was fourth on the team with 16 RBIs this spring. He raised his batting average at state with three hits, leading the team, and hit .239 this spring (16 for 67).
Stanger made a number of nice defensive plays at third at state and scored two runs, including the game-winner, in the Dogs' dramatic 4-3 victory over Maple River in the state semifinal. He hit just .194 (12 for 62 this spring), but was third on the team with 12 walks (giving him an on-base percentage of .324) and scored 15 runs.
The Dogs graduated nine seniors from this year's team: Andrie, Sean Glenz, Hansen, Hemingson, Ryan Hess, Derek Looman, Mitchell Mueller, James Paul, and Stanger. But they will return seven juniors as seniors next spring: Sam Bayer, Steve Gerding, Chuck Mackedanz, Ben Moser, Naujokas, Nietfeld, and Tyler Zimmerman.
---
Contact the author at editor@paynesvillepress.com • Return to Sports
Home | Marketplace | Community
---