Little League holds championship games
This article submitted by Michael Jacobson on 7/6/00.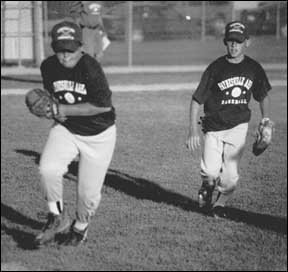 Championship night for the Paynesville Little League was held Friday on the varsity baseball field at the high school. Ross Barten (left) runs to first base with the baseball as Alex Naujokas watches.Their team, Corner Drug, defeated Community First National Bank 15-8 for third place.

In the championship game, the team sponsored by the Paynesville Office of the Melrose Credit Union defeated Farmers and Merchants State Bank 6-5.

Kids in grades four through six can play in Little League, which is coached by volunteers.

A Paynesville team won the consolation trophy in the 11-year-old division at the Big Lake tournament on June 3 and 11. The team won three of four games.
---