Dave Randgaard, in his 19th year as the varsity girls' track coach at PAHS, was named the Section 5A Girls' Track Coach of the Year this spring. He led the Dogs to seventh place in the Class A true-team state meet in May.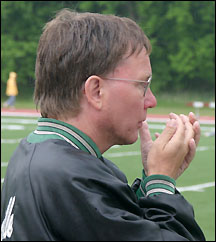 The award - voted by the section coaches - was announced at the Section 5A meet on Wednesday, June 1. "I was surprised to be honest," said Randgaard. "There are just so many good schools and coaches in that section."
Dave Randgaard was named the section Coach of the Year in girls' track.
Randgaard has taught at PAES and coached track for 26 years. He coached junior high track for five years, was the assistant varsity coach for two years, and now has been the varsity girls' coach for 19 years. He has led the Bulldogs to five conference titles and to state in true team three times (taking sixth in 1996, ninth in 2004, and seventh in 2005). They won seven meets this spring and have finished either first or second in the conference for 14 straight years.
Under Randgaard, the girls' track team has sent 30 individual entrants to state, with 20 earning All State honors by placing at state. The Dogs sent senior Kendra Johnson to state this year in the 300-meter hurdles and their 1,600-meter relay team (eighth grader Bri Jaeger, eighth grader Kally Felling, ninth grader Kaitlyn Frenchick, and Johnson), with the relay team finishing seventh and earning All State honors.
That relay team might not have run together at subsections this year had assistant coach Kyle Nehowig not convinced Randgaard that they had a chance to go to state. Randgaard, who describes himself as a track lover and still highly competitive, had to agree to sacrifice a number of team points (by pulling each of the four girls out of an individual event) to make that relay.
A sprinter in high school in Staples, Randgaard said the key to having a good track team is lots of good athletes to cover all 18 events. Paynesville, he added, has not only had good athletes, but competitive girls with strong work ethics.
Many schools view track as just an individual sport, but the Dogs under Randgaard have always prided themselves on their team success. Randgaard credits his athletes for cheering for their teammates, for wanting to win, and for doing whatever was best for the team. "It's a good sport for having success as an individual and as a team," he said.
"It's like any sport - baseball, wrestling - once you start winning it keeps building. They come out expecting to win," said Randgaard.
---
Contact the author at editor@paynesvillepress.com • Return to Sports
Home | Marketplace | Community
---