Mike Spanier accepted by the NFL as a referee
This article submitted by Aaron Ziemer on 6/23/99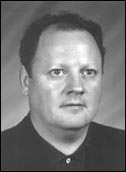 Former Paynesville Area High School graduate, Mike Spanier will be officiating in the National Football League this fall.

Spanier who used to officiate in the Big Ten conference in the NCAA was accepted to be an NFL referee. He also used to officiate in many of the NCAA Division II conferences in the area.

It was a fairly long road to get to the NFL for Spanier. He has been officiating football for almost 20 years starting with officiating high school games.

After all of the years of officiating, Spanier finally received a call in March from Jerry Sieman, the NFL's head of officials, who told him he was hired.

"It is a dream," said Spanier. "It is something most every official would strive for."

Spanier first applied to become an NFL official in 1995. It has taken four years to get approved.

According to Spanier the NFLwatched him for at least three years. He then had an interview with the NFL. After the interview they sent him over to NFL Europe.

NFL Europe was made up of either new officials trying to get into the NFL, or officials who are trying to become a referee.

Spanier will start as a line judge. He will be wearing number 90 and working on Ed Hockuley's crew.

On July 10-12 he will be headed to Dallas for an official's clinic. At the clinic he will need to do some physical condition tests. That will include a flexibility test, a mile run, a shuttle run, a back pedal run, and a body composition test.

After the clinic he will be headed to the Detroit Lions training camp facility the first week in August. He will go over new rules with the coaches and players, he will also officiate some of their scrimmage games.

He already knows his preseason schedule. On August 14, he will officiate a game at historic Lambeau Field in Green Bay, Wis. He will officiate the game between the Packers and the New York Jets.

Other places he will be is in Detroit, Seattle, and Denver, where he will officiate the game between the defending Super Bowl Champion Denver Broncos, and the San Francisco 49ers.

He will officiate 15 regular season games this season. He does not know his schedule as of yet, but will find out in August.

Since he is a first-year official he is not eligible to do playoff games yet. The NFL has their best officials during the regular season work the playoff games.

Last year the NFL took a lot of heat from the media for missed calls. According to Spanier there were actually only about 15 calls made all year that instant replay would have overturned.

"I enjoy the pressure and enjoy the game," said Spanier.

He has worked high pressure games before. He officiated games at the University of Michigan in front of 112,000 people, he also officiated games at Ohio State in front of 95,000. Although there are no stadiums in the NFL that hold that many people, all of the games are nationally televised.

There is a lot of preparation involved with becoming an official. Spanier had to study a lot. He had to take a 200-point test not too long ago to get into the NFL. The NFL will also provide him with a satellite dish so he can tape his games. He will need the dish to record his games that will not be on in his area.

That way when the NFL rates his performance, he will be able to review it with his tape.

"It has taken a lot of hard work to get here," said Spanier. "But, it has take a lot of support from people, especially my family."
---