Clayton Lang repeated as the men's 10K champion at the annual road race around Lake Koronis on Saturday morning.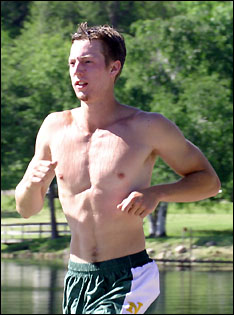 Lang, a 2001 PAHS graduate who now runs cross country and track at South Dakota State University, covvered the 10-kilometer course two and a half minutes faster than last year, in winning the race by almost two minutes.
Freddy Stock of Paynesville funs past the Lake Koronis Assembly Grounds during the 10k road race on Saturday morning. In all, 56 runners competed on Saturday. Stock finished sixth in the 10k.
Riley Flanders, a 2003 PAHS grad, was second in the 10K.
Lisa Hines of Waite Park won the women's 10K run in 45:35.
Jason Atkinson from New Mexico won the men's 5K run in 16:27, a new course record. He is the son of Bruce Atkinson, a 1979 PHS grad.
DelRae Messer of Bloomington won the women's 5K run in 19:54.
In all, 56 runners competed in the 5K and 10K runs on Saturday.
Local Results
(Name, Hometown, Overall Place, Time)
Men's 10K
Clayton Lang, Paynesville, 1st, 34:38
Riley Flanders, Paynesville, 2nd, 36:25
Travis Flanders, Paynesville, 4th, 40:06
Bruce Atkinson, Alangordo, N.M., 5th, 45:08
Freddy Stock, Paynesville, 6th, 45:31
Dugan Flanders, Paynesville, 10th, 45:35
Gerry Stock, Paynesville, 11th, 49:57
Keith Maile, Paynesville, 16th, 52:38
Davis Hoekstra, Hawick, 18th, 56:19

Women's 10K
Dee Johnson, Paynesville, 12th, 51:34
Denise Landsteiner, Paynesville, 13th, 51:35
Teri Johnson, Paynesville, 17th, 55:25
Leah Neu, Paynesville, 21st, 1:08.15
Men's 5K
Nathan Friederichs, Paynesville, 8th, 21:50
Aaron Flint, Richmond, 10th, 22:19
Travis Atkinson, Paynesville, 11th, 23:00
Josh Kerzman, Paynesville, 12th, 23:34
Zach Friederichs, Paynesville, 18th, 25:54
Mark Braun, Paynesville, 14th, 28:28
Scott Gibson, Paynesville, 21st, 26:48
Women's 5K
Tanis Beireis, Paynesville, 9th, 21:52
Tricia Buggs, Paynesville, 16th, 25:24
Mandy Mayer, Paynesville, 19th, 26:15
Linda Mayer, Paynesville, 20th, 26:15
Amy Mueller, Belgrade, 22nd, 27:22
Mindy Meagher, Paynesville, 25th, 28:45
Krista Gunderson, Paynesville, 28th, 31:33
Angela Meagher, Paynesville, 31st, 39:19
Tonya Meagher, Paynesville, 32nd, 39:19

---
Contact the author at editor@paynesvillepress.com • Return to Sports
Home | Marketplace | Community
---