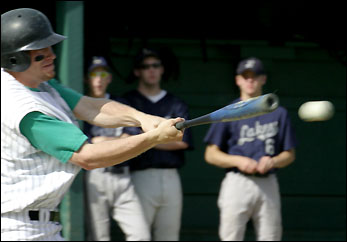 Senior Adam Kampsen was named the Most Valuable Player in the West Central Conference North this spring, and four of his teammates earned conference honors for the Bulldogs.

Adam Kampsen The Bulldogs baseball team finished its 2004 season with a record of 19-6, including 6-4 in the West Central Conference North, tying for the conference title. In addition to Kampsen, junior Chris Beier, junior Justin Butkofski, and sophomore John Hemingson earned All Conference honors, and sophomore Jamie Paul earned honorable mention honors.

Kampsen earned All Conference honors for the third straight year, and he was the unanimous choice of the conference coaches as MVP, according to Bulldogs head coach Brad Skoglund.

This spring, he hit .398 with 12 homeruns, 32 runs batted in, and 30 runs scored, leading the team in all these categories. He broke the school record for homeruns in a season (previously 10, held by Dustin Looman (1999) and Josh Kampsen (2003)). Projected over a Major League season, 162 games, Kampsen would have hit 77 homers and had 204 RBIs.

Besides playing shortstop, Kampsen went 6-2 on the pitching mound this spring with an ERA of 2.63, leading the team with 64 innings pitched.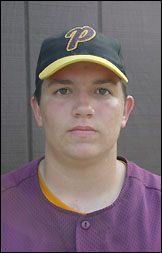 Justin Butkofski
Kampsen, who will play in the Lions All Star Series this weekend in Chaska (see shaded box at right), is the first conference MVP for the Bulldogs in baseball since Doug Fuchs earned the award in 2000, when the Dogs went 11-1 in conference and 19-3 overall.
Beier, who pitched and played second base in his first full varsity season, went 7-1 on the mound for the Dogs this spring and hit .310 with 13 RBIs. He was second on the team with 51 innings pitched and had an ERA of 2.71.
Butkofski, a first baseman and pitcher, hit .349 this spring. As cleanup hitter, he was second on the team with 25 RBIs. On the mound, he was 4-2 in 39 innings with an ERA of 2.49. He pitched a seven-inning no-hitter against Kimball in the subsection playoffs. It was his second year playing with the varsity but his first year pitching. Hemingson earned honorable mention honors from the WCC North as catcher last year, primarily for his defensive skills. This year, he not only caught, but he batted full-time. He hit .351 for the Dogs this spring with 12 RBIs.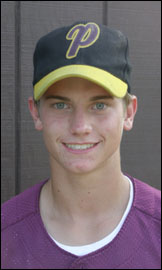 Jamie Paul
Paul, who played shortstop and second base and pitched, earned honorable mention honors. He hit .342 this spring and was third on the team with 21 runs scored. On the mound, Paul pitched 10 innings with an ERA of 1.36.
Several other players could have earned conference honors, said Skoglund. Senior Jordan Haag hit .267, led the team with 15 walks, and was second with 26 runs scored. Senior Adam Hemmesch hit .279 and was third on the team with 20 RBIs and fourth on the team with 19 runs scored. Junior Mike Mueller hit .333 and was second on the team with three homeruns.
As a team, the Bulldogs hit .310 and averaged seven runs per game. Meanwhile, they yielded just over three runs per game and had a team ERA of 2.55.
The Dogs had a 14-game winning streak this spring, which Skoglund called one of the best stretches of baseball he's ever coached. On the heels of that streak, they reached the top ranking in Class AA. With 19 wins this year, they matched the victory total of the 2000 team.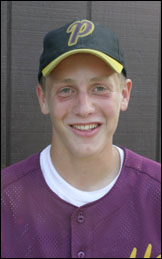 Chris Beier
The team, said Skoglund, was a "great group of guys to work with. We practiced hard. We had fun. We had a lot of laughs. I couldn't ask for a better group of guys." While everyone - players, coaches, and fans - was disappointed in not reaching the state tournament this year, the team did have a successful season, said Skoglund. It's good to have high expectations, he added, but the team's successes - 14-game winning streak, tying for the conference title, and a third subsection champion-ship - should be remembered.
The Bulldogs graduated six players - Haag, Hemmesch, Ross Jaeger, Kampsen, Bob O'Fallon, and Chad Stang - and their manager - Matt Bayer - this spring. Aside from their playing skills, the Dogs will miss the leadership of these seniors next year, said Skoglund.
"We had great senior leadership," he explained. "All the seniors worked hard. They were a great bunch of guys."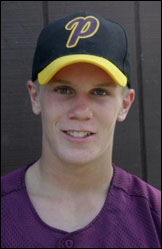 John Hemingson
Kampsen, for instance, not only had an outstanding year on the field, said Skoglund, but he was the emotional leader of the team. The seniors showed commitment not only during the season but during the offseason, lifting weights and attending hitting camps and clinics, Skoglund added.
The Dogs, with talent throughout the program, have a tough lineup to crack. Jaeger, O'Fallon, and Stang (who was injured) were great teammates in the dugout, Skoglund said. And Paynesville had great fan support, he added, with parents and fans making road venues feel like home games.
---
Contact the author at editor@paynesvillepress.com • Return to Sports
Home | Marketplace | Community
---