On Saturday, the second annual triathlon was held on and around Lake Koronis. The race this year featured a slightly different course than last year, when the canoe/kayak started on Rice Lake.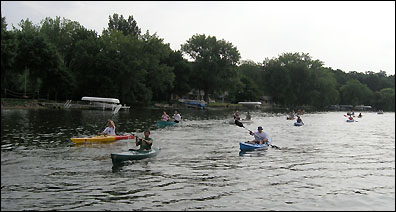 This year, the three-mile kayak/canoe race started from Veteran's Memorial Park on Lake Koronis, followed the north shore of the lake to the Lake Koronis Assembly Grounds, and then returned across the bay to the city park (also known as Van's Beach).
Kayakers and canoers paddled their way along the north shore of Lake Koronis as part of the Paynesville Area Triathlon on Saturday morning. The race include a three-mile paddle in the north bay of Koronis, a 14-mile bike around the lake, and a four-mile run.
Then competitors started a 14-mile bike race around Lake Koronis, circling the lake in a clockwise direction. Finally, a four-mile run - along Old Lake Road - started and ended at Veterans' Memorial Park.
The triathalon included an experienced division and a recreational division, where groups of athletes could participate as a team. In all, 60 people participated in the triathalon.
Winning the race for the second year in a row was Jerry Heaps from the Twin Cities in a time of 1:38:59. Kath Sullivan, also from the Twin Cities, was first among women (and sixth overall) in 1:44:09.
The highest local finisher was Ryan Stoneburner of Paynesville, who was fourth overall. Randy Zimmerman of Paynesville was ninth overall. The team of Shannon (Flanders) Sharpe and Clayton Lang finished first among teams, and seventh overall; the team of Travis Flanders and Andy Sharpe was second among teams and eighth overall; and the team of David, Josh, Matt, and Randy Kerzman was tenth overall (and third among teams).
Triathlon Results
(Name, Overall Place, Time, Group Place)
Men 18-25
Tom Stoneburner, 11th, 1:48:20, 1st
Jeb Johnson, 19th, 1:58:32, 2nd
Men 26-35
Ryan Stoneburner, 4th, 1:43:30, 1st
Michael Given, 14th, 1:54:08, 2nd
Tim Roberg, 16th, 1:57:00, 3rd
Brad Fenske, 24th, 2:01:35, 4th
Josh Johnson, 26th, 2:03:29, 5th
Men 36-45
Randy Zimmerman, 9th, 1:45:41, 1st
George Morris, 20th, 1:58:53, 2nd
Gene Beavers, 36th, 2:54:57, 3rd
Men 46-55
Jerry Heaps, 1st, 1:38:59, 1st
Marsh Jones, 2nd, 1:41:14, 2nd
Kevin Shriver, 5th, 1:43:38, 3rd
Mark Flaten, 31st, 1:42:05, 4th
Men 56 and Up
John Sullivan, 3rd, 1:42:05, 1st
Women 18-25
Stephanie Lieser, 13th, 1:52:22, 1st
Women 16-35
Pam Ellis, 18th, 1:57:43, 1st
Women 36-45
Leah Neu, 23rd, 1:59:17, 1st
Diane Schwarze, 27th, 2:05:32, 2nd
Women 46-55
Kath Sullivan, 6th, 1:44:09, 1st
Lisa Novotny, 32nd, 2:08:45, 2nd
Mary Wilkens, 33rd, 2:13:40, 3rd
Teams
Shannon Sharpe and Clayton Lang, 7th, 1:45:25, 1st
Andy Sharpe and Travis Flanders, 8th, 1:45:30, 2nd
David, Josh, Matt and Randy Kerzman, 10th, 1:46:12, 3rd
Brett, Jody, and Wade Thunstrom, 12th, 1:52:13, 4th
Katie and Steve Peterson, 15th, 1:56:14, 5th
Shannon Poppe, Luke Haag, Lisa Steil, and Tim Lane,17th, 1:57:36, 6th
Mike Jacobson and David Johnson, 22nd, 1:59:10, 7th
Amy and Jeb Johnson, 25th, 2:03:10, 8th
Yvette Mullen, Reed Quarfot, and Bill Quarfot, 29th, 2:09:22, 9th
Frank, Kathleen, and Ruth Ziegler, 35th, 2:07:29, 10th
Ann, Todd, and George Lemke and, Melissa Weber, 34th, 2:13:58, 11th
Zach Friederichs, Mitchell Fischbach, and Devin Koerner, 35th, 2:23:15, 12th
---
Contact the author at editor@paynesvillepress.com • Return to Sports
Home | Marketplace | Community
---