A school record of 13 victories was one of the records set this spring by the PAHS softball team. The Dogs went 13-9 this spring, including 8-6 in the West Central Conference North.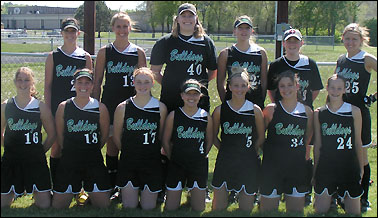 They broke the school record for victories of 10, originally set 25 years ago in the softball team's first year of existence, when they went 10-7 and reached the district finals. The Bulldogs tied this school record last year, going 10-8. These are the only three winning softball seasons in school history.
The PAHS softball team set a school record this spring for wins in a season, going 13-9. The previous record was 10 wins, set in the inaugural softball season in 1981 and tied last year. Varsity team members this year were: (front) Mel Mages, Amanda Skalicky, Laura Schaefer, Chelsey Hansen, Bri Engler, Ashley Ogdahl, and Carissa Utsch; (back) Emily Mohr, Cassey Lund, Allyson Klenke, Chelsey Kalkbrenner, Rebekah Kerzman, and Jess Engler.
The strength of the team was its offense, with the team combining to hit .365, which is the second highest team batting average in school history (behind only .366 in 1982). For the season, the Dogs outscored their opponents 177-104, winning eight games by the ten-run rule.
However, the Dogs were only 2-4 in one-run games. In their 13 wins, the Dogs outscored their opponents by 102 runs; in their nine losses, they were outscored by 29 runs.
"It was a fun group of girls to work with," said coach Tim Woehler. "The season went too fast."
Despite replacing seven senior starters from last year, the Dogs proved competitive all year. "We can play with anybody, as long as we don't shoot ourselves in the foot," said Woehler. "If we could take back a few innings, our whole season would be different."
Other accomplishments were sweeping St. Cloud Cathedral, getting their first playoff win since 1998, and senior Mel Mages hitting an over-the-fence homerun.
Mages broke two school records this year. She set a new record with eight doubles, breaking the record of seven set by Julann Nacey in 1985, and she set a new record with 23 runs batted in (RBIs), also breaking Nacey's record from 1985.
Sophomore Laura Schaefer had 22 RBIs and hit seven doubles for the Dogs this spring, which tied both of Nacey's former school records. (Schaefer also stole 23 bases, which was the school record before Kim Hess stole 27 last year.)
Mages also hit six triples, which tied Nacey's school record from 1983. And Mages hit four homeruns, which is the second-best season total, two short of the school record set by Brenda Beckius in 1985.
Senior Jess Engler, Mages, and Schaefer earned All Conference honors in the West Central Conference North, while sophomore Ashley Ogdahl earned honorable mention honors.
Engler hit .342 this season with 18 RBIs, 12 runs scored, and three doubles. She went 6-2 pitching with an ERA of 4.55.
Mages hit .468 this spring, while playing centerfield for the Dogs. She scored 26 runs and had 23 RBIs. She hit eight doubles, six triples, and four homers for a slugging percentage of 0.883.
Schaefer, the team's catcher, led the Dogs by hitting .513 this year with 40 hits in 78 at bats. She hit seven doubles, two triples, and one homerun.
Ogdahl led the Dogs with an ERA of 2.63 and with 82 innings pitched. She was 6-7 on the hill and batted .343 at the plate with 15 runs and 13 RBIs.
Mages and Schaefer were both chosen All Section and were second team All State. Both were chosen to the all-area softball team by the St. Cloud Times, and Mages was selected to the all-area team by the West Central Tribune.
In all the Dogs had eight regulars who hit better than .300: Schaefer (.513); Mages (.468); senior Allyson Klenke (.393); senior Amanda Skalicky (.343); Ogdahl (.343); Engler (.342); sophomore Carissa Utsch (.327); and junior Chelsey Kalkbrenner (.304). Sophomore Chelsey Hansen, the ninth batting regular, hit a respectable .267, too.
Team awards (given at the team's banquet on Wednesday, May 31) were: Mages, Offensive Player of the Year; Utsch, Defensive Player of the Year; Schaefer, Rookie of the Year; Ogdahl, Most Dedicated; and senior Emily Mohr, Will to Win.
In addition, eight players received the Bulldog Pride Award for their dedication this season: Hansen, Klenke, sophomore Cassey Lund, Mohr, Ogdahl, Schaefer, Skalicky, and Utsch.
---
Contact the author at editor@paynesvillepress.com • Return to Sports
Home | Marketplace | Community
---