"Ho Chi Minh!" one player yells from the dugout, to which the others respond, "hit 'em in!"

What does a Vietnamese communist leader have to do with a high school baseball game? The way that his name rhymes was enough for it to become one of the most-heard names at Paynesville games.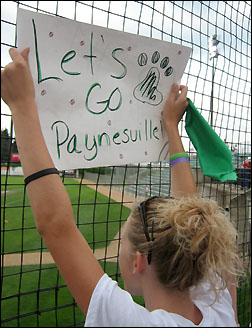 When runners are in scoring position, this particular cheer inspires Bulldog batters to deliver clutch hits (and RBIs). Along with other cheers coined by members of the team, it played a key role in the success of the team and in the fun players had while being so successful.
Ninth grader Kelli Flannigan shows her support for the Bulldogs at the state baseball tournament on Thursday in St. Cloud.
Many expectations were placed on the defending champions this year, according to senior centerfielder Trent Hansen, who likened the experience to having "a target on our backs." Despite the pressure placed on them though, the team was prepared to play.
This winning team was shaped by a spirit of camaraderie that came from their chatter, hustle, fans, and many years playing together, said senior James Paul. He also attested to one more element that may have helped the Bulldogs' success: using luck to their advantage by following superstitions.
Cheers and Chatter
Baseball fans over the past few years have been treated to increased cheering from the Bulldogs' dugout. "We're always more exciting than the other teams. We're always cheering," said Paul.
In 2004, Ross Jaeger, a senior on the team at the time, was studying the Vietnamese leader Ho Chi Mihn when he made up the popular cheer with that name. Then there's "'nother step," which the players yell to tell a baserunner to increase his lead when he beats a pick-off throw back to the bag.
Other cheers are for particular players, and popular ones this year were for Hansen and senior firstbaseman Mark Andrie. "T-T-T-T-rent" resounded across the field when Hansen stepped up to bat.
Andrie was encouraged to have a good at bat by the way the other players barked out his first name, imitating a dog's barking, which was especially appropriate for the Paynesville Bulldogs. Another cheer for him was inspired by a radio ad and had one player yelling "Marky," and the others following up with "markdown."
Most of the cheers were coined in the dugout, said senior John Hemingson, who added that they came from "goofing around and having imagination."
Even though he admits there is not much meaning to the cheers, they gave the Dogs an edge by pumping up the team and throwing opponents off-track, said Hansen.
"We've always taken a lot of pride in our dugout being louder than the other dugout," Andrie emphasized. That included the organized cheers and always chattering as loud as they could on the field, said Hansen.
Camaraderie
Cheers were only only one piece of the fun that the Bulldogs had when they came together as a team. The time that many of the players have spent together over their baseball careers developed friendships that assisted them on the field.
Since they were in Little League in fifth grade, most of the seniors have been teammates on summer traveling teams, Junior Legion and Legion teams, and the school teams.
Andrie said that six of the seniors - Hansen, Hemingson, Ryan Hess, Paul, Derek Stanger, and himself - have been in seven state tournaments and one national tournament together. They know each other as baseball players and as friends, Hemingson added, which is something that Paul said he "would never trade...for anything."
The hustle the Bulldogs exhibited was also part of enjoying the game together. The team was excited about every game and showed it, said Paul.
Head coach Brad Skoglund taught them to hustle more than the opposing team, said Hemingson, because it was one part of the game that each individual could control. "You can't go 4-4 in every game. If you're 0-2, you can still hustle," he explained.
Hustle for the Bulldogs meant running on and off the field, backing up plays, and working hard both in practice and in games. Hansen said one day the team requested extra hitting after practice and Skoglund had to tell them to go home, because he thought they had been expending enough effort.
Fans
"Our fan support has been unbelieveable," said Hansen, and this definitely affects the team as they play, Paul agreed. When lots of people come, continued Paul, the players "want to give them a show." "Our fans double the other team's every game," said Andrie, which he said is very important to the players.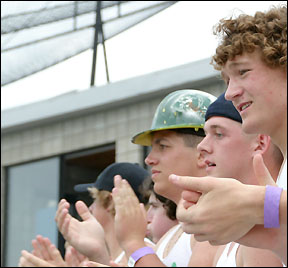 Fans help the team not only by being at games but by cheering. Hansen said that he gets goosebumps when the crowd get pumped up in support of the Dogs and that it "sends a message" to the other team.
From right, Colby Peterson, Greg Price, Justin Butkofski, Colin Spooner, and Cory Spanier cheer on the Bulldogs during Friday's state final.
One of those fans is Don Zahler, who moved to Paynesville in 2001. He started going to the games to have something to do and said it wasn't long before he "really got into it."
He wanted to put off a hip replacement for last year's state tournament but couldn't. This year, he didn't miss a home game or playoff game and went to a number of the away games, even though he has no personal connection to any players. When he was camping near Brainerd during sections, he drove to St. Cloud for the games, which he deemed entirely worth the travel.
Bert and Judy Stanley are also big baseball fans. They have been part of the baseball community in Paynesville for many years, with Bert coaching different local teams playing a big role in getting the varsity field a scoreboard. They attested to the spirit that surrounds the baseball team, with Bert commenting, "They are friends you never forget, friends you play ball with."
Superstitions
Many of the players are superstitious about one of their fans: their bus driver, Marlene Theel. She has been driving the baseball bus for 32 years and was going to retire after last season, but she said Skoglund called her and told her that the team needed her.
When he called, he joked with her about signing a one-year contract to drive for the season but has now extended that "contract" to three years, she laughed.
"I always say I'm not gonna drive," she said, but then the coach "gives me a schedule in the spring."
Not only did they want the same bus driver, but the team rode in the same bus for every game. Theel did not even clean the bus once playoffs began. She picked up trash and washed the windshield but did not sweep or wash the whole bus, as requested by the team.
In case that wasn't enough, though, the players took care not to test fate in other ways. Most of the team did not cut their hair while they were winning, and Hansen always turned his truck's radio volume to level 13 before he shut it off to climb on the bus for a game.
In the middle of last season, Andrie stopped shaving whenever the team was winning, and he did that this entire season. He went so far as to say, "we won 12 games in a row, 'cause of the beard,' " only half-jokingly.
Superstition also surrounds actions at games. Many players, including Paul, have particular stretches and throws that they do in a certain order, he said.
Andrie will stay in the same spot in the dogout if the team is hitting well. "In sections, I stood on the righthand side of the second line on the ground with my left foot up on the ledge," he said, because that is how he was standing when someone made the first hit of a Dog streak.
The Bulldogs use their rally caps, as well, when someone from the team is batting and the count is 2-2 with two outs. All the players put their cap in the same hand, after someone calls out left or right.
Not all the players believe in the superstitions. Hemingson is one of those players, and he said "I think if you believe in jinxes and bad luck, you put it on yourself." He lets his teammates follow their rituals, but he does not leave anything "to luck or chance or not shaving your beard."
This year's baseball team had a lot of spirit, passion, rapport, and talent. With all these things, luck may not have even needed a role.
---
Contact the author at editor@paynesvillepress.com • Return to Sports
Home | Marketplace | Community
---