Battling from behind proved insurmountable two days in a row, as the Dogs fell into an early hole and were beaten 13-1 by St. Anthony Village in the Class AA state final on Friday at Dick Putz Field.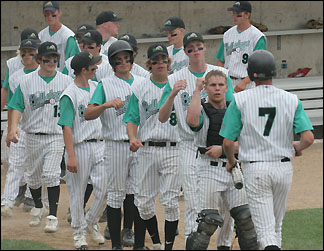 On Thursday, the Dogs were able to rally against Maple River in the state semifinals by avoiding a big inning, but St. Anthony - a inner-ring suburb of Minneapolis with a high school enrollment (10-12) of 468, compared to PAHS's 294 - struck it big before the Dogs could record an out.
Teammates congratulate junior Cory Nietfeld after he scored the Dogs' only run against St. Anthony Village in the Class AA state final on Friday at Dick Putz Field in St. Cloud. Nietfeld scored in the second inning on a single by senior Mark Andrie.
Three walks and two batters hit by pitches gave St. Anthony Village a 2-0 lead before hitting a fair ball, and the Dogs muffed the first ball St. Anthony hit, pushing the lead to 4-0. An RBI single gave the Huskies a 5-0 first-inning lead.
"I wish we would have gotten off to a better start," said Bulldogs head coach Brad Skoglund.
Good starts are always important in big games, said Skoglund, but especially after emotional wins like the Dogs had against Maple River on Thursday.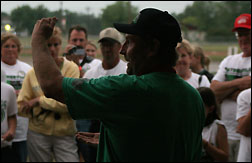 The Dogs answered with a run in the top of the second, their only for the game. Junior Cory Nietfeld walked, advanced to second on a wild pitch, took third on a fly out to center, and scored on a single to right by senior Mark Andrie. (Andrie, along with senior Derek Looman, led the Dogs at state with three hits each.)
Head coach Brad Skoglund makes a point about the Dogs' successful season - tying for the conference title, winning subsection and section titles, and taking second at state - to fans at the welcome home.
St. Anthony scored a single run in the bottom of the second, and the Dogs threatened again in the top of the third. With one out, the Dogs had Looman, who had singled, on second, and senior Trent Hansen, who had reached on an error, at first. Senior John Hemingson hit a rocket to center, but it was an "at 'em" ball, right to the centerfielder.
"If that gets to the gap, it scores two and it's 6-3 and John's in scoring position, too," said Skoglund.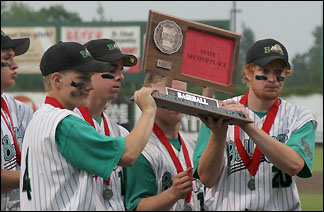 Instead, the Huskies (25-3) retired the side and proceeded to score seven runs in the bottom of the third, including a three-run homer to left-center off Hemingson.
The disappointment shows as junior Steve Gerding, senior Mitch Mueller, senior John Hemingson, and senior Mark Andrie lift the second-place trophy for the Bulldogs on Friday.
That gave St. Anthony a 13-1 lead, and they proceeded to win their first state title in baseball in their second ever state appearance.
"They played very well. They deserved to win," said Skoglund.
But, he added, it was disappointing for the Dogs to end their season without playing well, to lose when not playing close to their ability.
"Obviously, we didn't play our best today, but it wasn't for a lack of effort or trying," said Skoglund at the welcome home on Friday night.
"We didn't really play like champions," said Hemingson. "They played like champions."
"You want to go out with a fight, and we didn't really fight," added Hemingson.
Baseball, Skoglund always stresses, is a game of momentum. The 5-0 hole against St. Anthony Village gave the Huskies the momentum from the start.
Senior James Paul, who did not play on Thursday after hurting his knee and spraining his ankle while wakeboarding on Lake Koronis on Tuesday, started pitching in the state final (for the second year in a row) against St. Anthony.
James wanted to play on Thursday and wanted to pitch on Friday, said Skoglund. He had medical clearance and threw very well in the bullpen, so the coaches decided to give him a chance.
He walked the first three batters he faced with a strict strike zone, despite coming close with his pitches, and hit the fourth batter with the bases loaded, scoring the first St. Anthony run, prompting a pitching change. Another hit batter, a Bulldog error, and a single up the middle gave St. Anthony a 5-0 lead in the first frame.
In the second, St. Anthony scored a run on two infield hits - one that hit a footprint in foul territory and rolled back onto the chalk - and a walk.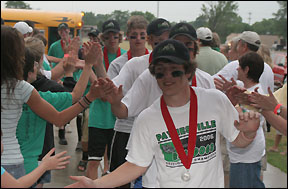 In the third, with runners on second and third, Skoglund pulled senior Derek Stanger, who had relieved Paul in the first, and had Hemingson pitch. Trailing 6-1, Skoglund felt that they could not allow St. Anthony to score any more runs and wanted to have Stanger back at third (his natural position) and to have John pitch (using his speed to cover for a bunt).
Senior Trent Hansen and the Bulldogs were greeted by dozens of fans at the welcome home at Paynesville Area High School on Friday night following the state championship game.
St. Anthony did bunt, and Hemingson raced to field it, when it hit a rock, he said, for another infield hit. A bases-loaded walk, two singles through the drawn-in infield plated four runs, and a three-run homer with one out capped the seven-run rally.
The Dogs finished their season with a record of 21-5, tying last year's team (21-6) for the most wins in school history. The Dogs also recorded the third runner-up state finish in school history, joining the wrestling team in 1992 and the girls' cross country team in 2001.
| | | | | | | |
| --- | --- | --- | --- | --- | --- | --- |
| Paynesville-- | 010 | 00x | x | - 1 | 3 | 1 |
| St. Anthony-- | 517 | 0xx | x | - 13 | 9 | 1 |
Paynesville - Batting: Mark Andrie 1-2 RBI; Derek Looman 1-1; Ryan Hess 1-2; Cory Nietfeld 0-1 BB R; Pitching: (ip-h-r-er-bb-k) James Paul (L) (0-0-4-3-3-0); Derek Stanger (2-4-4-4-1-1); John Hemingson (1-5-5-5-1-0); Ben Moser (1-0-0-0-0-0).
St. Anthony Village - Batting: Mark Halstengard 3-3 R RBI; Steve Grewe 2-2 R-2 RBI; Tim Duffy 1-2 HR RBI-5 R-2; Chad Peterson 1-2 R-2 RBI-2; Chris Peterson 1-2 RBI; Charles Brandes 1-2 R; Dan Halstengard 0-0 BB-3 R RBI; Pitching: (ip-h-r-er-bb-k) Chris Peterson (2-1-1-1-1-2); Chad Peterson (W) (3-2-0-0-0-6).
---
Contact the author at editor@paynesvillepress.com • Return to Sports
Home | Marketplace | Community
---