Mary Frandson competes in state golf meet
This article submitted by Lynn Stoneburner on 6/16/99.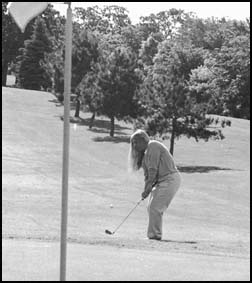 Mary Frandson of the Paynesville Area High School golf team competed at the state meet on Monday and Tuesday, June 7-8 at the St. Cloud Country Club. The weather was hot and humid for Frandson's second state appearance.

Of the 88 total competitors in the Class A meet, Frandson finished 45th individually. Her scores were 50-46=96 on Monday. Frandson, who just graduated from PAHS, had an eight-stroke improvement on Tuesday, with 45-43=88. These scores gave her a 36-hole total of 184.

"I didn't do so well on Monday, but I came back determined on Tuesday," said Frandson.

The medalist of the state meet was senior Mollie Shearen of Visitation, who carded 76-76=152. Area golfers finishing well were conference rivals Jackie Beste of Sauk Centre and Nikki Danielson of St. Cloud Cathedral. Beste placed sixth with 79-87=166. Danielson was 18th with 83-88=171.

Team results found Staples-Motley on top with an outstanding score of 675. The young Sauk Centre team finished seventh out of the eight teams with a total of 752.

Overall Frandson really enjoyed her state golf experience. "It was great to get so much support from family, friends, and other people from the community," said Frandson. "I feel that just getting to state was such a blessing."
---