Paynesville and Regal both lose league games
This article submitted on 6/16/99.
County Line League

Melrose 17
Paynesville 1
By Aaron Ziemer

Paynesville was defeated by Melrose 17-1 on Sunday evening, in Paynesville.

Jason Schlecht started for the Pirates, but he struggled finding the strike zone and walked seven batters and hit one in just two and two thirds innings of work.

Dan Starken and Chris Stanley threw relief for Paynesville. Starken pitched okay, but gave up a two-run home run to Chad Hess of Melrose.

Melrose was able to get hits in every inning, and Paynesville only stopped them from scoring in the fourth.

The Pirates were held to three hits by Eric Meyer. Pat Mohs, Josh Williams, and Scott Morris collected the only Pirate hits.

The game was played well defensively, the only difference was Melrose was hitting and finding the holes, and Paynesville was not. The Pirates grounded into two double plays which killed rallies in two innings.

Paynesville's only run scored on a bad throw by the catcher back to the pitcher, allowing Josh Williams to score from third.

Paynesville now 5-7 overall, and 2-4 in conference will play in Sauk Centre on Saturday at 1:30, then they will travel to Norway Lake-Sunburg on Sunday for another 1:30 game.
| | | | | | | |
| --- | --- | --- | --- | --- | --- | --- |
| Melrose-- | 243 | 024 | 2 | - 17 | 15 | 1 |
| Paynesville-- | 010 | 000 | 0 | - 1 | 3 | 0 |
Sauk Centre 10
Regal 2
By Michael Pauly
Regal lost to Sauk Centre on Sunday by the score of 10-2.
Regal managed seven hits in the game but could not put many together to mount any threats. Tim Haines, Brad Lieser, and Randy Beier each had two hits for Regal. Haines had the only extra base hit for Regal.
The Titans had ten hits, two were home runs, one triple, and two doubles.
Jeremy Glenz pitched the whole game for Regal and Rod Mettenberg threw all nine innings for Sauk Centre.
Regal's two runs came in the third inning to tie the score briefly. Randy Beier led off with a single and Mike Beier walked. Haines doubled in one run and Ron Fuchs singled driving in the other.
Regal will next play at Sunburg against Norway Lake-Sunburg on Wednesday night at 6 p.m. Saturday, June 19, Regal will travel to St. Martin for a 2:30 p.m. game. On Sunday, June 20, Regal will play host to New London- Spicer for a 2 p.m. game.
| | | | | | | |
| --- | --- | --- | --- | --- | --- | --- |
| Regal-- | 002 | 000 | 000 | - 2 | 7 | 5 |
| Sauk Centre-- | 112 | 200 | 04X | - 10 | 10 | 0 |
Stearns County League
Roscoe 8
St. Martin 3
By Aaron Ziemer
Roscoe defeated St. Martin 9-3, on Sunday, in St. Martin.
Russ Schaefer started on the mound for Roscoe and went the distance. He gave up 11 hits but only three runs, while striking out three.
Greg Heinen led the Rangers in hitting going 2-3. Dale Mackedanz contributed going 1-3 while scoring two runs.
St. Martin scored one in the top of the first, but Roscoe came back with three in the bottom of the inning.
Greg Heinen started the Ranger rally in the first with a single. Mackedanz was then hit by a pitch, and Schleper then reached base on a fielders choice, Jeff Welle doubled to score Tony Orbeck and Mackedanz, and Schleper scored on a wild pitch.
Roscoe then added one more in the second, and was able to add two more in the third on three walks and one St. Martin error, to make the score 6-1.
St. Martin scored one run in the sixth, and one more in the top of the eighth, but that was all they were able to get off Schaefer.
Roscoe added two more insurance runs in the bottom of the eighth to make the final 8-3.
Roscoe played Tuesday night against Luxemburg at Cold Spring, a full report will be in next week's Press.
| | | | | | | |
| --- | --- | --- | --- | --- | --- | --- |
| St. Martin-- | 100 | 010 | 010 | - 3 | 11 | 3 |
| Roscoe-- | 312 | 000 | 02X | - 8 | 7 | 0 |
Lake Henry 8
Richmond 7
By Aaron Ziemer
Lake Henry defeated Richmond 8-7 on Sunday, in Lake Henry.
Mike Stalboerger started and went eight and one-thirds innings to get the win for the Lakers.
Chad Spanier led the way for Lake Henry going 3-4, with an inside the park home run. Steve Lieser was 2-3 in the game.
Lake Henry held a 7-1 lead late in the game, but came very close to blowing it. Richmond had the tying run on third base with one out in the ninth, but failed to get the run across the plate because of a suicide squeeze play that did not work.
The play ended the threat for Richmond and Lake Henry was able to hang on for the victory.
The Lakers will play Farming next Sunday at 1:30 p.m.
Exhibitions
Farming 10
Paynesville 9
By Aaron Ziemer
Paynesville lost a heart-breaker to Farming 10-9, in 11 innings, on Tuesday night, June 8, in Paynesville.
Dan Starken started and pitched five strong innings for the Pirates allowing only one run. Jason Schlecht came in and also pitched three solid innings, only giving up two runs.
David Hemmesch came in and pitched in the ninth. Hemmesch allowed six runs and did not get an out, but he was not helped by the Pirate defense. Chris Stanley came in and finished the game earning the loss.
Aaron Ziemer led the Pirates in hitting going 2-2 with two RBIs and one run scored. Pat Mohs also had a couple of hits for Paynesville.
The Pirates scored early taking a 1-0 lead in the bottom of the first inning.
The Pirates added two more in the bottom of the third when Ziemer doubled to lead off the inning. Darren Michaelis moved him to third with a deep fly ball. Then Mohs drove Ziemer in with a double to right field. Mohs would also come around to score and the Pirates had an early 3-0 lead.
Farming got one run back in the top of the fourth when Greg Holthaus hit a solo home run off of Starken.
The Pirates came right back with two more in the bottom of the fourth. Stanley and Scott Morris reached base to start the inning. They moved to second and third when the pitcher threw it past the first baseman on a pick off play. Ziemer then drove both of them in on a single. The score was 5-1, Pirates.
Farming was able to get two runs back in the top of the sixth, but Paynesville came back with three in the bottom of the seventh to make the score 8-3.
The Pirates then added one more run in the bottom of the eighth to make the score 9-3.
It looked like Paynesville had the game in hand, but in the top of the ninth Farming scored six runs to tie the game at nine.
The game remained tied at nine until the top of the eleventh, when Farming added one run.
With a runner on second and two outs, Aaron Nett was going to be intentionally walked, but the runner was able to move to third on an error by Josh Erickson, then he scored on a pitch that sailed over Erickson's glove.
Paynesville was not able to score in the bottom of the inning and wound up losing 10-9.
| | | | | | | | |
| --- | --- | --- | --- | --- | --- | --- | --- |
| Farming-- | 000 | 102 | 006 | 01 | - 10 | 8 | 4 |
| Paynesville-- | 102 | 200 | 310 | 00 | - 9 | 8 | 3 |
Regal 7
Lake Henry 6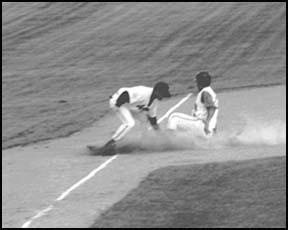 By Michael Pauly
Regal defeated Lake Henry Friday night, in Paynesville in an exhibition game, by the score of 7-6 in ten innings.
Pictured at right: Regal third baseman, Randy Beier, tags out a Lake Henry runner.
The game was scoreless until the fifth inning when Regal started the scoring with three runs. With one out Dave Oehrlein and Randy Beier each singled. Mike Beier followed with a triple, scoring both runners. Tim Haines had a sacrifice fly for the third run.
Jon Lieser scored a run for Lake Henry in the bottom of the sixth after he singled, he then advanced to third on an error and scored on a sacrifice fly by Ryan Wuertz. This made the score 3-1 Regal.
Regal scored one run in the eighth inning on a single by Mike Beier, a double by Haines and a sacrifice fly by Jeff Deming.
Lake Henry came back with a run of their own in the bottom of the eighth. Tim Lieser, Ryan Wuertz, and Mike Stalboerger walked and Chad Spanier singled.
Regal made the score 6-2 with two runs in the ninth inning. Dustin Looman and Dave Oehrlein reached base on a walk and an error and Randy Beier had a two- run double.
Lake Henry never quit and came up with four two-out runs in the bottom of the ninth to tie the game. They also had the winning run on third when the final out happened. Jon Lieser reached first on a fielders choice. Joey Pelzer and Tim Lieser each walked loading the bases. Ryan Wuertz singled for one run and Stalboerger singled for two runs. Spanier then singled in the last run for the Lakers.
In the top of the tenth Regal scored once when Jeff Deming led off with a single, stole second, moved to third, and scored on two wild pitches. This made the final score of 7-6 for Regal.
Wade VonEschen, Jeremy Glenz, and Wade Thonvold pitched for Regal with Thonvold getting the win.
For Lake Henry Ryan Wuertz, Tim Lieser, and Lynn Hemmesch pitched with Hemmesch taking the loss.
| | | | | | | | |
| --- | --- | --- | --- | --- | --- | --- | --- |
| Regal-- | 000 | 030 | 012 | 1 | - 7 | 8 | 1 |
| Lake Henry-- | 000 | 001 | 014 | 0 | - 6 | 9 | 0 |
---