Sophomore Tara Schmidt and ninth grader Kacy Nehowig competed at the state track and field meet in Blaine on Friday, June 11. Both made their first appearances as individuals at the Class A state meet.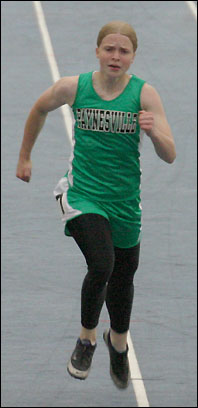 Schmidt (pictured at right) ran in the 200-meter dash and finished seventh in her heat in the preliminaries on Friday night and did not advance to the finals on Saturday. She had the 15th fastest time in the preliminaries.
Her section rival, Delano senior Alex McCannel, won both the 100-meter dash and the 200-meter dash at state.
Schmidt's time at state was 27.06, a half second slower than she ran at the Section 5A meet, where she placed second to qualify for state.
Nehowig (pictured below) ran in the 3,200-meter run on Friday evening and finished 16th in Class A. She was passed on the final lap, in the rain, by two runners. Her time was 12:16.58, over 45 seconds slower than her time at the Section 5A meet.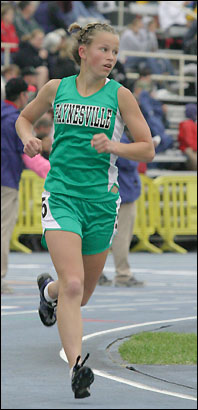 Her section and conference rival, Beth Tacl of St. Cloud Cathedral, placed third in the event.
With her section time, 11:29.4, her personal best, Nehowig would have placed ninth at state. (Schmidt's season best time (26.42, run in the preliminaries at sections) would have placed eighth in the 200-meter finals on Saturday.)
Cedar Mountain, which won the Class A true team state title, sponsored by the Minnesota Track Coaches Association, a meet where the Dogs placed ninth, also won the state title at the individual meet, sponsored by the Minnesota State High School League, with 51 points. St. Cloud Cathedral, whom the Dogs upset for the conference title, tied for second. Section rival Delano finished fifth in Class A, and ACGC finished ninth in Class A.
Individual Results
200-meter dash: Tara Schmidt, 15th, 27.06; 3,200-meter run: Kacy Nehowig, 16th, 12:16.58.
---
Contact the author at editor@paynesvillepress.com • Return to Sports
Home | Marketplace | Community
---