Senior Heather Fuchs finished 27th in Class A at the state girls' golf meet last week at Izatys Golf and Yacht Club near Onamia.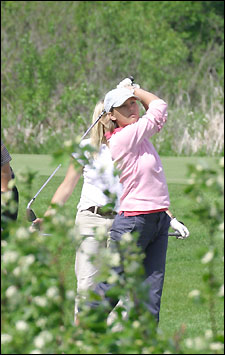 Fuchs, who shot 93 on Wednesday, June 9, and 88 on Thursday, June 10, on the Sanctuary at Izatys, was disappointed with her play and her finish. Conference rival Lindsey Wellenstein, a junior from Albany whom Fuchs beat for the conference title this spring, tied for third in Class A. Kelli Burns, a senior from Annandale who has a golf scholarship to the University of Minnesota with whom Fuchs tied at sections, tied for fifth. And Jenna Schmuman, a junior from Sauk Centre, tied for 15th. "I've beaten all those girls, so I knew I could play with them," said Fuchs.
Senior Heather Fuchs watches her tee shot on #16 on Wednesday, June 9, on the Sanctuary course at Izatys Golf and Yacht Club near Onamia. Fuchs shot 93-88-181 and took 27th in Class A at the state golf meet.
Fuchs described her play at state as horrible. On Wednesday, she did not trust her swing, she said, and shot 45-48-93 on the 5,713-yard course. On Thursday, she hit the ball better but did not putt well, shooting 45-43-88.
"The first day I did not trust my irons, and I went everywhere," said Fuchs. "And the second day, I just couldn't make any putts."
"I hit it better, but it still wasn't what I wanted to shoot," she added. Her pre-tournament goal was to shoot two rounds of 85. A total of 170 would have placed 11th.
But on Wednesday she was eight over on her first five holes before birdieing the par-4 #6, hitting a pitching wedge to 15 feet and making the putt. She parred the last two holes on the front to shoot 45 but made two triple bogeys on the back to shoot 48, landing in 27th place after the first day.
On Thursday, Fuchs started with a nine on #1, a par-4, but recovered to shoot 45 on the front. She played her best round on the back nine on Thursday, making three pars, including a sand save on the par-3 #13, with only one double bogey for a 43. But she three-putted several times and missed some short putts.
"I had a lot of fun," said Fuchs, who became the fifth PAHS female golfer to compete at state individually. "I love to golf, so I always have fun."
She was disappointed to shoot so high at state, though, after playing so well all season. "I kept thinking I could come back around, but I never did," said Fuchs, who plans to play on the golf team at St. Ben's University next fall.
The PAHS girls' golf team competed at state in 1987, taking fourth and has sent five individuals to state: Sara Elseth (1989), Amy Johnson (1990 and 1992), Heather Schmitt (1994 and 1996), Mary Frandson (1997 and 1999), and Fuchs (2004). Johnson and Schmitt placed 19th as individuals, for the highest finish by a PAHS girl golfer at state.
Leah (Younkin) Budde, a 1978 PHS graduate, had two children compete at state for Bethelem Academy. Jake, a junior, finished 56th in Class A (84-86-170), and Megan, a senior, finished 78th in Class A (116-109-225).
Individual Results
(27) Heather Fuchs (12) Paynesville, 93-88-181; Top Ten - (1) Katie Detlefson (9) Minnehaha Academy, 70-72-142; (2) Staci Smoot (12) Rochester Lourdes, 77-75-152; (3) Sarah Lucken (12) Fosston, 83-79-162; (3) Lindsey Wellen-stein (11) Albany, 84-78-162; (5) Kim Larson (12) Pequot Lakes, 82-82-164; (5) Kelli Burns (12) Annandale, 83-81-164; (7) Jacquelyn Hauser (11) Caledonia/Spring Grove, 83-83-166; (8) Chelsa Dooley (11) Benson/KMS, 85-82-167; (8) Katrina Wood (11) Duluth Marshall, 86-81-167; (8) Molly Noser (9) Rochester Lourdes, 82-85-167.
---
Contact the author at editor@paynesvillepress.com • Return to Sports
Home | Marketplace | Community
---