Junior Mitchell Mackedanz became the first PAHS golfer to place at state individually last week, as he took fourth in Class A.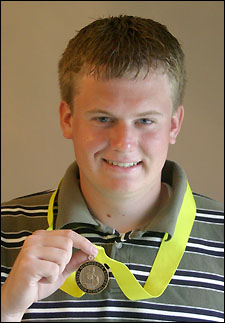 Mackedanz shot three-over-par 75 on Wednesday at the Black Brook course at Izatys Golf and Yacht Resort near Lake Mille Lacs, sharing the first-round lead, and six-over-par 78 on Thursday to finish the two-day, 36-hole tourney with a total of 153, four strokes behind the winner, junior Brett Benson of Jackson County Central.
Mitchell Mackedanz holds his fourth place medal.
Class A has more than 1,500 male golfers. Mackedanz, the son of Mark and Mary Mackedanz, finished his season as the fourth best. "I wasn't expecting to come up and win the tournament," said Mackedanz. "Just to be in it was good."
Going into the tournament, his dad told Mitchell that one nine-hole round in the 30s would be a success. Mitchell thought he could do better than that; his goal was to shoot one day in the 70s. He ended up shooting all four rounds in the 30s and shooting in the 70s both days.
On Wednesday, Mackedanz hit 12 greens in regulation and made a birdie putt from the fringe on another hole, recording a 75 and tying for the overnight lead with Benson. Mackedanz had two birdies, 11 pars, and five bogeys.
His score actually could have been better that day, he felt. He three-putted for bogey twice on the front nine on Wednesday and missed a five-footer for birdie.
"I was hitting it awesome," said Mackedanz of his Wednesday round. From holes #4 to #12, he hit nine straight greens in regulation.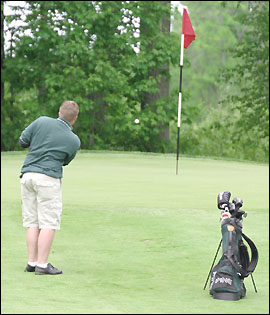 He caught a break on #17, driving left off the tee into the woods. But, thinking bogey, he hit a shot to the fringe and made the putt from there. "I was staring bogey right in the face and made birdie," he recalled. "That was a big change."
After parring his final hole on Wednesday, Mackedanz was tied for the lead at 75. But 11 golfers were within three strokes of the lead, and 30 within six strokes of the lead.
Junior Mitchell Mackedanz chips onto the #9 green for a birdie chance on Wednesday, June 9. He shot 75 on Wednesday on the Black Brook course at Izatys and 78 on Thursday, taking fourth palce in Class A.
On Thursday, the conditions were worse on the course, and Mackedanz did not hit the ball as well. He started his Thursday round with a double bogey on the first hole but hit six greens in regulation on the rest of the front nine and carded a 39.
Because Benson was also part of a team at state, Mackedanz did not play with him on Thursday. (Benson teed off later with the team leaders.) After his 39 on the front nine on Thursday, Mitchell figured that he was no longer in the lead, but he also knew that he was still in the hunt. "The weather conditions were a lot tougher on Thursday, so I knew nobody was going to go too low," he said.
Then, however, he bogeyed his first three holes on the back nine.
"It got nerve-wracking when I started bogey-bogey-bogey on the back nine," said Mackedanz. "That was the worst, because I thought I played my way out of the medals."
On the par-5 #13, though, Mackedanz made a 15-footer for birdie, while the rest of his foursome made double and triple bogeys, a three- or four-shot swing with some of the other leaders, which Mackedanz knew was key. If he could beat the guys in his foursome, which he did, he could medal at state. With that birdie, Mackedanz played the final six holes on Thursday in even par, ending the day with a 39-39-78.
That round was much more adventurous. He only hit three greens in regulation and got up-and-down for par twice. On #18, his final hole, his approach shot hit a spectator and stopped by the green instead of rolling down the hill. With the break, he got up-and-down for par.
While he thought at the turn that he could shoot under par on the back nine and still win, after his bogey-bogey-bogey start on the final nine, he decided that making pars in the swirling winds would be good. "Just make pars and get off the course," he told himself.
For the tournament, Mackedanz made three birdies,22 pars, 10 bogeys, and one double bogey.
When he got off the course with his 78 on Thursday, he figured he had medaled, but he had to wait for the last half dozen foursomes to finish before he knew for sure.
Benson shot 75-74-149 to win the Class A individual title. Justin Speer, a junior from Battle Lake, shot 69 on Thursday to take second at 150. Mark Stuckey, a senior from St. Peter, shot 77-75-152 for third. And Mackedanz finished fourth, the highest finish for a PAHS golfer.
Mackedanz was the fourth male golfer from PAHS to compete at state, joining Dave Cameron (1971), Bob Loomis (1980), and Tom Notch (1989) and the first to earn a medal. Loomis had the highest previous finish (11th). (The PAHS girls' golf team competed at state in 1987, taking fourth, and has sent five individuals to state: Sara Elseth (1989), Amy Johnson (1990 and 1992), Heather Schmitt (1994 and 1996), Mary Frandson (1997 and 1999), and Heather Fuchs (2004).)
Mackedanz finished second individually in the West Central Conference North this spring, earning All Conference honors for the second time, took third at subsections, and tied for second at sections.
A five-year varsity player for PAHS, he attributed his success this spring to hitting his peak earlier (since he played target golf over the winter at an indoor facility near Avon), to avoiding bad holes, and to a better mental game. This year, when something went wrong, he bounced back quicker, he said. He trusted his game and got back to making pars instead of letting one bad hole lead to another bad hole.
Playing in front of additional spectators did not rattle Mackedanz either. All the fans had hit and seen bad shots before, he figured, so "what's the difference if they see one more?"
Mackedanz had also played the Black Brook course last summer at the state tournament for the Junior MGA. Back then, they played from the tournament tees (6,867 yards) while for the high school tourney they played from the championship tees (6,391 yards). Along with a new driver that gives him added length off the tee, the course played a lot shorter this time, said Mackedanz.
Mackedanz plans to play Junior MGA golf this summer, as well as other tournaments. He hopes to continue to play well next spring during the school season and hopes the team can improve, too.
Class A Boys Top Ten
1. Brett Benson (11)
Jackson County Central 75-74-149
2. Justin Speer (11)
Battle Lake 81-69-150
3. Mark Stuckey (12)
St. Peter 77-75-152
4. Mitchell Mackedanz (11)
Paynesville Area 75-78-153
5. Dan Moline (12)
Duluth Marshall 79-75-154
5. Graham Estenson (12)
St. Peter 80-74-154
5. Travis Ross (10)
Crookston 78-76-154
8. Brian Larson (10)
Rochester Lourdes 77-78-155
9. Mitch Graham (12)
Crookston 77-79-156
9. Chris Cole (12)
New London-Spicer 78-78-156
9. Andre Mitchell (12)
Trinity School 79-77-156
9. Erik Detlefson (12)
Minnehaha Academy 77-79-156
9. Joe Gothmann (12)
Watertown-Mayer 76-80-156
9. Lee Cavanagh (11)
Perham 80-76-156
The Class A state tournament had 88 boys in all.
Mackedanz's Scorecards
Wednesday (38-37-75)

| | | | | | |
| --- | --- | --- | --- | --- | --- |
| Hole | Par | Score | Hole | Par | Score |
| 1 | 4 | 5 | 10 | 4 | 4 |
| 2 | 5 | 5 | 11 | 5 | 5 |
| 3 | 3 | 3 | 12 | 4 | 4 |
| 4 | 4 | 5 | 13 | 5 | 6 |
| 5 | 4 | 4 | 14 | 3 | 4 |
| 6 | 4 | 3 | 15 | 4 | 4 |
| 7 | 4 | 4 | 16 | 3 | 3 |
| 8 | 3 | 4 | 17 | 4 | 3 |
| 9 | 5 | 5 | 18 | 4 | 4 |
| Total | 36 | 39 | | 36 | 39 |
Thursday (39-39-78)

| | | | | | |
| --- | --- | --- | --- | --- | --- |
| Hole | Par | Score | Hole | Par | Score |
| 1 | 4 | 6 | 10 | 4 | 5 |
| 2 | 5 | 5 | 11 | 5 | 6 |
| 3 | 3 | 3 | 12 | 4 | 5 |
| 4 | 4 | 4 | 13 | 5 | 4 |
| 5 | 4 | 5 | 14 | 3 | 3 |
| 6 | 4 | 4 | 15 | 4 | 4 |
| 7 | 4 | 4 | 16 | 3 | 3 |
| 8 | 3 | 3 | 17 | 4 | 5 |
| 9 | 5 | 5 | 18 | 4 | 4 |
| Total | 36 | 39 | | 36 | 39 |
---
Contact the author at editor@paynesvillepress.com • Return to Sports
Home | Marketplace | Community
---