For the second straight year, the Bulldogs baseball team was ousted from the Section 5AA playoffs with two straight losses.

The Bulldogs lost 5-4 to Delano on Monday, June 7, in a matchup of subsection champs, and then lost again on Tuesday, June 8, to Glencoe-Silver Lake 8-5, ending the Dogs' season.

The Dogs had chances to win on Monday against Delano, in a game in which the winner advanced to the section finals.

"The game against Delano we played very well," said coach Brad Skoglund. "That's the disappointing thing. We outplayed them and got beat. We just couldn't come up with the clutch hit."

Normally, when you outhit your opponent and play errorfree defense, as the Dogs did against Delano, you win, explained Skoglund. But Paynesville stranded nine baserunners and scored no runs with two outs. Delano stranded only five and scored two crucial two-out runs in the fourth inning.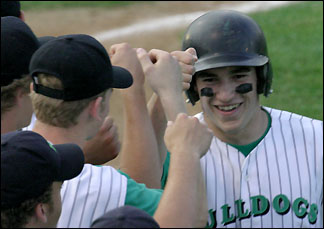 Junior Mike Mueller led off the game with a homer to left to give the Dogs an early lead. But Delano answered with two runs in the bottom of the first on two hits, two walks, and a sacrifice fly.
Teammates congratulate junior Mike Mueller after he hit a leadoff homerun against Delano in the Section 5AA baseball playoffs on Monday, June 7, in St. Cloud. Paynesville lost 5-4 to Delano, who advanced to state.
The Dogs tied the game at 2-2 in the third inning without a hit. Senior Jordan Haag walked, advanced to third on an error, and scored with two outs on a passed ball. But, again, Delano answered, with senior pitcher Todd Roth hitting an opposite-field homer to right to give the Tigers a 3-2 lead.
Delano scored two costly runs in the bottom of the fourth. The rally started with one out on a blown-call infield single, drawing the ire of Paynesville's bench and fans. A bloop single and walk loaded the bases with two outs, and senior Aaron Dalchow delivered two runs for Delano with a soft liner to center with two outs. Those two runs proved costly.
After that hit, senior Adam Kampsen found a groove on the mound and retired the last seven batters he faced.
The Bulldogs - who left runners in scoring position in the first, second, third, and fourth innings, including hitting into an inning-ending double play in the fourth - had a chance to tie the game and take the lead in the top of the sixth. Junior Chris Beier walked to lead off the inning, and senior Adam Hemmesch lined a single to left-center. A throwing error by Delano scored Beier.
After a fly out, sophomore Jamie Paul grounded an RBI single to left, scoring Hemmesch. Junior Brandon Berg reached first on an infield single, putting the tying run in scoring position and the winning run on base.
Mueller, with two strikes, hit a high pitch for a line drive single to center, but a so-so jump, waiting for the ball to drop, forced Skoglund to hold the runner at third, loading the bases with one out with the Dogs' #2 and #3 hitters coming up. But Delano ended the threat with a strikeout and groundout, leaving the bases loaded.
Junior Justin Butkofki lined a single to left to lead off the top of the seventh, putting the tying run on base again. But the Dogs failed to bunt him into scoring position and went 1-2-3 after his leadoff hit.
Delano, with the win, advanced directly to the Section 5AA finals on Thursday. Paynesville, suffering their first loss of the double-elimination section playoffs, moved into the loser's bracket to play Glencoe-Silver Lake on Tuesday.
| | | | | | | |
| --- | --- | --- | --- | --- | --- | --- |
| Paynesville-- | 101 | 002 | 0 | - 4 | 8 | 0 |
| Delano-- | 201 | 200 | x | - 5 | 7 | 4 |
Paynesville - Batting: Mike Mueller 2-4 HR; Jamie Paul 2-3 RBI; Brandon Berg 2-3; Adam Hemmesch 1-4 R; Justin Butkofski 1-4; Pitching: (ip-h-r-er-bb-k) Adam Kampsen (L) (6-7-5-5-3-3).
Delano - Batting: Todd Roth 2-2 HR R-2; Nate Triplett 2-3 RBI; Aaron Dalchow 1-2 RBI-2 R; Dustin Schaust 1-3 R; Andy Lebovsky 1-3 R; Pitching: (ip-h-r-er-bb-k) Roth (W) (7-8-4-2-3-6).
Glencoe-Silver Lake 8, Paynesville 5
Paynesville committed five errors and walked seven batters, allowing three unearned runs, in their 8-5 elimination loss to Glencoe-Silver Lake in the Section 5AA playoffs on Tuesday, June 8, at Faber Field in St. Cloud.
The Panthers led 2-0 after three innings and then scored three costly runs in the top of the fourth. Their #7, #8, and #9 hitters walked to start the inning and two scored on a single and outfield error. A squeeze bunt scored a third run, giving Glencoe-Silver Lake a 5-0 lead.
The Dogs battled back, scoring two runs in the bottom of the fourth on Berg's triple over the head of the Panther's rightfielder. Hemingson, who had walked, and Paul, who had singled, one of his three hits in the game, scored on Berg's hit.
But Glencoe-Silver Lake scored three more runs in the sixth inning, using two hits, two walks, and three Paynesville errors to build a six-run lead 8-2.
Skoglund was pleased that the Dogs kept playing hard and rallied in the bottom of the seventh, scoring three runs and loading the bases, putting the tying run on base and bringing the winning run to the plate before Glencoe-Silver Lake got the final out.
After scoring a run on a fielder's choice, Hemmesch hit a two-run double to rightcenter with the bases loaded. The Dogs loaded the bases again before making the final out.
Delano gained revenge against Glencoe-Silver Lake by winning the Section 5AA title. (Glencoe-Silver Lake beat Delano for the Class AAA football title 21-0 last fall.)
Both had lots of good athletes and were good teams, said Skoglund.
But it was disappointing, he added, to come so close to reaching the section final on Monday and then to end the year without playing their best on Tuesday. "It's another story if we win against Delano," said Skoglund. "We got behind the 8-ball having to win three games in a row (to reach the state tournament.)"
The Bulldogs, who finished their year with a record of 19-6, were rated as high as #1 in Class AA this spring.
The Dogs were a state-caliber team, who worked hard, got along, and had fun, according to Skoglund. It was sad to have their season end, added Skoglun. "I'm proud of our kids," he said. "We've had a great season. We've got great kids."
Highlights of their season include having a 14-game winning streak, tying for the conference title, and winning their third consecutive subsection title. During their playoff run, said Skoglund, Paynesville had so many parents and fans at the games that they turned road venues into homefields.
| | | | | | | |
| --- | --- | --- | --- | --- | --- | --- |
| Paynesville-- | 000 | 200 | 3 | - 5 | 10 | 5 |
| G-SL-- | 020 | 303 | 0 | - 8 | 8 | 0 |
Glencoe-Silver Lake - Batting: Andrew Tritz 2-2; R; Nick Johnson 2-4 R; Matt Eickhoff 1-2 R-2; Pitching: (ip-h-r-er-bb-k) Tritz (W) (7-10-5-5-3-4).
Paynesville - Batting: Jamie Paul 3-3 R; Derek Stanger 1-1 R; Brandon Berg 1-4 3B RBI-2; Adam Hemmesch 1-3 2B RBI-2; John Hemingson 1-3 R; Adam Kampsen 1-3; Mike Mueller 1-3 R; Justin Butkofski 1-4 RBI R; Pitching: (ip-h-r-er-bb-k) Butkofski (L) (5.2-8-8-5-6-5); Chris Beier (1.1-0-0-0-1-2). Section 5AA Tournament at Faber Field, St. Cloud GAME 1 Monday, June 7 Glencoe-Silver Lake 8, Howard Lake-Waverly (9 innings) HL-W eliminated GAME 2 Delano 5, Paynesville 4 GAME 3 Tuesday, June 8 Glencoe-Silver Lake 8, Paynesville 5 Paynesville eliminated GAME 4 Thursday, June 10 Glencoe-Silver Lake 5, Delano 1 GAME 5 Delano 3, Glencoe-Silver Lake 2 Glencoe-Silver Lake eliminated Delano advances to state
---
Contact the author at editor@paynesvillepress.com • Return to Sports
Home | Marketplace | Community
---