Senior shortstop Kim Hess - after hitting .621 this spring for the Bulldogs softball team - has been named the Most Valuable Player in the West Central Conference North.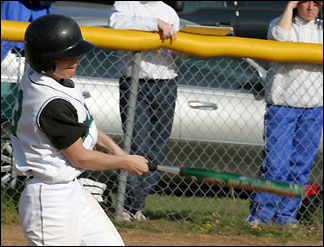 The Bulldogs - who finished 5-5 in the WCC North and 10-8 overall - had four players honored by the conference. Hess, senior pitcher Amber Chevalier, and senior catcher Ashley Spanier earned All Conference honors this spring, and senior pitcher Val Callenius earned honorable mention.
Senior Kim Hess - who hit .621 for the Bulldogs this spring - was named the Most Valuable Player in the West Central Conference North. She set a host of single-season and career records for the Bulldogs this year.
Hess, who plans to play softball at Luther College next year, set a number of season and career records this spring in softball. She had 36 hits in 58 at bats this spring, breaking school records for most hits in a season and highest batting average (.621). Annette Schuch had held the record for most hits in a season (29 in 1981) and highest batting average (.568 in 1982).
Hess also broke her own school record by stealing 27 bases this spring. She had stolen 21 bases as an eighth grader (to tie Schuch's mark from 1982) and 23 as a ninth grader to set the record by herself.
Hess set school records this year - in hits, batting average, and stolen bases - despite playing only 18 games, as the team lost three games due to the weather.
During her five-year varsity career, Hess stole a team-record 109 bases, had 128 hits, and scored 124 runs, including 35 this year. Her hits and runs are also believed to be career records. She earned All Conference honors four times.
Hess finished her career with a .423 average (128 for 302). Schuch hit .514 (54 for 105) in 1981 and 1982, the highest career average on record. Due to incomplete records, other top career averages cannot be fully determined.
Coach Tim Woehler said Hess, who grew up playing Little League in Lake Henry, was a natural player with great instincts for the game. "I'm going to miss her. It's going to be extremely weird next year," said Woehler, who has had Hess on the varsity for five of his six seasons as head coach.
Spanier was one RBI short of tying the school record this year. She knocked home 21 runners for the Bulldogs this spring. Julann Nacey set the school record with 22 RBIs in 1985.
Spanier earned All Conference honors this year after being named honorable mention last year.
Chevalier, who pitched and played first based, earned All Conference honors for the first time this spring. She and Callenius led the Dogs' pitching staff, which had a combined ERA of 3.5.
The Dogs scored 128 runs this spring, while allowing only 92. As a team, the Dogs hit .294 this spring.
Junior Amanda Skalicky led the team this spring with six doubles, one away from the team record of seven set by Nacey in 1985. Skalicky was also second on the team in hitting this spring (.392) followed by senior Ashley Karger (.302).
Other team leaders this spring for the softball team were: homeruns (Hess, 2); triples (Hess, 2; senior Kayla Mackedanz, 2); RBIs (Spanier, 21; Karger, Mackedanz, and Skalicky, 15 apiece); bases on balls (Hess, 15; Skalicky, 14); and put outs (senior Leah Spanier, 145).
Hess was also named Player of the Year by her teammates. Junior Allyson Klenke was named the Rookie of the Year, and Skalicky was named the Will to Win Athlete.
---
Contact the author at paypress@lkdllink.net • Return to Sports
Home | Marketplace | Community
---