This month, the Koronis Civic Arena will have ice and a series of hockey camps and clinics. Last week, three Division I hockey players - two of them NHL draft picks - led camps for mites, squirts, peewees, and bantams.

"It's like anything, if you don't use your skills, they deteriorate," said Jeff Boonstra, the head boys' hockey coach for the River Lakes Stars, of the benefit of a month of skating in the summer for hockey players. "With hockey, there's no substitute for skating, and this allows them to get on their skates."

Summer ice is possible this year after a $100,000 improvement project by the Paynesville-New London-Spicer Hockey Association, which leases the arena from Paynesville Township. The project added extra insulation and two extra condensers to generate more cooling capacity for ice during the summer.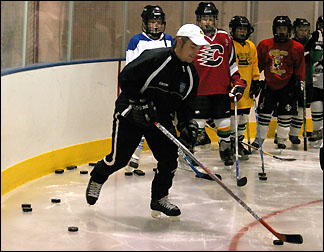 Arena manager Otto Naujokas is pleased with the building, which is staying very cold with the new insulation and has not had any moisture problems.
SCSU recruit Dave Carlisle demonstrates a drill for a group of youth hockey players at the Koronis Civic Arena last week.
Ice was started in the arena in mid-May and was ready by the end of the month, a week before the month of hockey camps and clinics started on Monday, June 6.
"The ice have been perfect. Beautiful ice right now," said Boonstra. He arranged for three Division I hockey players - Casey Borer of SCSU, Dave Carlisle of SCSU, and Drew Stafford of UND - to come and run the camps last week after five local players attended a camp recently at Shattuck/St. Mary's in Faribault, where all three went to high school.
Having D-I players to run the youth camps - which focused on power skating and shooting was awesome, said Boonstra. Not only did players get a different perspective, but they got to see the intensity of the D-I players (who went running after a day on skates or wanted to go and lift weights).
The kids, in turn, were pretty excited to see hockey stars in the flesh and to have them show them the finer points of the game, added Boonstra.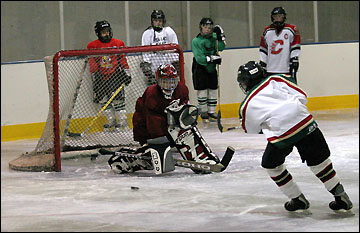 "The summer is a great time to work on fundamentals," agreed Borer, who like Stafford was picked last year in the NHL draft. "You can (work on your shooting) in the driveway. You can work on your puckhandling."
The focus of last week's camps were fundamentals: shooting and power skating.
"It's fun. They look up to us," added Borer, who was happy to see lots of SCSU hockey fans and plenty of Husky apparel.
About 75 kids are expected to participate in camps, clinics, and hockey leagues this month, mostly from the Paynesville-New London-Spicer Hockey Association but also from the Cold Spring Area Hockey Association and the Annandale-Maple Lake Hockey Association, said Naujokas. They would like to have more - maybe next year - but were pleased to offer more convenient and more affordable participation in summer hockey for players in their association.
Camps, clinics, 4-on-4 (for older players), and 5-on-5 leagues are planned until Friday, July 1, at the arena. Visit www.eteamz.com/pnls hockey/ for registration information.
---
Contact the author at paypress@lkdllink.net • Return to Sports
Home | Marketplace | Community
---