Hess wins two medals at state track
This article submitted by Courtney Karsch on 6/14/00.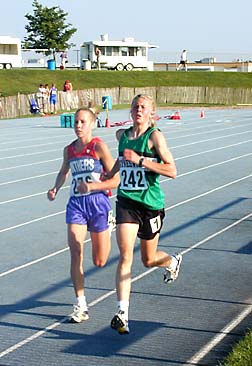 Sophomore Jenny Hess moved up to second place at the state track and field meet. Hess returned from last weekend's meet with a second-place medal in the 3,200-meter run and a third-place medal in the 1,600-meter run.

"I have enough thirds," said Hess with a smile, while clutching her first state runner-up medal and her fourth third-place medal Saturday afternoon. Hess finished third in both races a year ago and third in cross country last fall.

The Class A state track and field meet was held at the National Sports Center in Blaine on Friday and Saturday. Competing for Paynesville were senior Tiffany Rausch in the 400-meter dash, sophomore Melissa Bachman in the pole vault, and Hess.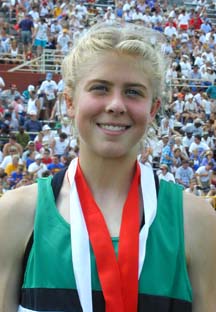 Hess, the daughter of Dave and Barb Hess of Lake Henry, was the only one of the three to place or medal. The top nine in each event earn points for their teams, and the top six receive medals.
Hess's two finishes were enough to put Paynesville in a tie for 17th place as a team with 18 points. First place is worth 12 points, second 10, third eight, etc.
In the 3,200-meter run on Friday evening, Hess battled her rival, Julie Gifford (pictured at left running neck and neck with Hess at the state meet) from Tracy-Milroy, in the heat, humidity, and windy conditions. Hess and Gifford were in a tight race after the third lap and broke away from the rest of the runners in the field, making it a two-person race. Gifford separated herself from Hess on the sixth lap and won. Hess was all alone in second place in a time of 11:14.51.
Gifford was second last year in the 3,200-meter and first in the 1,600-meter. She won the cross country title last November and swept the two distance races at state track.
Hess was disappointed in her time in the 3,200, which was her worst of the year. But noted that "the conditions weren't the best." Hess's fastest time this year, and the new school record, is 10:58. Gifford won Friday in 11:04.87.
In the 1,600-meter race, Hess ran her best time ever and finished third. Again, Gifford won, with Cack Ferrell, a sophomore from St. Paul Academy-Summit Schools giving a strong chase to the wire. "She surprised me," Hess said of Ferrell. "I'd never heard of her before."
Hess's time in the 1,600 was 5:03, which is almost two seconds faster than her previous best. Hess received All-State recognition in both runs.
Hess could battle Ferrell for the state title again next year, but Hess won't be beaten by Gifford again, at least not in a high school event. Gifford is a senior who graduated this spring. Hess allowed herself a smile while thinking about competing for a state title next year without having to beat Gifford.
Rausch had to run preliminaries on Friday for the 400-meter dash. She ran well but missed making the finals.
Rausch, the daughter of Kevin and Pat Rausch, had the 10th fastest qualifying time from sectionals and ran the 11th best time in the preliminaries. Only the top nine times qualify for the finals.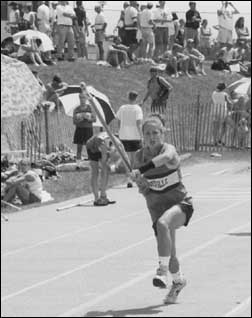 Her time in the preliminaries was 1:02.39. Rausch finished 11th overall. It was her second state appearance. She competed in both the 200- and 400-meter dashes in 1998 as a sophomore. She placed sixth in state in the 400 that year. "She had an outstanding career in track and is the 400-meter dash school record holder," said coach Dave Randgaard.
Bachman, the daughter of Dale and Karen Bachman, competed in the pole vault for the second year in a row. She qualified for state by clearing 9' 6" at sections but cleared only 9' 0" at state on Saturday.
She cleared the same height last year at state and finished 13th. This year she cleared 9' 0" on her first jump, which put her in a four-way tie for 12th place.
Bachman battled back from a severe ankle sprain during the late part of the season. A jump of 9' 6" could have earned Bachman a medal. Earlier this year, she set a new school record in the event by clearing 10' 3", a level that would have earned her a medal at state.
Individual Results
400-meter dash: Tiff Rausch, 11th, 1:02.39;
1,600-meter run: Jenny Hess, third, 5:03.81 (personal best);
3,200-meter run: Hess, second, 11:14.51;
Pole vault: Melissa Bachman, 12th, 9' 0".
---