Voss edges pack for runner-up finish in hurdle race
This article submitted by Andrew Jones on 6/14/00.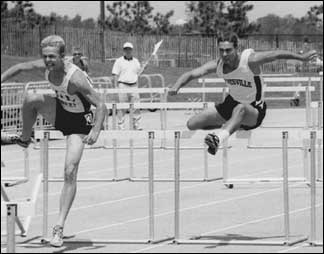 Jeff Voss (at far right hurdling at state) had the last word in his on-going 110-meter hurdle competition with ACGC's Kent Anderson.

Anderson, who won the event at sections last week, won their preliminary race at the state meet in Blaine on Friday night. After the preliminary races, in which Voss had the sixth fastest overall time, Voss felt he was too relaxed in letting Anderson "blow him away."

In the finals on Saturday, Voss inched ahead at the finish line to finish second in the state in Class A. The final on Saturday afternoon was unbelievably close, with Voss in a pack of four runners who finished two hundreths of a second apart. "I thought I got third or fourth when we crossed the finish line because we were all in a group," said Voss.

Andrew Aakre of Stephen-Argyle won the race in 15.19. Anderson was fourth in 15.62, and another sectional rival, Adam Maine of Holdingford, was sixth in 15.78.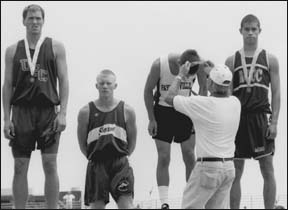 Voss, a senior, took sixth in the event a year ago. "People say not to be nervous, but sometimes you need to be," he said Saturday with his new runner-up medal around his neck. "Yesterday I wasn't nervous."
His runner-up finish earned the Bulldogs 10 team points. "The times were slow, but it doesn't make a difference," said Voss, who tied the highest finish of a Paynesville male athlete at state. Mike Hammer was second in the high jump in 1994, and Loren Wendroth was second in the 800-meter run in 1979.
Voss, the son of Art and Berniece Voss, also ran in the 300-meter hurdle preliminaries on Friday but failed to qualify for the finals. He finished with the 13th fastest time in 43.40.
In addition to Voss, the Paynesville boys' track team had two place winners at the state track and field meet. Senior Luke Trees took seventh in the high jump, and the 1600-meter relay team of Voss, Nic Glenz, Eric Rausch, and Trees took seventh as well. These placings earned team points, but both fell one disappointing place short of receiving a state medal.
Trees, the son of Grayling and Sandra Trees, took fifth in this event last year when he cleared 6' 4" and was hoping to improve. On Saturday, Trees made 6' 2" but missed all three attempts at 6' 3". A miss at an earlier height prevented Trees from tying for fourth place. Trees got seventh and earned three team points for Paynesville.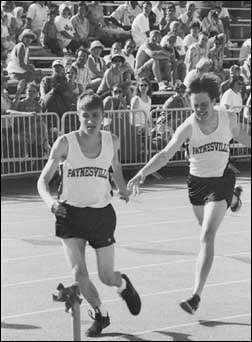 The 1,600-meter relay was the last event on Saturday afternoon. Voss started the relay, and he handed off to teammate Nic Glenz after one lap the team was in fifth place. After Glenz's leg, the team was in seventh.
Sophomore Eric Rausch ran possibly the best split in his life, but it only got the team into sixth. Trees ran the last leg of the last race of his high school career, but couldn't hold off a blazing runner from St. Paul Academy-Summit School. The Bulldogs' relay team missed a medal by one spot again. The guys were somewhat disappointed by running a time three seconds slower than their best.
Said Voss, who was the first athlete from Paynesville to ever compete in three events at the state track meet, "I'm happy with second in the 110s. I didn't expect to do so well in the 300s, but I thought the four by four would do a little better. But, hey, at least we got there!" he added.
Both Glenz and Rausch (pictured running at state) are sophomores. Glenz is the son of Ray and Sharon Glenz, and Rausch is the son of Kevin and Pat Rausch.
The three points in the relay gave Paynesville a total of 16 team points, which placed them 20th overall. Plainview won with 50 points, and New London-Spicer, behind three gold medals from senior sprinter Brandon Smith, took second with 48. Morris was third with 42, as senior runner Brett Edlund won both the 1,600-meter and 3,200-meter runs.
Junior Clayton Lang, the son of Kevin and Bev Lang, advanced to state in the 1600-meter run but was unable to participate due to injury. Lang suffered an invulsion fracture in the growth plate of his hip in the final stages of the 3,200-meter run at sections. The junior captain said it should take four to six weeks to heal.
Individual results
110-meter hurdles: Jeff Voss, second, 15.61;
300-meter hurdles: Jeff Voss, 12th, 43.40;
1,600-meter relay: Luke Trees, Voss, Nic Glenz, Eric Rausch, seventh, 3:32;
High jump: Trees, seventh, 6' 2".
---