Fuchs named conference MVP in baseball
This article submitted by Michael Jacobson on 6/14/00.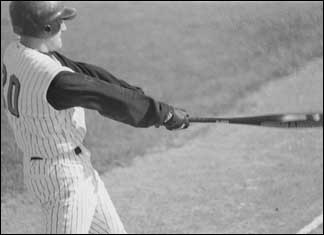 Doug Fuchs, a senior pitcher and infielder for the Paynesville Bulldogs, was chosen as the Most Valuable Player in the West Central Conference North this spring. Fuchs led the Bulldogs to the conference title with an 11-1 record in WCCN.

Four Paynesville teammates received All Conference honors along with Fuchs for their performance on the baseball field this spring. Seniors Ben Bork, Scott Braun, and Adam Miller, and junior Jon Lieser also earned All Conference recognition. Bork earned All Conference honors for the second year in a row, while Fuchs was honorable mention last year.

Fuchs started the conference season with a complete-game victory against Long Prairie-Grey Eagle. He finished the season by hurling a complete-game, two-hit shutout against Sauk Centre to clinch a tie for the conference title, and by scoring the winning run in the bottom of the seventh inning against state-ranked St. Cloud Cathedral to win the outright title.

His season statistics include an 8-2 pitching record overall and 4-1 in conference. He had an earned run average of 0.83 in the conference and threw four complete games.

At the plate, Fuchs, who also played shortstop, hit .447 overall with six home runs, 10 doubles, and 40 RBIs.

Fuchs, the son of John and Darleen Fuchs, said he was surprised and pleased to win the award. He was quick to share the credit, saying, "It was a team effort. Good coaching helps, too."

Bork, the son of Bruce and Elaine Bork, hit .492 for the Bulldogs, while covering lots of ground defensively for the Bulldogs in center field. He led the Bulldogs with 35 hits, 34 runs, nine bases on balls, and 15 stolen bases. His on-base percentage was .566.

Braun, the son of Greg and Mary Braun, hit .356 for Paynesville with three homers and 20 RBIs. Both totals were second on the team behind Fuchs. Braun played some in the infield and outfield, but primarily caught for the Bulldogs.

Miller, the son of Larry and Elaine Miller, hit .446 for the season with five extra-base hits and 14 RBIs. He walked seven times, raising his on-base percentage to .500. Miller, who played first base, was third on the team with 29 hits.

Lieser, the son of Dennis and Rosie Lieser, was undefeated in the conference in four pitching decisions. His season ERA was 2.85. At the plate, Lieser, who also played shortstop and catcher, hit .314 with five extra-base hits. He was second on the team with 23 runs scored and eight stolen bases.

Fuchs was selected to play in a state-wide all-star series in June. The Lions' All Star Game will be held in Chaska on June 22-24. According to head coach Brad Skoglund, Fuchs is the fourth player from Paynesville Area High School to be selected to play in the all-star game. The other players were Lynn Hemmesch (1978), Marc Schmitz (1983), and Ryan Wuertz (1996).

What Fuchs really wanted was a few more post-season wins, not post-season awards. "I would rather have beaten St. Michael(-Albertville)," he explained, after saying the MVP award didn't mean much. "I would rather be playing right now."

The Bulldogs had won 14 straight contests and were rated fourth in the state in the Class AA polls, when they were upset in the sub-section semifinals by St. Michael-Albertville 9-7 two weeks ago.

The Bulldogs finished the season with a record of 19-3.

The Bulldogs' season statistics reflect their record. The Bulldogs hit .370 as a team with 38 doubles, four triples, and 18 home runs. They also stole 40 bases.

The Bulldogs hit .370 as a team and outhit their opponents 228-133. They outscored them 157-63. The average score of their games was 7.1 for Paynesville to 2.9 for their opponents. About the only category where opponents achieved parity was in walks. The Bulldogs drew 49 bases on balls, and yielded 48.

The pitchers had a staff ERA of 1.81. Senior Justin Mackedanz led the team with an ERA of 0.83. He, like Lieser, was undefeated in four pitching decisions.

In 147 innings combined, Fuchs, Lieser, Mackedanz, and Nathan Schutz struck out 110 while allowing only 133 hits. Of the 63 runs scored against Paynesville, only 38 were earned. Skoglund said it was the only season he can remember where the pitching staff did not yield a home run.
---