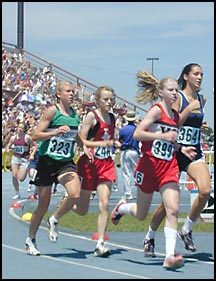 Junior Jenny Hess extended her record as the most decorated track athlete in Paynesville Area High School history with two more medals from the state track and field meet over the weekend.

Hess runs in the pack at the state track meet last weekend.

Hess took second in the 3,200-meter run on Friday evening at the National Sports Center in Blaine and third in the 1,600-meter run on Saturday afternoon.

In the last three years, Hess has won six medals at state, finishing in the top three in both races each year. As a ninth grader in 1999, she took third in each race. As a sophomore in 2000, she took second in the 3,200-meter run and third in the 1,600, a feat she matched this year.

Her six state medals, with a year of eligibility remaining, are the most in PAHS history. As far as the Press is aware, the previous high for state medals was three, held by Mike Hammer in the high jump, Joel Fenske in distance runs, and Tina Lang in distance runs. Hammer, Fenske, and Lang graduated in 1994.

On Friday, Hess led the 3,200-meter field for six laps, but lanky six-footer Catherine Ferrell of St. Paul Academy and Summit Schools stayed right on her shoulder. Hess ran blistering splits of 2:30 for 800 meters and 5:17 for 1,600 meters, but was unable to shake Ferrell.

A year ago, Ferrell beat Hess for second in the 1,600-meter run, but finished in third, behind Hess, in the 3,200.

This time, Ferrell passed Hess on the backstretch of the seventh lap and held on to win in 10:53.11. Hess was second in 11:01.22.

Hess entered the state meet with the lowest times in both races. Her goal was to run a time in the low 10:50s herself, and she was not pleased with her performance in either event. "It could have been better," she said. "It could have been much better, but there's always next year."

Girls head coach Dave Randgaard and boys head coach Darrel Carstens, who works with the distance runners, praised Hess's weekend performance and her continued status in the elite runners in the state. "She got a first (in cross country), a second, and a third in the same year," said Carstens. "That's exceptional. She's in the elite."

"I couldn't be prouder," he added.

On Saturday, Hess changed her strategy in the 1,600-meter run, running back in the pack instead of leading the group. She ran in fourth place for the first three laps, and made a move with 200 meters to go in the last lap. Hess couldn't outsprint either Ferrell or Kristi Colbenson of Rushford-Peterson and ended in third with a time of 5:05.93.

Colbenson beat Ferrell in a photo finish by one hundreth of a second.

Hess thought the pace of the race was too slow, especially the first half of the race and plans to revert to leading the pack at her pace. "I have to go and lead and try to burn everyone else out," she said.

So far in her career, with a year to go, Hess has eight state medals, six in track and two in cross country, including the individual cross country title in 2001, a title she will try to defend this fall.

Hess scored 18 team points for Paynesville, enough for 13th place. Three section rivals finished in the top ten: defending champion Holdingford was third with 59 points, and section champion Delano tied for fifth with 38, and Big Lake was seventh with 28.

State Results
1,600-meter run: (1) Kristi Colbenson, Rushford-Peterson, 5:04.78; (2) Catherine Ferrell, St. Paul Academy and Summit Schools, 5:04.79; (3) Jenny Hess, Paynesville, 5:05.93; (4) Paula Hoffert, Lewiston-Altura, 5:09.71; (5) Krystle Ratzlaff, Mountain Lake/ Butterfield-Odin, 5:15.25; (6) Larissa Williams, Visitation, 5:16.63; (9) Angie Mattke, New London-Spicer, 5:22.85.

3,200-meter run: (1) Ferrell, 10:53.11; (2) Hess, 11:01.22; (3) Colbenson, 11:11.81; (4) Lou Brueberg, Minnehaha Academy, 11:18.01; (5) Jeanie Becker, Rushford-Peterson, 11:28.21; (6) JaDee Furman, Big Lake, 11:30.76.
---
Contact the author at paypress@lkdllink.net • Return to Sports
Home | Marketplace | Community
---