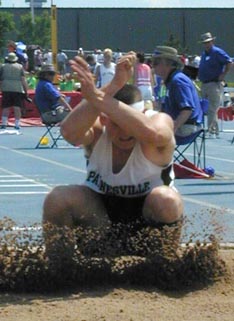 New school records by Josh Trees (right) in the triple jump and Clayton Lang in the 1,600-meter run propelled the Paynesville tracksters onto the medal stand at the state track and field meet in Blaine over the weekend.

On Saturday afternoon, Trees jumped 42' 6.75" on his first attempt in the triple jump finals, and secured second place in the event, and Lang lowered his school record in the mile run and took fourth.

Trees, a junior, had the fourth best jump at sections to qualify for state. He leaped 41' 7" in a preliminary jump to make the finals, but was not pleased with his three preliminary leaps. Trees used the 40-foot mark for the preliminary jumps, and couldn't find his form, landing only one of his three jumps. "It was a mental block," he said. "I was worried about making the pit."

In the finals, Trees used the 36-foot mark and hit a good jump right away. "It felt good," he said, "but I was surprised it was that good."

"It was hot and my legs weren't feeling the best, and I was happy to get that jump," he added. "It's a school record, too, which I've been trying to get all year."

Trees' leap beat Josh Jones's record of 42' 3" set back in 1999.

After sections, Trees predicted that a leap in the high 42s or low 43s would get him on the medal stand. He thought he had a chance to place as high as second, and did. "He had a good day," said Darrel Carstens, the boys' track coach. "He took second and broke the school record."

Winning the Class A triple jump, with a leap of 44' was Marcus Barto of Chisholm, who placed in four events at state, also winning the long jump and taking second in the 200- and 400-meter dashes.

Carstens also praised Trees for doing four events at sections (high jump, triple jump, 100-meter dash, and 400-meter relay) and placing in all four. Those points helped the boys to a second place finish as a team, but probably cost Trees a state berth in the high jump as well.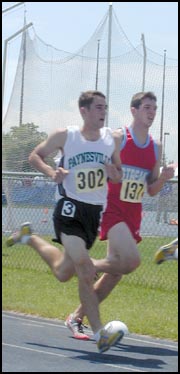 Lang (far left), a senior, finally got his chance to run at state on Saturday afternoon. A year ago, Lang qualifiied in the 1,600-meter run but could not compete due to injury. Then on Friday evening, he watched as his section rivals and friends - Will Enns of Long Prairie-Grey Eagle and Nathan Hoffman of Annandale - finished first and second by 20 meters in the 3,200-meter run.
As the third-place finisher in sections, Lang missed the automatic entrances to state. His time in the 1,600 was low enough to qualify for state, but he just missed the time in the 3,200 meter. His 3,200-meter time at sections would have been fast enough to earn a medal at state.
Lang said it was harder to watch the mile run a year ago, when he knew he had qualified but couldn't compete, than the two-mile run on Friday evening, even though he could have qualified for both races in any other section.
Lang's wait came to an end on Saturday, and he said he was ready to run. A large pack ran together for the first couple laps of the race. "I started just the way I wanted," said Lang, "not too fast. I wanted to run splits of 2:14 and 2:10, exactly what I ran."
"About 700 meters to go, I was still in a big bunch," he explained of the race's finish. "I knew I had to make a move. I'm not the strongest finisher, so I knew I had to be out in front."
Lang moved into second in the backstretch, but was passed by two runners in the final stretch and finished fourth. Wadena/Deer Creek junior Adam Asfeld won the race. Hoffman was sixth, and Enns seventh, both apparently feeling the effects of their fast 3,200-meter race from the previous night.
Lang lowered his school record in the mile run to 4:24.58. He ran a 4:26 at sections to qualify for state and break Joel Fenske's mark. Prior to that, Lang's best was a 4:32 in the mile.
"I honestly thought 4:24 would have placed higher," said Lang, who finished sixth in Class A in cross country last fall, "but I'm very satisfied. I'm happy to finish like this."
Lang plans to run track and cross country at South Dakota State University next fall, where Hoffman will be his teammate. "He'll do great in college," Carstens said about Lang. "He's such a coachable kid."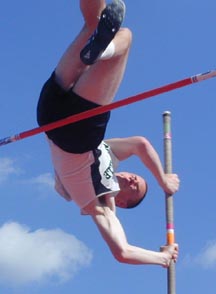 Junior Nic Glenz participated in the pole vault competition on Friday afternoon and placed 12th out of 16 competitors. Glenz never found his form, but managed to clear 11' 6" and 12' with only one miss before failing three times at 12' 6". Glenz cleared that height at both subsections and sections.
Glenz said he was disappointed only because he didn't vault well at state. "I didn't have one good vault," he said. "I could have gotten dead last and vaulted good and been fine. It's frustrating."
Glenz made his second trip to state. Last year, he qualified as part of the Bulldogs' 1,600-meter relay team, which just missed a medal by finishing seventh.
As a team, the Bulldogs had 16 points, good for 21st place. Their archrivals from Atwater-Cosmos-Grove City scored 40 points and took second. Chisholm, behind Barto, took first with 59 points.
State Results
Triple jump: (1) Marcus Barto, Chisholm, 44' 1.25"; (2) Josh Trees, Paynesville, 42' 6.75"; (3) Blake Rose, Concordia Academy, 42' 2.5"; (4) Brad Nelson, Caledonia/Spring Grove, 41' 11"; (5) Justin Johnson, Byron, 41' 9"; (6) Jeff Mathiason, Westbrook-Walnut Grove/Red Rock Central, 41' 5.75".
1,600-meter run: (1) Adam Asfeld, Wadena-Deer Creek, 4:20.97; (2) Ryan Davis, Carlton/Wrenshall, 4:23.31; (3) Chris Erichsen, Kingsland, 4:23.55; (4) Clayton Lang, Paynesville, 4:24.58; (5) Mike Benchina, Chisholm, 4:24.97; Nathan Hoffman, Annandale, 4:27.54.
Pole vault: (1) Justin Schmidt, Elgin-Millville, 14' 3"; (2) Josh Sorenson, Madelia-Truman, 13' 9"; (3) Nick Aurich, Mayer Lutheran, 13' 9"; (4) Adam Johnson, Delano, 13' 3"; (5) Steve Kramer, Mayer Lutheran, 13' 3"; (6) Jerimiah Duvall, Pequot Lakes, 13'; (12) Nic Glenz, Paynesville, 12'.
---
Contact the author at paypress@lkdllink.net • Return to Sports
Home | Marketplace | Community
---