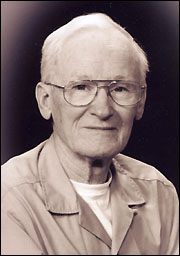 Paynesville native Ralph Weber has been selected by the Minnesota Trapshooting Association to its Hall of Fame as both a shooting and a supporting member.

Weber was born in 1930 and was raised in Paynesville. He served in the armed forces during the Korean War in 1950 and 1951. He currently resides in White Bear Township.

Ralph was always a hunter but found he wanted more. He started going to some local gun clubs to watch other shooters shoot trap. In 1970, he joined the Amateur Trapshooting Association and shot his first registered targets at the St. Anthony Gun Club in Anoka. Several weeks later, he shot his first 100 straight at the same club.

Through the years, Ralph has won many class trophies at Minnesota State Shoots. In 1985, he ran 200 16-yard championship targets plus an additional 125 birds in a shoot off to take the state championship.

On Aug. 25, 1990, Ralph broke 500 targets in a 500-bird marathon, thus becoming the 13th shooter in the Amateur Trapshooting Association to accomplish this feat. He was also the first Minnesota shooter, in Minnesota, to accomplish this feat. He has now been booked as a marathon shooter.

When the Golden West Grand was being conducted in Reno, Nev., Ralph attended these shoots several times and took home many class trophies. He shot his way onto seven state teams in the veterans and senior veterans categories and was captain five times.

Ralph has shot the most 16-yard targets in the Amateur Trapshoot-ing Association. To date, he has over 475,000 registered 16-yard targets.

In addition to shooting, Ralph served on the state board of directors for the Amateur Trapshooting Association in 1978, 1979, and 1980. In 1981, he was elected vice president. While serving in this capacity, he helped to start the youth program, which he continued to do until 1993.

Ralph served as president in 1982, as vice president again in 1984, and as president again in 1985.

Ralph, a carpenter and then a building inspector by trade, helped the Waseca Sportsmen's Club to enlarge its shooting facility. He laid out a four-trap club, helped build a new clubhouse, built a shelter for the rifle range, and continues to make benches and picnic tables for the facility.

Several years ago, Ralph circulated a petition throughout the state and some adjoining states asking the Amateur Trapshooting Association to reduce squad sizes from the required five shooters. Some clubs had trouble finding enough shooters, hurting the clubs, the state association, and the national association. When this change was pushed through, it turned out to be a successful rule change.

Ralph also was a great teacher of trapshooting. His daughter was in one of the first college-level youth program shoots. His wife of 47 years, Mary, also shot registered targets with Ralph for several years.

Whenever he shot at the St. Cloud Gun Club, Ralph said that he would spend a lot of time in the clubhouse looking at the pictures of the Hall of Fame inductees. "I never once dreamed that one day I would be selected to sit with those immortals," he said. "To be placed in the Minnesota Trapshooting Hall of Fame leaves me overwhelmed. I hope that I am just as worthy as those before me."

Ralph Weber - whose brother Charles still lives in Hawick - will be inducted into the Hall of Fame at the Minnesota State Shoot held at the Alexandria Gun Club on Friday, July 11. Also part of the Class of 2003 is Dean Neuman of Dakota, Minn., a shooting member.
---
Contact the author at editor@paynesvillepress.com • Return to News Menu
Home | Marketplace | Community
---