Trees and Voss bring home medals from the state boys' track meet
This article submitted by Michael Jacobson on 6/9/99.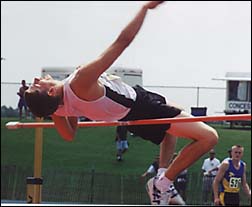 Both Luke Trees and Jeff Voss proved the merits of state qualifying standards, by returning from the state track and field meet with a medal from their event.

Medals are given to the top six finishers in each event, an accomplishment both Paynesville juniors achieved Saturday in Blaine despite placing fourth in our section. Both advanced by meeting performance standards set for the state meet.

At the state meet, Section 5 proved its toughness. In 14 individual events for boys in Class A, the section produced five champions, three runners-up, and three third-place finishers. In four relays, the section had two champions and two runners-up.

Trees (pictured right) competed in the high jump, starting at 10 a.m. on Saturday morning, in a field of 18 competitors. The opening height was 6'0" which Trees made on his first attempt. At 6'2", Trees needed two attempts to clear the bar.

When the bar was raised to 6'4", a height that Trees had cleared in practice but not yet in a meet, 11 competitors remained. After two misses Saturday, Trees was on the brink of elimination when he soared over the bar on his third attempt.

"On my third try, I was really nervous," said Trees, who knew he needed to make the jump to medal. "I kind of glanced over at the crowd and took a little longer to concentrate and that helped me."

"I was pretty excited when I did (clear 6'4")," said Trees.

Only six jumpers made 6'4", which wasn't surprising considering that only five had made that height in the sectionals to advance to state.

Trees and two others were eliminated at 6'5". By counting misses, Chris Tebrake of St. Peter was awarded fourth place, while Trees and Scott Von Lehe of Cleveland-Le Sueur-Henderson tied for fifth. "I'm happy with fifth," said Trees.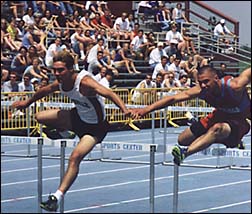 The state champion and third-place finisher in the high jump were from our section. Ryan Zenzen, a junior from Becker, won the high jump with a leap of 6'8". Mitch Potter was third at 6'5".
Potter lead St. Michael-Albertville to the state title in Class A by winning three gold medals and one bronze. Potter really shone in the hurdles, winning both the 110-meter and 300-meter races.
"I'm pretty happy that he's graduating," said Voss(pictured right), who competed against him in the 110-meter high hurdles. Voss, who also placed fourth in the sectional competition with a time of 15.21, ran a preliminary heat at state on Friday afternoon in 15.71. He placed fourth in his heat and advanced to the finals on Saturday.
Just after noon on Saturday, Voss sprinted against the wind to place sixth in the hurdle finals, in a time of 15.63.
Voss said his time at state wasn't his best and that he had hoped he could duplicate his section time at state. Running into the wind, though, hurt everyone's time. Voss also said that he usually hits his last hurdle, but at state he hit a couple hurdles hard.
"I was pretty happy with the place I got," said Voss.
---