), competed at the Minnesota State Class A Track and Field Meet in Blaine. Both Hess and Bachman are ninth-grade members of the Paynesville girls' track team.

On Friday at 6:30 p.m., Jenny Hess ran in her first event, the 3,200-meter run. Hess led this race for the first six laps, with a close pack of three girls running right with her. "She had excellent position on the track and her running form was outstanding, just running with ease and looking comfortable," said coach Dave Randgaard.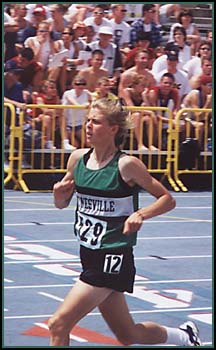 Hess eventually was passed, but only by two amazing runners, Marit Sviggum of Kenyon-Wanamingo and Julie Gifford of Tracy-Milroy. Hess continued to run well and had a great kick for third place.
Hess' third-place time of 11:24.83 was her best in the 3,200-meter run and set a new school record, breaking the old one of 11:30.2 set in 1992 by Tina (Lang) Fenske.
Then, on Saturday at 2 p.m., Hess ran in the 1,600-meter run. Again, she ran her best time with a 5:12.89, getting her another third place medal.
Hess had very good position on the track at the cut mark, where the runners get to move in. She was in the front group of runners right away.
Gifford and Sviggum ran away from the group and finished one-two again, but in reverse order.
On the fourth lap, Hess was passed on the back straightaway by Kyra Hamilton of St. Paul Academy and was in fourth place with 150 meters to go. Hess had another great kick at the end and passed Hamilton on the final straightaway to capture third place.
"Jenny ran the two best races I have ever seen her run in her track career, and she just put out her top performances at the time she needed it most," said Randgaard.
Hess received All-State recognition and medals in each event. She earned eight team points for each third-place finish. Those 16 team points by Hess earned Paynesville 19th place in team competition.
Hess finished better than she thought she would and was very happy with her results. "I guess I was more confident this year," she said. "I knew what I was getting into."
Melissa Bachman entered the pole vault competition with a total of 28 vaulters. The opening height was 9'0", which was Bachman's previous best. She missed on her first attempt, but was very close to making it. On her second try, she made her best vault of the season and she made the jump of 9'0" with room to spare. That vault equaled the school record she set at sections.
According to the state procedure, Bachman had to wait 45 minutes to jump again at 9'6". Bachman missed all three attempts, but her second and third jumps were very close to making this height. She really vaulted well at the state meet and ended up in a five-way tie for 13th place in the state.
Both of the girls represented Paynesville girls track really well at the state meet. Congratulations, girls!
---