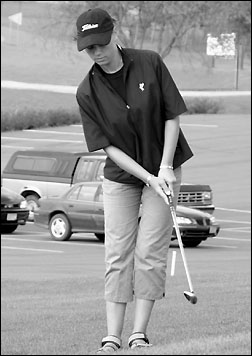 Senior Heather Fuchs and junior Mitchell Mackedanz both qualified for the Class A state golf meet this week by taking second individually at section competition last week.

Fuchs shot 81 at Rich-Spring Golf Course on Tuesday, June 1, to tie for second in the girls' competition. Mackedanz, buoyed by a hole-in-one, shot 74 to tie for second in the boys' competition.

Senior Heather Fuchs shot 42-39=81 at the Rich-Spring Golf Course last week to tie for second individually and to advance to state.

They both will compete at the state meet, starting today at Izaty's Golf and Yacht Resort near Onamia, with the boys playing Black Brook and the girls playing the Sanctuary. Mackedanz was scheduled to tee off at 11:35 a.m. this morning, and Fuchs was scheduled to tee off at 11:40 a.m.

Mackedanz will become the third male golfer from PAHS to compete at state, joining Bob Loomis (1980) and Tom Notch (1989). Fuchs will become the sixth female golfer from PAHS to compete at state, joining Mary Frandson (1999 and 1997), Heather Schmitt (1996 and 1994), Amy Johnson (1992 and 1990), Sara Elseth (1989), and Penny Johnson (1988). The girls' team also took fourth at state in 1987.

Mackedanz aced the 175-yard par-3 #8 at Rich-Spring last week, hitting a six iron over the flag and spinning the ball back into the cup. He could not see the ball from the tee but the onlookers by the green told him it sat on the lip before dropping for his first ace. "I saw it hit on the green, and I thought it'd be a birdie chance, but it went in," said Mackedanz, the son of Mark and Mary Mackedanz.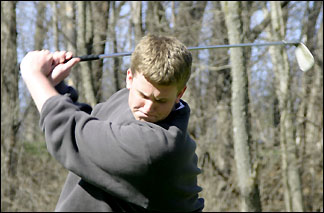 That ace pulled Mackedanz to even par with six holes to play. He had already birdied two par-5s (#16 by chipping close and #7 by making a long putt, right before his hole-in-one) but had double bogeyed #17 and bogeyed #3 and #6.
After his ace, Mackedanz bogeyed two straight holes, but he recovered to make four straight pars to finish his two-over-par round of 74 and finish second individually.
Medalist Chris Cole shot 72 and led NL-S to state as a team.
Mackedanz said he was erratic off the tee but he putted well.
Junior Mitchell Mackedanz shot two-over-par 74 in the Section 5A meet last week, including a hole-in-one on the par-3 173-yard #8. This week, he becomes the third PAHS male golfer to compete at state.
Fuchs made two birdies, six pars, nine bogeys, and a double bogey for her nine-over-par round of 81 at Rich-Spring. She birdied the par-5 #3 by hitting her eight-iron approach to ten feet and made a long putt on the par-3 #15 for her other birdie. She shot 42 on the front and 39 on the back.
Fuchs said she did not hit her irons very well, missing many greens, but her short game was working and she putted well.
Fuchs, the daughter of Cindy and Steve Fuchs, competed at sections two years ago. Her goal was to play well and to advance to state this year. She trailed only conference rival Lindsey Wellenstein, who led Albany to state by firing 78.
Fuchs, who beat Wellenstein for the individual conference title, tied with Kelli Burns of Annandale at 81. Burns and Wellenstein tied for eighth individually at state last year.
Mackedanz, who had not competed at sections before and has another high school season left, did not have high expectations coming into sections. He thought that if he played well he had a chance to make it to state.
SCORECARDS
Heather Fuchs (42-39=81)

Hole
Par
Score
Hole
Par
Score
1--
4
4
10
4
4
2--
4
5
11
3
3
3--
5
4
12
4
5
4--
4
5
13
4
4
5--
4
5
14
5
6
6--
3
4
15
3
2
7--
5
5
16
5
5
8--
3
5
17
4
5
9--
4
5
18
4
5
Front
42
Back
39
Mitchell Mackedanz (36-38=74)

Hole
Par
Score
Hole
Par
Score
1--
4
4
10
4
5
2--
4
4
11
3
3
3--
5
6
12
4
4
4--
4
4
13
4
4
5--
4
4
14
5
5
6--
3
4
15
3
3
7--
5
4
16
5
4
8--
3
1
17
4
6
9--
4
5
18
4
4
Front
36
Back
38
Boys Results
Medalist - Chris Cole (NL-S) 72; State Qualifiers - Mitchell Mackedanz (Paynesville) 74; Clinton Dammann (Glencoe-Silver Lake) 74; Chuck Heinzel (Albany) 75; Zac Zillmer (Foley) 75; Joe Gothmann (Watertown-Mayer) 76.

Team Scores
1. New London-Spicer 314
2. Albany 326
3. Atwater-Cosmos-Grove City 328
4. Glencoe-Silver Lake 330


Girls Results


Medalist - Lindsey Wellenstein (Albany) 78; State Qualifiers - Heather Fuchs (Paynesville) 81; Kelli Burns (Annandale) 81; Christie Loehr (Cathedral); Jenna Schurmann (Sauk Centre) 86; Lacey Hoeck (Milaca) 87.


Team Scores


1. Albany 358
2. St. Cloud Cathedral 368
3. Annandale 375
4. Becker 38
---
Contact the author at editor@paynesvillepress.com • Return to Sports
Home | Marketplace | Community
---