Senior Chad Wyffels and sophomore Aaron Bachman each placed third at the Section 5A meet last week at St. John's University, both just missing state berths.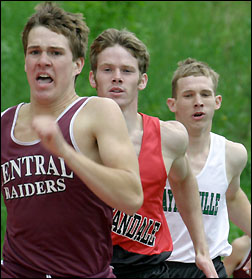 Bachman and Wyffels - along with junior Matt Mehr - competed at sections for the Bulldogs on Wednesday, June 2.
Senior Chad Wyffels stayed with the leaders in the 800-meter run at sections last week and finished third with a personal best time.
Both Bachman (pole vault) and Wyffels (800-meter run) set personal bests in taking third.
Wyffels, seeded seventh, ran with the leaders throughout the two-lap 800-meter race. Nick Demarais of Annandale and Adam Burandt of Norwood Young America both ran sub-two-minute half miles in taking first and second in the event.
Wyffels finished three seconds back in third in 2:03.21.
Bachman cleared 12' 2" in the pole vault, a career best, on his first attempt last week, good enough for third place. Bachman was seeded 14th to start the section competition but ended up taking third.
Chad Aurich of Mayer Lutheran won the pole vault by clearing 13' 2", and Isaac Fordyce of ACGC took second by clearing 12' 8".
Bachman also ran in the 300-meter hurdles and placed 14th.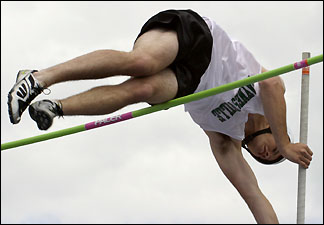 Mehr, competing in both the 1,600-meter and 3,200-meter runs, took 12th in both events.
Both Bachman and Mehr were making their first appearances in section competition, while Wyffels competed in a different event this year, having qualified for sections last year in the 300-meter run.
Sophomore Aaron Bachman cleared a season best 12'2" in the pole vault and placed third at sections at St. John's University last week.
"We had some personal best performances, and these guys had great days," said coach Darrel Carstens.
With no one qualifying for state, the boys' track team completed its season at sections.
Team Scores
1. Glencoe-Silver Lake 77
2. St. Cloud Cathedral 64
3. ACGC 56
4. Crosby-Ironton 52
5. Annandale 46
6. Foley 45
Holdingford 45
8. Albany 38
9. Mayer Lutheran 36
10. Melrose 27
11. Watertown-Mayer 26
12. Delano 25
Milaca 25
14. New London-Spicer 24
Norwood Young America 24
16. Maple Lake 19.5
17. Pierz 16
18. Paynesville 12
19. Aitkin 11
20. Becker 9
St. John's Prep 9
22. Holy Trinity 6.5
23. Rockford 6
24. Belgrade-Brooten-Elrosa 1
Royalton 1
Individual Results
300-meter hurdles: Aaron Bachman, 14th, 44.7;
800-meter run: Chad Wyffels, third, 2:03.21;
1,600-meter run: Matt Mehr, 12th, 4:58;
3,200-meter run: Mehr, 12th, 11:07.3; Pole vault: Bachman, third, 12' 2".
---
Contact the author at editor@paynesvillepress.com • Return to Sports
Home | Marketplace | Community
---