The Bulldogs baseball team swept through the District 20 playoffs last week, winning three games to claim the district title for the third straight season.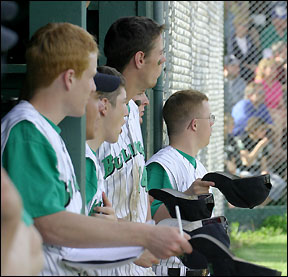 The Dogs (19-4) capped the title on Friday, beating Howard Lake-Waverly 13-6 in the district final in Maple Lake. (The Lakers are the defending Class A state champions, now in Class AA.)
The Dogs used an 11-hit attack, along with eight walks and five Laker errors, to score 13 runs in the district final. They built a 9-1 lead over four innings and appeared to be on the verge of a ten-run victory in the district final for the second straight year before the Lakers scored four runs in the fifth inning.
Using rally caps in the dugout to quell a rally were, from left, Mark Andrie, Matt Fuchs, Trent Hansen, Jordan Haag, Ross Jaeger, and Matt Bayer.
But the Dogs answered with four runs in the bottom of the sixth and won handily 13-6.
Junior Justin Butkofki, who had three hits, got the Dogs started, tying the game at 1-1 with a two-out RBI single in the bottom of the first. Sophomore Jamie Paul gave the Dogs a 2-1 lead with a sacrifice fly, scoring senior Adam Hemmesch, in the second inning.
In the third, the Dogs expanded their lead to 6-1 as junior Mike Mueller singled, senior Jordan Haag walked for the second time, and both scored on senior Adam Kampsen's double. Kampsen scored on an error, and sophomore John Hemingson delivered a two-out RBI single for the fourth run of the inning. The Lakers committed three errors in the inning.
The Dogs added three more runs in the fourth, as Haag and Butkofski hit RBI doubles and Kampsen added a sacrifice fly. The Dogs almost scored more in the fourth but had a runner thrown out at home to end the inning.
In the sixth inning, after the Lakers had cut into the Dogs' lead, Paynesville rebuilt their cushion with four more runs, including a bases-loaded walk by Hemmesch, two Laker errors on hard-hit ground balls, and an RBI single by Paul.
Paul also made two key defensive plays for the Dogs at second base. He ranged far to his left in the first inning to grab a grounder and throw to pitcher Chris Beier at first to end the inning with two runners on base. And in the fifth inning, when HL-W scored four runs, Paul made a running catch of a blooper to right for the second out.
The Bulldogs used a balanced attack against HL-W. Six Dogs combined for 11 hits, and the other three starters - Beier, Berg, and Hemmesch, drew six walks and scored five runs.
The Dogs also beat Howard Lake-Waverly in May on the road 10-2.
The Dogs started the Section 5AA playoffs on Monday night in St. Cloud and lost 5-4 to Delano. The Dogs played Glencoe-Silver Lake on Tuesday in an elimination game. If they win on Tuesday, they will play Delano again on Thursday at 5 p.m., having to beat the Tigers twice to advance to state.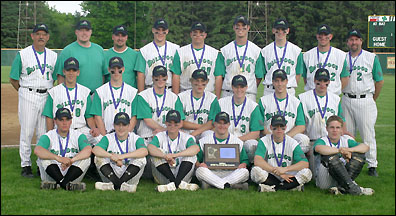 The Bulldogs baseball team won the District 20AA title for the third year in a row. Pictured are: (sitting) Matt Fuchs, Trent Hansen, Jamie Paul, manager Matt Bayer, Brandon Berg, and John Hemingson; (kneeling) Ryan Hess, Derek Stanger, Ross Jaeger, Chris Beier, Mark Andrie, Chad Stang, and Mike Mueller; (standing) assistant coach Dick Realdsen, assistant coach Tom Ludwig, assistant coach Justin George, Adam Hemmesch, Justin Butkofski, Jordan Haag, Bob O'Fallon, Adam Kampsen, and head coach Brad Skoglund.
| | | | | | | |
| --- | --- | --- | --- | --- | --- | --- |
| Paynesville-- | 114 | 304 | x | - 13 | 11 | 1 |
| HL-W-- | 100 | 040 | 1 | - 6 | 7 | 5 |
HL-W - Batting: Luke Gagnon 2-3 2B RBI-2 R; Tim Youngs 1-1 2B R; Giles Erickson 1-3 RBI-2; Adam Loch 1-3 R; Tim Zander 1-3 R; Pitching: (ip-h-r-er-bb-k) Grant Wittenberg (L) (2.2-4-6-4-4-1); Tom Borders (1.1-4-3-3-2-0); Loch (1-2-4-2-2-0); Gagnon (1-1-0-0-0-1).
Paynesville - Batting: Justin Butkofski 3-4 2B RBI-2 R; Jamie Paul 2-3 RBI-2; John Hemingson 2-4 RBI; Mike Mueller 2-5 R-2; Jordan Haag 1-2 2B RBI R-3 BB-2; Adam Kampsen 1-3 2B RBI-3 R; Pitching: (ip-h-r-er-bb-k) Chris Beier (W) (7-7-6-6-3-6)
Paynesville 8
Maple Lake 2
The Bulldogs jumped to an 8-0 lead against Maple Lake in the district semifinals on Thursday in Maple Lake and beat the Irish 8-2.
The Dogs, seeded first, did not allow the Irish, seeded fourth, to score until the top of the seventh inning. Kampsen pitched six shutout innings before the Irish scored two runs, one earned, in the top of the seventh.
Meanwhile, the Dogs got on the scoreboard early and often. "It's nice getting ahead so you can relax up there at the plate," said coach Brad Skoglund.
The Dogs scored all their runs with two outs. In the first, when they plated four runs, Beier hit a two-out two-run double and two batters later Hemingson did the same for the Dogs. In the second, Kampsen hit a two-out RBI single. And, in the third, the Dogs started their rally with two outs, as Hemingson and sophomore Derek Stanger singled, Berg walked, and all three scored on a double by Mueller.
The Dogs beat Maple Lake 10-3 in April this year. They beat the Irish in the district semifinals last year 5-3, rallying to win.
Maple Lake 000 000 2 - 2 6 3
Paynesville 413 000 x - 8 12 2
Maple Lake - Batting: Cody Decker 2-4; Dan Rassett 2-4; Shane Cauhey 1-3 2B R; Pitching: (ip-h-r-er-bb-k) Andrew Fuchs (L) (2.2-8-8-5-2-3); Cauhey (3.1-4-0-0-2-5).
Paynesville - Batting: Kampsen 3-4 R RBI; Beier 2-3 2B RBI-2 R; Hemingson 2-3 2B RBI-2 R; Mueller 1-4 2B RBI-3 R; Brandon Berg 1-3 R-2 SB; Adam Hemmesch 1-2 R; Derek Stanger 1-3 R; Bob O'Fallon 1-1; Pitching: (ip-h-r-er-bb-k) Kampsen (W) (7-6-2-1-3-5).
Paynesville 4
Kimball 0
The Dogs survived a scare in the opening round of district playoffs on Wednesday, June 2, breaking a scoreless tie with four runs in the sixth inning to beat Kimball, the eighth seed, 4-0.
Butkofski pitched a no-hitter and hit a double to start the Dogs' sixth-inning rally. Butkofski scored the go-ahead run on a Kimball error. Hemmesch then hit an RBI single, and Mueller added a two-run double.
The Dogs stranded two runners on base in both the first and fifth innings before scoring in the sixth.
But Butkofski did not allow a hit or a run while striking out 11 Cubs batters. "Justin kept us in the game," said Skoglund. "We weren't hitting the ball well."
Butkofski hit a Kimball batter with a pitch in the second inningÉ the only baserunner he allowed. He came within that errant pitch of throwing a perfect game.
In two games against Kimball this year, the Bulldogs played 12 innings and did not allow a hit or run. The Dogs shut out Kimball 10-0 in their season opener in April with Kampsen throwing a no-hitter.
| | | | | | | |
| --- | --- | --- | --- | --- | --- | --- |
| Paynesville-- | 000 | 004 | x | - 4 | 5 | 0 |
| Kimball-- | 000 | 000 | 0 | - 0 | 0 | 3 |
Paynesville - Batting: Butkofski 2-3 2B R; Mueller 2-3 2B RBI-2; Hemmesch 1-3 R RBI SB; Pitching: (ip-h-r-er-bb-k) Butkofski (W) (7-0-0-0-0-11).
Section 5AA Tournament
at Faber Field, St. Cloud
Game 1
Subsection runners-up
Howard Lake-Waverly vs.
Glencoe-Silver Lake
Monday, June 7, 5 p.m.
Game 2
Subsection champions
Paynesville vs. Delano
Monday, June 7, 7 p.m.
Game 3
Game #1 winner vs. Game #2 loser
Tuesday, June 8, 7 p.m.
Game 4
Game #3 winner vs. Game #2 winner
Thursday, June 10, 5 p.m.
Game 5
If needed, Game #4 winner vs. Game #4 loser, if loser had only one loss
Thursday, June 10, 7 p.m.
---
Contact the author at paypress@lkdllink.net • Return to Sports
Home | Marketplace | Community
---