The Bulldogs won their fourth straight subsection title last week, shutting out three straight opponents to claim the Subsection 20AA championship. The Dogs beat Kimball 7-0, edged Annandale 1-0, and clobbered New London-Spicer 11-0 for the title.

Both Paynesville, as the subsection champion, and NL-S, as the subsection runner-up, advance to the Section 5A tournament this week. Paynesville played Belle Plaine in the champions' game on Monday night while NL-S played Norwood Young America in the runners-up's game on Monday.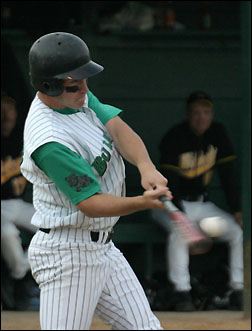 The Dogs jumped to a 4-0 lead against the Wildcats on Thursday in Maple Lake. Junior Jamie Paul - after pitching out of a jam in the top of the first - singled to center to lead off the bottom of the first for the Bulldogs. Junior Trent Hansen fouled off several pitches, working the count to full, before singling down the third-base line.
Senior Mike Mueller connected on a three-run homer in the first inning of the subsection final against NL-S on Thursday in Maple Lake.
Senior Justin Butkofski hit the first pitch he saw to left for an RBI double, scoring Paul with the go-ahead run, and senior Mike Mueller followed with a three-run blast to left-center to give the Dogs a 4-0 lead.
"That was a big homerun by Mike," said coach Brad Skoglund, "but the guys ahead of him did a good job to get on. Trent Hansen had a great at bat, fouling off pitches, working the count, and singling."
The Dogs scored 11 runs in four plate appearances. They chased NL-S senior starter Kevin Krupke in the third inning and forced the Wildcats to use four pitchers to get 12 outs.
In the second inning, the Dogs added a run to make it 5-0. Sophomore Cory Nietfeld reached on an error and scored on Hansen's suicide-squeeze bunt.
In the third, the Dogs scored three runs without a hit, as they used four walks and a hit batter to have five straight batters reach base. They scored the runs on two wild pitches and a sacrifice fly.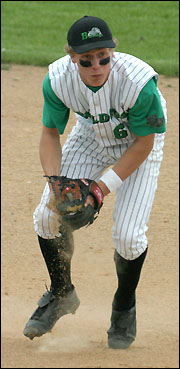 In the fourth, Mueller was hit by a pitch, senior Chris Beier singled, and junior John Hemingson drove them both home with a triple to center, giving the Dogs a 10-0 lead, enough to invoke the ten-run rule. Junior Derek Stanger followed with a ground-ball single to right to score Hemingson and make the final 11-0.
Senior Chris Beier - fielding a grounder in the subsection final - pitched a three-hitter as the Dogs beat Annandale 1-0 in the subsection semifinal on Wednesday, June 1.
Along with solid pitching, the Dogs got solid defense to record three straight shutouts in subsections. Paul was helped by his defense in the second and fourth innings.
In the second, after yielding a leadoff double, Butkofski made a diving stop at first to get the first out. Paul nabbed a sharply-hit comebacker, looked back the runner at third, and fired to first for the second out. And Hansen made a catch on the warning track in centerfield for the third out.
In the fourth, NL-S got a double and single to start the inning, putting runners on the corners with no one out. But the Dogs turned a 1-4-3 double play, with the runner at third staying, and then ended the rally with a fly out.
"Great pitching. Great pitching," said Skoglund about the Dogs' three consecutive shutouts at subsections. "Our defense was outstanding, too."
The Dogs' top three starting pitchers - Beier, Butkofski, and Paul - are not overpowering, noted Skoglund, but they all do a good job of throwing strikes, hitting their spots, and changing speeds. He also praised Hemingson and junior Ryan Hess (who filled in for Hemingson against Kimball) for calling good pitches and complimented assistant coach Dick Realdsen for his work with the pitching staff.
The Dogs (16-6) enter the double-elimination section tournament undefeated as the Subsection 20AA champion. They played Belle Plaine on Monday night at Joe Faber Field in St. Cloud in the champions' game. The winner advances to the section final on Thursday at 5 p.m.
The loser played the winner of the runners-up's game between NL-S and Norwood Young America on Tuesday in an elimination game. The winner would then advance to the section final but would have to beat the unbeaten team twice to advance to state.
| | | | | | | |
| --- | --- | --- | --- | --- | --- | --- |
| NLS-- | 000 | 00x | x | - 0 | 5 | 2 |
| Paynesville-- | 413 | 3xx | x | - 11 | 8 | 0 |
New London-Spicer - Batting: Scott Rambow 2-2 2B; Pitching: (ip-h-r-er-bb-k) Kevin Krupke (L) (2.1-4-7-6-4-2); Jeremy Pickle (0-0-1-1-2-0); Brian Pieh (0.2-0-0-0-0-0);l Danielson (1-3-3-3-1-1).
Paynesville - Batting: Jamie Paul 2-3 r RBI; Mike Mueller 1-2 HR RBI-3 R-2; Chris Beier 1-1 R-2 BB-2; John Hemingson 1-2 3B RBI-2 R-2; Trent Hansen 1-2 R; Derek Stanger 1-2 RBI; Justin Butkofski 1-3 2B RBI R; Pitching: (ip-h-r-er-bb-k) Paul (W) (5-5-0-0-0-0).
Paynesville 1, Annandale 0
Senior Chris Beier pitched a three-hit shutout, and the Dogs scored the only run they needed in the bottom of the first to beat Annandale 1-0 in the subsection semifinal on Wednesday, June 1, in Maple Lake.
The Dogs, seeded first, avenged an opening-day loss to fifth-seeded Annandale, which had beaten the Dogs 4-2 in April.
With one out in the first inning, junior Trent Hansen, senior Justin Butkofski, and senior Mike Mueller had back-to-back-to-back singles, with Mueller's hit scoring Hansen for the game's only run.
That was all the scoring Beier needed. The senior right-hander retired the first 11 Annandale batters he faced before allowing a walk and a single with two outs in the fourth inning. That was the only runner to reach second base against him, but he stranded them both.
Annandale got one-out singles in the fifth and seventh innings, but neither runner got any closer to scoring than reaching first base.
Skoglund said Beier cruised, throwing his curveball for strikes and keeping the Annandale hitters off balance.
| | | | | | | |
| --- | --- | --- | --- | --- | --- | --- |
| Annandale-- | 000 | 000 | 0 | - 0 | 3 | 0 |
| Paynesville-- | 100 | 000 | x | - 1 | 6 | 0 |
Annandale - Batting: Brett Thompson 1-3; Mike Boxell 1-3; Ramsey Simons 1-3; Pitching: (ip-h-r-er-bb-k) Sam Marsnik (L) (6-6-1-1-3-1).
Paynesville - Batting: Justin Butkofski 2-3; Mike Mueller 1-2 RBI; Trent Hansen 1-1 R BB-2; Brandon Berg 1-2; Jamie Paul 1-3; Pitching: (ip-h-r-er-bb-k) Beier (W) (7-3-0-0-1-6).
Paynesville 7, Kimball 0
The Bulldogs used a six-run fourth inning and shutout pitching from senior Justin Butkofski to beat Kimball 7-0 in the subsection quarterfinal on Tuesday, May 31, in Paynesville.
Butkofski limited the eighth-seeded Cubs to six hits while striking out ten in the victory. The Dogs took a 1-0 lead in the second when senior Brandon Berg singled, stole second, and scored on junior Derek Stanger's two-out single.
Junior Mark Andrie and Stanger singled to start the Dogs' six-run fourth. Following a Kimball error that allowed a run to score, junior Jamie Paul delivered a two-run single. Junior Trent Hansen followed with a single, and Butkofski had an RBI single before another Kimball error allowed two more runs to score. The Dogs sent 10 batters to the plate that inning, scoring enough runs to easily beat Kimball.
| | | | | | | |
| --- | --- | --- | --- | --- | --- | --- |
| Kimball-- | 000 | 000 | 0 | - 0 | 6 | 3 |
| Paynesville-- | 010 | 600 | 0 | - 7 | 8 | 0 |
Paynesville - Batting: Derek Stanger 2-3 R RBI; Jamie Paul 2-4 RBI-2 R; Justin Butkofski 1-2 R RBI; Trent Hansen 1-3 R SB-2; Brandon Berg 1-3 R SB; Mark Andrie 1-3 R; Pitching: (ip-h-r-er-bb-k) Butkofski (W) (7-6-0-0-1-10).
---
Contact the author at editor@paynesvillepress.com • Return to Sports
Home | Marketplace | Community
---