For the second year in a row, the PAHS girls' track team is sending a relay to state. The Dogs' 3,200-meter relay won the section title last week, breaking the school record, and qualified for the Class A state meet on Saturday, June 10, at Hamline University in St. Paul.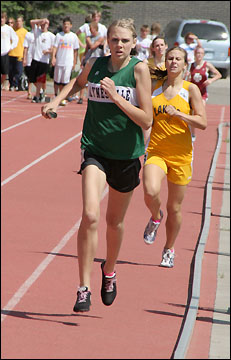 The relay team is comprised by ninth grader Linda Keller, juniors Tanis Beireis and Kacy Nehowig, and sophomore Kaitlyn Frenchick. They are the lone entry for PAHS at state track this year.
Sophomore Kaitlyn Frenchick sprinted down the homestretch ahead of the field in the 3,200-meter relay at the Section 5A meet last week.
The 3,200-meter relay - or two-mile relay - is the first track event. Each runner covers 800 meters, or two laps of the track.
At the Section 5A meet at St. John's University on Wednesday, May 31, Keller took the lead for the Dogs on the final curve of the second lap, roughly 600 meters into her run. Beireis fell to third but went with the New London-Spicer runner who passed her on the backstretch and repassed her and the Howard Lake-Waverly-Winsted runner on the final curve.
Nehowig held the lead until the final sprint, where the NL-S runner edged her, but Frenchick sprinted immediately into the lead and widened the gap first to five meters and then to ten meters. HL-W-W's anchor runner moved the Lakers into second, but Frenchick cruised home to clinch a state berth.
The first-place relay and the top two finishers in individual events qualify for state, as well as anyone meeting the state standard time or distance.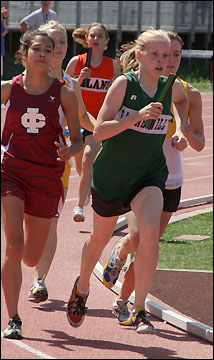 "This was the surprise of the meet," said coach Dave Randgaard. "We knew we had a chance at state in this event, but the time of 9:57 really wasn't expected. We ran 10:30 at subsections. These four girls really performed their best when it was needed the most."
Ninth grader Linda Keller took the lead for the Bulldogs in the 3,200-meter relay at St. John's University on Wednesday, May 31, going into the final curve with 200 meters left in her leg of the race.
Beireis, Frenchick, Keller, and Nehowig broke a seven-year-old school record in the event. Their time of 9:57.73 was ten seconds faster than the previous record of 10:08.11, set by Erin Aagesen, Carin Frenchick, Jen Hess, and Amanda Mayer in 1999.
Randgaard credited assistant coach Kyle Nehowig, who was named the Section 5A Assistant Coach of the Year, for convincing him to put this relay together at subsections, believing it had a shot at state. All four runners - Beireis, Frenchick, Keller, and Nehowig - are former individual state entrants in cross country. Frenchick and Keller are the team's best 800-meter runners and both pulled out of the 800-meter run to be in the relay.
Splits were: Frenchick 2:23; Keller 2:25; Nehowig 2:34; and Beireis 2:34.
Frenchick was part of last year's 1,600-meter relay that placed seventh at state - this was the first relay the Bulldogs have sent to state in girls' track - and Nehowig qualified for state in the 3,200-meter run in 2004. Beireis and Keller will make their first appearance in state track. "I'm more excited this time to go with a relay," said Nehowig. "Because it was a blast last time, and it should be more fun with my teammates."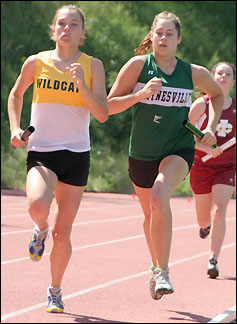 "I'm extremely excited," added Frenchick, while Beireis said that state track should be "a blast."
The Dogs thought they had a chance to go to state with all three of their relays at sections. Their 1,600-meter relay lost by a step to St. Cloud Cathedral, and a baton drop cost their 800-meter relay, which was also dueling with Cathedral.
Junior Tanis Beireis chased a New London-Spicer runner down the back stretch. Beireis caught and passed two runners in the last 200 meter of her 800-meter leg in the 3,200-meter relay.
Last year, the Dogs' 1,600-meter relay became the first girls' relay in school history to qualify for state, nipping St. Cloud Cathedral at the finish line. This year, the Crusaders turned the tables, edging the Dogs by 0.34 of a second. Keller replaced Kendra Johnson on this relay this year and gave the Dogs the lead, running a split of 1:03. Frenchick continued in the lead with a lap in 1:03. Ninth grader Kally Felling ran with a Cathedral runner on her shoulder throughout her lap of 1:01.
The Crusaders' anchor runner, the section champ in the 400-meter dash, sprinted to the lead on the final handoff. Ninth grader Bri Jaeger, an individual qualifier in the 400-meter dash who coasted in that race to save herself for the relay, stayed with Cathedral's anchor runner and tried to pass her down the homestretch. Jaeger (1:01) appeared to get alongside of her on the homestretch, but Cathedral won the race by a step and advanced to state in the event.
"All four girls really ran great splits, and this was the most exciting race of the meet," said Randgaard. "The girls gave their best effort and just fell short of a state berth."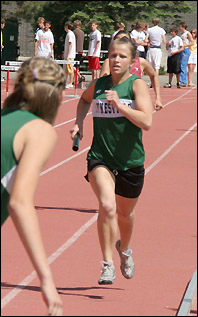 The Dogs' 800-meter relay - Jaeger, Felling, Frenchick, and senior Tara Schmidt - was battling St. Cloud Cathedral for the lead in this relay when they dropped the final handoff. They finished sixth.
Junior Kacy Nehowig sprints down the homestretch to hand the baton to sophomore Kaitlyn Frenchick for the anchor leg of the 3,200-meter relay.
"We knew we had the speed to compete with the top teams in this event," said Randgaard.
The Dogs also had three individual medalists at sections. Ninth grader Anna Kotten, rebounding from a hard fall in the 100-meter hurdles, cleared 8' 8" on her first attempt to tie for fourth in the pole vault. Keller ran a personal best in the 1,600-meter run, placing fifth. And Schmidt placed sixth in the 200-meter dash.
The Dogs finished seventh as a team at section, with Cathedral winning the section title.
Three Dogs just missed scoring team points (by placing in the top eight). Schmidt finished ninth in the long jump, sophomore Natalie Leadem was tenth in the discus, and Nehowig was tenth in the 3,200-meter run.
The state track and field meet will be held on Friday, June 9, and Saturday, June 10, at Hamline University in St. Paul. The Dogs' 3,200-meter relay is scheduled to run at 3 p.m. on Saturday, June 10, with awards following.
Hamline University is located on Snelling Avenue between I-94 and I-694 in St. Paul. Due to a lack of parking on the campus, free parking and a shuttle will be offered from the State Fair Grounds. To get to this parking lot, follow Snelling Avenue north of Hamline and take the Como Avenue exit. Turn left onto Como Avenue. Take the first right past Winston Street into a parking lot. The shuttle - every ten minutes - will pick up and drop off at the entrance to this lot.
Team Scores
1. St. Cloud Cathedral 77.0
2. Litchfield 72.0
3. Watertown-Mayer 47.0
4. Pierz 43.3
5. Mayer Lutheran 33.3
6. Howard Lake-Waverly-Winsted 33.0
7. Paynesville 32.5
8. Melrose 31.0
9. Glencoe-Silver Lake 30.0
10. Crosby-Ironton 29.0
11. Delano 28.0
12. Albany 26.0
13. BBE 25.0
14. Milaca 24.5
15. Maple Lake 23.0
16. Ogilvie 19.0
17. Eden Valley-Watkins/Kimball 18.0
18. Annandale 16.0
19. ACGC 15.0
20. Foley 15.0
21. Mille Lacs 15.0
22. Royalton 12.0
23. Holdingford 11.3
24. Zimmerman 9.0
25. St. John's Prep 8.0
26. New London-Spicer 7.0
27. Rockford 1.0
Individual Results
100-meter hurdles: Anna Kotten, 16th, 23.56;
200-meter dash: Tara Schmidt, sixth, 27.58;
400-meter dash: Bri Jaeger, 15th, 1:06.17;
1,600-meter run: Linda Keller, fifth, 5:27.06 (personal best);
3,200-meter run: Kacy Nehowig, tenth, 12:38.79;
800-meter relay: Jaeger, Kally Felling, Kaitlyn Frenchick, and Schmidt, sixth, 1:53.38;
1,600-meter relay: Keller, Frenchick, Felling, and Jaeger, second, 4:09.07;
3,200-meter relay: Keller, Tanis Beireis, Nehowig, and Frenchick, first, 9:57.73 (school record);
Discus: Natalie Leadem, tenth, 96' 4";
Long jump: Schmidt, ninth, 14' 11 3/4";
Pole vault: Kotten, fourth, 8' 8".
---
Contact the author at editor@paynesvillepress.com • Return to Sports
Home | Marketplace | Community
---