Wall shoots 85 to finish 16th at sections
This article submitted by Michael Jacobson on 6/7/00.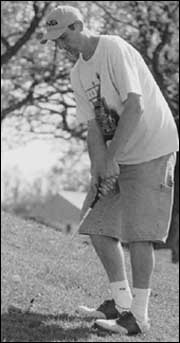 Ryan Wall's chance at qualifying for the state golf meet ended on a par-three, and he knew it.

Wall, a senior from Paynesville Area High School playing individually in the section tournament, was three-over-par after playing 11 holes. But his tee shot on the par-three sixth plugged in the sand, and it took him two swings to clear the bunker.

Then he landed in some tall grass in a batch of new sod. Two chips later he was finally on the green. He two-putted for a quadruple-bogey seven, and he knew his state bid was gone.

"I was really disappointed," he said.

"After I got that seven," he added, "I started to go right all the time. Every shot was right."

He finished his 18-hole round with an 85, which put him in 16th? place.

Only the top five individuals advance to state. Wall would have needed a five-over-par 77 to advance.

Wall birdied two of the four holes to get back to three-over-par prior to his quadruple bogey. But he played bogey gold on the last five holes, and couldn't make up for that bad hole. Over the last six holes, he was ten-over-par.

"Other than a few holes, Ryan played pretty consistent golf," said coach Todd Knudsvig.

But Wall wishes he could have done better and advanced.

Annandale won the boys' team competition, beating runner-up New London-Spicer 310-320. The Bulldogs' conference foe, Long Prairie-Grey Eagle, was third at 326. Josh and Chris Cole of NL-S were the co-medalists with rounds of 76.

On the girls' side, Sauk Centre won the meet by 18 strokes behind medalist Jackie Beste, who fired a 77. She beat the runner-up by seven strokes.

Wall was the only competitor from PAHS at the meet.
---