Bachman, Hess, and Rausch qualify for state track and field
This article submitted by Courtney Karsch 06/07/00.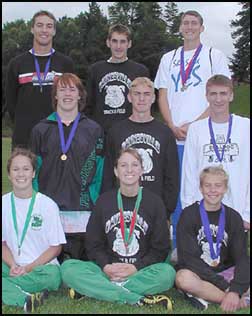 Three girls ( front row: Melissa Bachman, Tiffany Rausch, and Jenny Hess) from the Paynesville track team qualified for the state meet with their performances at the section meet at St. John's University Thursday.

The Bulldogs, as a team, matched their highest section finish in school history by placing fifth. They previously finished fifth in 1998.

"This was an excellent meet for the girls, and we had three girls qualify for state," said a proud head coach, Dave Randgaard.

Paynesville athletes who qualified for state are Jenny Hess in the 1,600- and 3,200-meter runs; Tiffany Rausch in the 400-meter dash; and Melissa Bachman in the pole vault.

Hess (pictured below leading the pack), a sophomore, was a double section champion in her events, and remained unbeaten in those races for the year. In the 1,600-meter run, Hess led the whole race and finished first. Her time was 5:08.88.

In the 3,200-meter run, Hess was unchallenged again and won in 11:07.35. Her time broke a 14-year section record held by former state champion Michelle Marthaler of Brooten. The old record was 11:10.30.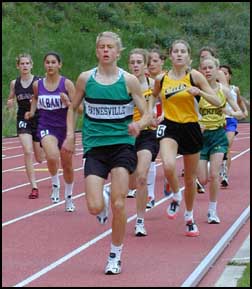 She is the Section 5A champion in both events for the second year in a row. Last year, Hess finished third in the state in both events. She also qualified for state in the 1,600 two years ago as an eighth grader.
Rausch, a senior, had some tough competition in the 400-meter dash. Holdingford's Chanda Larson, fourth in state last year, won the race, and Rausch held off a group of pursuers to finish second with a great time of 1:00.54. Rausch went to state two years ago in the 400-meter dash and 200-meter dash. She finished sixth in the 400 that year.
Rausch was fifth in the section in the 200-meter dash as well.
Bachman, despite a sprained ankle that is still healing, advanced in the pole vault by clearing the qualifying heigh of 9' 6". Bachman, a sophomore, placed fifth in the section, as five vaulters qualified for state. Bachman is going to state for the second year in a row.
Even though all the members on the team didn't make it to the state meet, the girls all did a great job. For instance, the 3,200-meter relay ran their fastest time of the season and received fifth place. The team members are Carin Frenchick, Amanda Mayer, Leanne Kolb, and Danielle Lieser.
Joy Hemmesch vaulted her personal best this meet with a jump of 8'0". That was a great note for her to end the season on.
Bachman, Hess, and Rausch will be competing in the state track and field meet at the National Sports Center in Blaine on Friday afternoon and Saturday.
Team scores
1. Delano -98
2. Holdingford -73
3. Big Lake -65
4. New London-Spicer -51
5. Paynesville -47
6. ACGC -46
7. Sauk Centre -44
8. Melrose -38
9. Albany, LPGE, Milaca -37
Individual Results
100-meter dash: Courtney Karsch did not make finals, 13.16;
200-meter dash: Tiffany Rausch, fifth, 27.62;
400-meter dash: Rausch, second, 1:00.54 (state qualifier);
800-meter run: Carin Frenchick and Amanda Mayer did not place;
1,600-meter run: Jenny Hess, first, 5:08.88 (state qualifier);
3,200-meter run: Hess, first, 11.07.35 (section record and state qualifier);
400-meter relay: Karsch, Heidi Jansen, Joy Hemmesch, Carla Hemmesch, sixth, 54.00;
1,600-meter relay: Frenchick, Danielle Lieser, Mayer, Rausch, fifth, 4:21.40;
3,200-meter relay: Frenchick, Mayer, Leanne Kolb, Lieser, fifth, 10:16.08;
High jump: Ashley Wall, 12th, 4' 8";
Long jump: Lieser, 12th, 14' 9";
Triple jump: Mayer, 12th, 31'3.75";
Pole vault: Melissa Bachman, fifth, 9' 6"; Joy Hemmesch, tenth, 8' 0".
---