Bulldogs take second in section, send six to state
This article submitted by Andrew Jones on 6/7/00.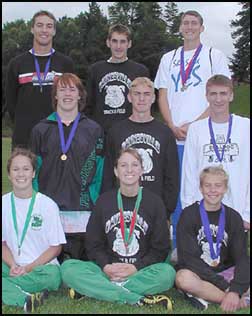 Though it wasn't the nicest day for a section track meet, the results were pretty nice for the Bulldogs, who qualified five athletes for the state track and field meet and finished as the section runners-up.

Boys qualifying for state are: (middle) Nic Glenz, Travis Flanders and Eric Rausch; (back) Jeff Voss, Clayton Lang, and Luke Trees.

The Bulldogs had 16 athletes who braved the cloudy, windy, drizzling weather to compete in the section meet at St. John's University on Thursday afternoon. To qualify for state, athletes needed to place in the top two of their event, or they had to reach a certain standard set by the high school league. Relay teams either had to win their event or meet the standard.

The most exciting race of the day for Paynesville was the last of the meet. The Bulldogs 1,600-meter relay team won a tight race to advance to state.

The race was close the whole way through. After strong opening legs by senior Jeff Voss and sophomore Nic Glenz, Eric Rausch, another sophomore, gave the Bulldogs a slight lead on the third lap of the track.

Senior Luke Trees ran the last leg for Paynesville against tough runners from ACGC and from St. Cloud Cathedral. The Bulldogs had beaten both teams numerous times, but it didn't make it any easier in this must-win situation.

Trees held the lead for the entire lap, but both runners tried to pass Trees coming out of the final turn. The ACGC runner fell back fairly soon, but Trees ran the entire home stretch a stride or less ahead of the Crusader runner.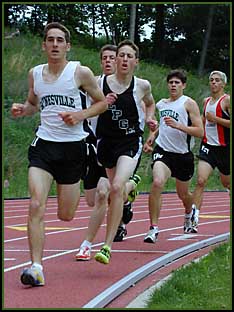 This relay team will be the first to represent Paynesville at state in four years. In addition to Voss, Trees, Glenz, and Rausch, Travis Flanders will be the alternate runner, in case of injury.
Voss qualified for state in three events. In addition to the relay, he also advanced in the 110-meter hurdles by placing second. Voss had very tough competition for this race, including Holdingford's Adam Maine who was third in the state last year. Voss was sixth at state last year.
Voss bolted out and led the entire race until he hit the last three hurdles. Voss dropped back into second place by only four hundreths of a second.
ACGC's Kent Anderson won the race, with Voss second and Maine third. All three ran state-qualifying times.
Voss also qualified in the 300-meter hurdle race, taking second again, this time to Maine. Coming into the home stretch Voss was in third or fourth place, but he soared over the last four hurdles to take his qualifying spot.
Luke Trees also earned a return trip to state in the high jump competition. He jumped a height of 6'2", which placed him second in the section. The winner was the defending state champion from Becker, Ryan Zenzen, who cleared 6' 4". Trees cleared 6' 4" at state last year and placed fifth.
Junior Clayton Lang (picture above at right leading the group) took second in the 1600-meter run to qualify for state. In the 3,200-meter race, Lang injured his hip and lower back. He was chasing the second-place finisher down the home stretch when he pulled up due to his injury. Lang still finished third.
Lang's injury may keep him from competing in the state meet.
In addition to the state qualifiers, several other Bulldogs scored team points for Paynesville without advancing.
Sophomore Dan Pearson took third in the 1600-meter run right behind Lang. Pearson will not be able to replace Lang, even if Lang can't compete due to injury.
Sophomore Josh Trees placed fourth in the triple jump and sixth in the high jump to add to Paynesville's team total.
Rausch was also fifth in the 400-meter dash.
The Bulldogs earned more points in the long distance runs, with junior Adam Utsch eighth in the 1600 and seventh in the 3200, and junior Eric Korman seventh in the 800-meter run.
Paynesville's 3,200-meter relay team of Travis Flanders, Ryan Flanders, Riley Flanders, and Korman was also eighth to earn points for the team.
Becker won the team event with 90 points. The Bulldogs edged ACGC for second, 72-70.5.
The Bulldogs' state qualifiers will compete at the state track and field meet at the National Sports Center in Blaine on Friday afternoon and all day Saturday.
Preliminary races start on Friday at 4 p.m. for Class A. The 3,200-meter finals will also be held Friday.
On Saturday, running events start at 11 a.m. For field events, the Class A boys' high jump will start at 10 a.m., and the girls' pole vault will start at 1:30 p.m.
Team scores
1. Becker -90
2. Paynesville -72
3. ACGC -70.5
4. Holdingford -62.5
5. New London-Spicer -56
6. Delano -49
7. Milaca -46
8. Long Prairie-Grey Eagle -39.5
9. St. Cloud Cathedral -35.5
10. Melrose -35
Individual results
110-meter hurdles: Jeff Voss, second, 15.14 (state qualifier);
300-meter hurdles: Voss, second, 41.77 (state qualifier);
400-meter dash: Eric Rausch, fifth, 52.67; Travis Flanders, twelfth, 55.58;
800-meter run: Eric Korman, seventh, 2:10;
1,600-meter run: Clayton Lang, second, 4:37 (state qualifier); Dan Pearson, third, 4:46; Adam Utsch, eighth, 4:49;
3,200-meter run: Lang, third, 10:18; Utsch, seventh, 10:34; Pearson, sixteenth, 11:04;
1,600-meter relay: Luke Trees, Jeff Voss, Nic Glenz, Eric Rausch, first, 3:33 (state qualifiers);
3,200-meter relay: Travis Flanders, Korman, Ryan Flanders, Riley Flanders, eighth, 8:57;
Shot put: Steve Flint, 12th, 41' 5";
Long jump: Brady, ninth, 20' 2";
High jump: L. Trees, second, 6' 2" (state qualifier); Josh Trees, sixth, 5' 10";
Triple jump: J. Trees, fourth, 41' 2.75".
---