Rain didn't hamper Fun in the Mud
This article submitted by Linda Stelling on 06/07/00.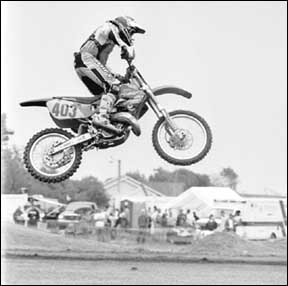 Trucks, motorcycles, and four-wheelers took their turn around the track for the first Fun in the Mud at Regal on Saturday and Sunday.

According to Jerry Vlaminck, owner of County Line Bar and Grill, the event drew about 1000 people over the two days.

To prepare the grounds for the races, about 120 largetruck loads of dirt were hauled into Regal. The course consisted of several mogul and two table top hills.

Winners of the different categories were:

Super Stock
First place: Cam Berg; second: Craig Manderfield; third: Jim Kretzschmar; fourth: Lance Michalski; and fifth: Loy Adkins.

Modified Class
First: Bob Rasmussen; second: Rick Kruschke; third: Ben Pollack; fourth: Mike Lebakken; fifth: Jim Kuball; and sixth: Jeff Felt.

Open Class
First: Rick Kruschke; second: Bob Bissell; third: Joel Coolidge; fourth: Don King; fifth: Mike Lebakken; sixth: Rick Thompson.

Motocross, 125s
First: Nate Barber; second: Paul Morrison; third: Derek Huhn.
250s: first place, Eric Thorstad.
Vets: first place, Eric Thorstad.
Pro: first, Corey Barber; second: Zach Nelson.
Quad: first place, Gary Mattson; second: Jim Meyer.
Freestyle: first place, Corey Barber.

Open Street
First: Lance Michalski; second: Cam Berg; third: Jerry Davis; fourth: Doug Perkins; fourth: Gary Johnson.

Pro Stock
First: Tom Felmdre; second: Roger Widhelm; third: Mitch Thomas; fourth: Jim Kuball; fifth: Steve Shoenrock; sixth, Evan McAllister.

Unlimited
First: Rick Kruschke; second: Joel Coolidge; third: Bob Bissell; fourth: Shannon Rubash; fifth: Jim Dettwiler; sixth: Bob Rasmussen; seventh: Mike Lebakken.

Motocross
80s: first: Brandon Barber; second: Derrick Ruchter; third: Jake Bengston.
125s: first: Keith Johnson; second: Ben Jacobs; third: Paul Morrison.
250s: first: Kevin Serbus; and second Mike Jacobs.
Rough Trucks
First: Don Jennings.

Quads (four wheelers)
First: Travis Cromwell; second: Scott Berg; and third: Scott Heilanen.
---