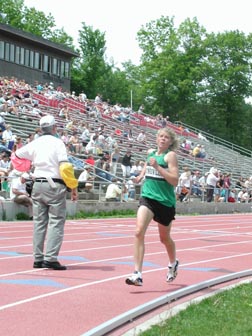 Junior Jenny Hess (ar right), the reigning Class A cross country champ, earned return trips to the state track meet in both the 1,600- and 3,200-meter runs by winning both races at the section meet at St. John's University on Wednesday, May 30.

Hess, who has won section titles in both races in three consecutive years, was the only girl trackster to qualify for the state meet this weekend. As a team, the Bulldogs were fourth out of 28 teams.

In the mile run, Hess had her best time of the season (5:03.29). That matched her time from the state meet a year ago, when she took third.

In the 3,200-meter run, Hess broke the Section 5A record again. Last year, Hess broke the section record held by Brooten standout Michelle Marthaler, but was not credited with the record in this year's program. But Hess lowered the record this time to 11:01.71.

This will be Hess' fourth trip to state track. She was tenth in the 1,600-meter run as an eighth grader, before earning two third-place medals in the long-distance runs as a ninth grader. Last year, she was second in the 3,200-meter run and third in the 1,600-meter run.

This time, with her cross country title and the fastest Class A times in the state so far this season, the junior from Lake Henry faces the state meet as a favorite. "I liked it when I was little, and no one knew who I was," she said of her new role. "It didn't matter (how I did). No one expected me to do well."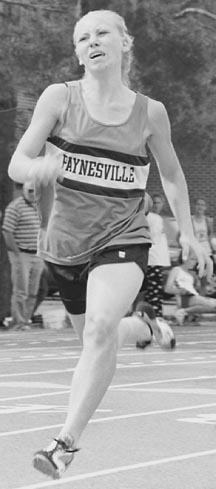 Always excited to make it back to state, Hess will concentrate on running her race and good times against the best from the state. "Just to have a personal best in one of the races, that'd be fine," she said of her goals.
Hess will compete in the 3,200-meter run on Friday evening at 7 p.m. at the National Sports Center in Blaine and in the 1,600-meter run on Saturday afternoon at 1 p.m.
Two Paynesville athletes finished one spot from earning a state berth. (The top two placers in each event advance to state.)
Eighth grader Ranea Eastling finished third in both the 100-meter dash and the 200-meter dash, losing to the same runners from Delano and Holdingford in each race. Her time in the 100-meter dash was hundreths of seconds too slow to match the state standard and earn an automatic berth to state.
Eighth grader Ranea Eastling placed third in the 100-meter and 200-meter dashes at sections.
Eastling had the highest section finishes in the 100-meter dash since Sara Realdsen in 1986.
Junior Melissa Bachman, who has made state trips the past two years, placed third in the pole vault by clearing 9' 0", a height below her season's best.
Junior Heidi Jansen had her personal best throw in the shot put and missed going to state by only five inches. She placed fourth with a throw of more than 33'.
The biggest surprise of the meet for the Bulldogs was the 3,200-meter relay team taking fifth place. They were ranked eighth coming into sections. The team consisted of Brooke Schmitz, Leanne Kolb, Mandy Mayer, and Kendra Johnson. The girls ran aggressively the entire way and beat their subsection time by 49 seconds.
Schmitz also had her personal best time in the 800-meter run to take fifth. She set a new seventh grade record in the event, a record formerly held by Tina Lang.
The 400-meter relay team had their second best time of the season and took sixth. Team members were Eastling, Jansen, Joy Hemmesch, and Carla Hemmesch.
The 800-meter relay - Joy Hemmesch, Carla Hemmesch, Jansen, and Hannah Braun - had their best time of the season for seventh place.
In the long jump, Danny Lieser took eighth place.
Team scores
1. Delano 96
2. Big Lake 65
3. Holdingford 60
4. Paynesville 57
4. ACGC 57
6. Milaca 55.5
7. Sauk Centre 50
8. NL-S 48
9. St. Cloud 29
15 other teams scored points.
Individual Results
100-meter dash: Ranea Eastling, third, 13.07;
200-meter dash: Ranea Eastling, third, 26.83;
800-meter run: Brooke Schmitz, fifth, 2:28.80 (personal best);
1,600-meter run: Jen Hess, first, 5:03.29 (season best);
3,200-meter run: Jen Hess, first, 11:01.71;
400-meter relay: Eastling, Jansen, Joy Hemmesch, Carla Hemmesch, sixth, 53.83;
800-meter relay: Jansen, J. Hemmesch, C. Hemmesch, Hannah Braun, seventh, 1:55.49 (season best);
3,200-meter relay: Schmitz, Kolb, Johnson, fifth, 10:17;
Shot put: Jansen, fourth, 33' 3.5";
Long jump: Lieser, eighth, 15' 5.25";
Pole vault: Melissa Bachman, third, 9' 0".
---
Contact the author at paypress@lkdllink.net • Return to Sports
Home | Marketplace | Community
---