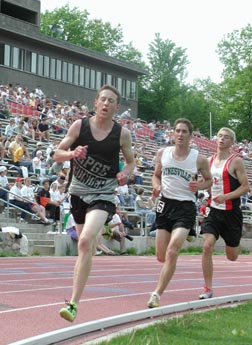 For the second year in a row, the Bulldogs took second place as a team at the section meet. The Dogs finally beat Atwater-Cosmos-Grove City for the first time all year.

Leading the way for Paynesville were three competitors who qualified for the state meet: Clayton Lang, Josh Trees, and Nic Glenz. To qualify, an athlete must place first or second in his event or meet the state standard time or distance.

Senior Clayton Lang (left) led the 1,600-meter run into the last lap at sections on Wednesday, May 30, but finished third behind Annandale's Nate Hoffman and LPGE's Will Ens (back).

Lang, a senior, qualified in the 1,600-meter run for the second year in a row, though he did not compete at state last year due to injury. That he had earned a return trip was not apparent as he crossed the finish line in a neck-and-neck battle for third. Lang ran a state qualifying time of 4:26 for the mile and also broke the school record.

Lang's strategy against Annandale's Nathan Hoffman and LPGE's Will Enns, who finished first and second respectively, was to start his kick with a lap and a half (600 meters) to go. "I did that last meet (at subsections), and it seemed to work," said Lang, who beat Hoffman in the 1,600 at subsections.

This time, despite Lang running the last 400-meters in 1:03, both Hoffman and Enns passed him coming into the straightaway.

Having missed the automatic berth, Lang had to rely on his time, which he soon learned was well under the state standard of 4:28. "I knew I was close," said Lang, "but I didn't figure I'd qualify by two seconds."

The school record in the 1,600 was formerly held by All American runner Joel Fenske, who is Clayton's brother-in-law.

Lang also took third in the 3,200-meter run but was seconds away from the state qualifying time.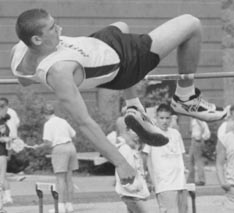 Trees, a junior, qualified for the state meet by placing first in the triple jump. Trees jumped over 42 feet, despite taking off a half foot behind the board. The event - which requires three steps, two hops on one foot before a final jump on the other - can be awkward, said Trees, but he felt smooth right away during his winning leap and knew it was good.
Trees managed his jump in the preliminaries, and didn't even jump in the finals as no one else came within a foot of his leap.
Junior Josh Trees placed in four events at the section track meet, including first in triple jump which advanced him to state.
"If I can hit the board at state, I could break the school record and place halfways decent," Trees said.
Trees also placed third in the high jump, sixth in the 100-meter dash, and fourth in the 400-meter relay.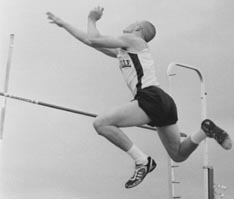 Glenz, another junior, qualified for state in the pole vault competition by taking second place. Glenz cleared 12' 6" without a miss to earn runner-up honors in the section and a state berth.
Glenz said he started vaulting well in the subsection competition the week before when he also cleared 12' 6".
Junior Nic Glenz qualfied for the state track and field meet by taking second in the pole vault by clearing 12'6".
Glenz will be making a return trip to state, but in a different event from a year ago. Last year, he was a member of the Bulldogs 1,600-meter relay that ran at state and finished seventh.
"I'm glad to know I'll be competing against the best competition in the state," said Glenz. "I hope I do well."
These three will compete on Friday and Saturday at the state track meet in Blaine. Glenz competes on Friday afternoon starting at 4 p.m. The triple jump competition with Trees starts at 1 p.m. on Saturday, and Lang is scheduled to run the mile at 1:10 p.m.
Eight other Bulldogs earned medals for finishing in the top six at sections. The Bulldogs had two relays finish fourth: their 400-meter relay (Ryan Whitcomb, Glenz, Troy Fuchs, and Josh Trees) and their 3,200-meter relay (Travis Flanders, Eric Korman, Riley Flanders, and Scott Thompson).
Once again, the Bulldogs scored lots of points in the longer runs. Jesse Rien took fourth in the 3,200-meter run, while Dan Pearson took fifth in both the 1,600-meter run and the 3,200-meter run. Travis Flanders was fifth in the 400-meter dash, and Eric Korman was sixth.
Ryan Whitcomb was sixth in the long jump.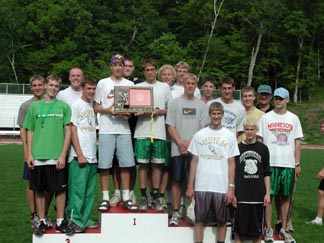 The Paynesville Boys Track Team placed second at Sections.
Team scores
1. Delano 87.5
2. Paynesville 74
3. ACGC 72
4. St. Cloud Cathedral 68
5. Becker 65.5
6. Milaca 45
7. LPGE 40
15 other teams scored points.
Individual Results
110-meter hurdles: Steve Mages, eighth, 17.18;
300-meter hurdles: Mages, 15th, 48.41;
100-meter dash: Josh Trees, sixth, 11.79;
400-meter dash: Travis Flanders, fifth, 52.98;
800-meter run: Eric Korman, sixth, 2:03;
1,600-meter run: Clayton Lang, third, 4:26 (school record); Dan Pearson, fifth, 4:39; Ryan Flanders, 12th, 5:02;
3,200-meter run: Lang, third, 9:54; Jesse Rien, fourth, 10:17; Pearson, fifth,10:18;
400-meter relay: Ryan Whitcomb, Nic Glenz, Troy Fuchs, Trees, fourth, 45.70;
3,200-meter relay: T. Flanders, Korman, Riley Flanders, Scott Thompson, fourth, 8:31;
Long jump: Whitcomb, sixth, 19' 4.25";
High jump: Trees, third, 6' ;
Triple jump: Trees, first, 42' 0.5"; Andy Jones, eighth, 38' 11.5";
Pole vault: Glenz, second, 12' 6".
---
Contact the author at paypress@lkdllink.net • Return to Sports
Home | Marketplace | Community
---