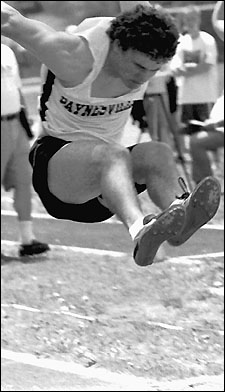 Four senior members of the Paynesville boys' track team earned state tournament berths at the Section 5A track and field meet at St. John's University last week. Senior Josh Trees won the triple jump competition, and combined with Nic Glenz, Adam Schaefer, and Ryan Whitcomb to win the 400-meter relay.
Wednesday, May 29, was a beautiful day for outdoor track with temperatures in the upper 80s for most of the day.
To qualify for the state meet, being held in Blaine this weekend, athletes must place in the top two of an individual event, place first in a relay, or meet the state-qualifying standard. These standards are set by the Minnesota State High School League and are based on the recent state competitions.
Whitcomb, Glenz, Schaefer, and Trees won the 400-meter relay by beating the team from Foley by three hundreths of a second. The Bulldogs had a small lead after three legs, but a shaky hand-off from Schaefer to Trees for the anchor leg made things a bit more interesting. Trees, though, was able to hold on and win the race.
Trees also qualified for state in the triple jump, where he jumped 46 feet, two feet farther than he had ever jumped before.
Trees, who placed second in Class A in the triple jump last year, broke the Section 5A record by a half inch. This section record had dated back to 1985.
Trees has the longest Class A triple jump in the state this spring and is the favorite heading into the state competition.
Glenz will also be making a return trip to state. He ran on the Dogs' 1,600-meter relay team in 2000 and competed in the pole vault at state last year. This year, he placed seventh in the pole vault at sections. As a team, the Bulldogs placed third in Section 5A, behind St. Cloud Cathedral and Mayer Lutheran. The Bulldogs missed a third straight runner-up finish in Section 5A by half a point.
The Bulldogs also took five thirds. Senior Steve Mages was third in the 110-meter hurdles, senior Jesse Rien was third in the 1,600-meter run, Trees was third in the high jump, and senior Andy Jones was third in the long jump, all missing a state berth by one place.
Additionally, the Dogs' 3,200-meter relay team - juniors Riley Flanders and Tommy Flannigan, sophomore Chad Wyffels, and senior Scott Thompson - took third.
Junior Milan Virant was fourth in the 400-meter dash, and senior Dan Pearson was sixth in the 1,600-meter run. Virant and sophomore Lee Fuchs-Thielen will be alternates for the 400-meter relay team at state.
The state meet will be held at the National Sports Center in Blaine on Friday, June 7, and Saturday, June 8, but none of the boys will compete until Saturday afternoon.
The National Sports Center is located just off Highway 65.
The triple jump competition starts for Trees at 12 noon on Saturday, and the 400-meter relay team is scheduled to be run at 1:07 p.m. on Saturday afternoon.
Team Scores
1. St. Cloud Cathedral 65
2. Mayer Lutheran 59.5
3. Paynesville 59
4. Atwater Cosmos-Grove City 58
5. Holdingford 56
6. Watertown-Mayer 37
7. Delano 34
8. New London-Spicer 33
8. Albany 33
10. Annandale 31
11. Becker 29
11. LPGE 29
13. Milaca 26
13. Rockford 26
15. Foley 19.5
16. BBE 18
17. Melrose 16
18. Lester Prairie 14
19. Pierz 12
20. Winsted-Holy Trinity 11
21. Maple Lake 9
22. Norwood-Young America 8
23. Sauk Centre 6
23. Holy Family 6
25. Royalton 4
26. St. John's Prep 2

Individual Results
110-meter hurdles: Steve Mages, third, 16.1;
400-meter dash: Milan Virant, fourth, 52.9;
1,600-meter run: Jesse Rien, third, 4:31; Dan Pearson, sixth, 4:44;
400-meter relay: Ryan Whitcomb, Josh Trees, Nic Glenz, and Adam Schaefer, first, 45.44;
3,200-meter relay: Riley Flanders, Tom Flannigan, Chad Wyffles, and Scott Thompson, third, 8:29.9;
High jump: Trees, third, 6' 2";
Long jump: Andy Jones, third, 20' 4";
Triple jump: Trees, first, 46' 0";
Pole vault: Nic Glenz, seventh, 12'.

---
Contact the author at paypress@lkdllink.net • Return to Sports
Home
| Marketplace | Community
---