The Bulldogs girls' track section qualifiers traveled to St. John's University last Wednesday for the Section 5A competition. Each girl did well, but unfortunately no Dogs will advance to state this year.

Sophomore Kendra Johnson had the best race of the day for the Bulldogs. In the 300-meter hurdles, she placed third, missing a state berth by just one place. Each race also has a state standard and Johnson missed qualifying based on time by just 0.64 seconds.

The good news for Johnson was that she broke the school record again in the event. She broke her own record - set earlier this year - by a tenth of a second.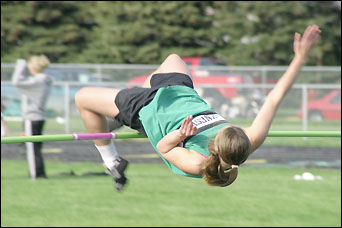 Ninth grader Brooke Schmitz finished fifth in the 1,600-meter run. She was just two seconds behind fourth place: Libby Zupanc of St. Cloud Cathedral.
The Bulldogs' only relay team, the 3,200-meter relay, also finished fifth. The runners - senior Jen Berg, eighth grader Tanis Beireis, senior Mandy Mayer, and eighth grader Kacy Nehowig - had their best time of the season.
Sophomore Kendra Johnson lowered her school record by a tenth of a second in the 300-meter hurdles at sections. She also took tenth in Section 5A in the high jump and in the 100-meter hurdles.
Other top ten finishes were: Nehowig, seventh in the 3,200-meter run; sophomore Brittany Lieser, seventh in high jump; ninth grader Tara Schmidt, eighth in the 200; senior Morgan Martinson, eighth in discus; and Johnson, tenth in the high jump.
Mayer was 11th in the 400-meter dash with her personal best time. As a team, the Bulldogs finished 12th out of 23 teams that scored points at the Section 5A meet.
Coach Dave Randgaard was very impressed by each performance for the Bulldogs. "I was really pleased how the girls were aggressive in their races and how they each put forth their best effort as athletes," he said. He also commented on how tough Section 5A is.
Team scores
1. Mayer Lutheran 134
2. St. Cloud Cathedral 127
3. Delano 69.5
4. Sauk Centre 39
5. Becker 34
6. ACGC 31
6. Maple Lake 31
8. Milaca 30
9. Annandale 28
10. Watertown-Mayer 26
11. Albany 23
12. Paynesville 19.5
13. Holy Family 19
14. Holdingford 16
15. Pierz 15
15. Lester Prairie/HL-W 15
17. LPGE 14
17. New London-Spicer 14
19. BBE 7.5
20. EV-W/Kimball 5
20. Norwood Young America 5
22. Upsala/Swanville 2
23. Royalton 1

Individual Results
100-meter hurdles: Kendra Johnson, tenth;
300-meter hurdles: Johnson, third, 47.9 (new school record);
100-meter dash: Tara Schmidt, 11th;
200-meter dash: Schmidt, eighth, 28.52;
400-meter dash: Mandy Mayer, 11th, 64.37 (personal best);
1,600-meter run: Brooke Schmitz, fifth, 5:26.34;
3,200-meter run: Kacy Nehowig, seventh, 12:11.65; Tanis Beireis, 13th, 12:56.69;
3,200-meter relay: Jen Berg, Beireis, Mayer, and Nehowig, fifth, 10:21.29;
Discus: Morgan Martinson, eighth, 111Õ 1Ó;
High jump: Brittany Lieser, seventh, 4Õ 10Ó; Johnson, 10th, 4Õ 8Ó;
Long jump: Schmidt, 16th, 12Õ 10Ó;
Pole vault: Paul, no height.
---
Contact the author at paypress@lkdllink.net • Return to Sports
Home | Marketplace | Community
---