The Bulldogs baseball team repeated as subsection champions last week, edging Maple Lake 5-3 in the subsection semifinals and then clobbering ACGC 10-0 in the finals.

The Bulldogs advanced to the Section 5AA tournament again, where they will try to earn back-to-back trips to the state tournament. The Section 5AA tournament is being held this week in St. Cloud at Faber Field. The section finals will be held on Thursday, June 5, starting at 5 p.m.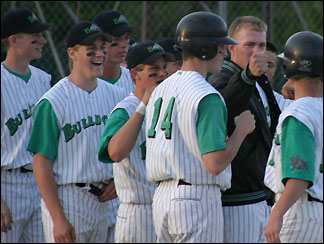 The Bulldogs (13-5) jumped all over ACGC in the subsection final at Maple Lake on Thursday, getting a homer and five shutout innings from junior Adam Kampsen and two two-run homers from senior Josh Kampsen. The Dogs were seeded #1 in the subsection, and ACGC was #2.
The Bulldogs took an early lead in the bottom of the first as Adam Kampsen homered and Josh Kampsen walked, stole second, and scored on two throwing errors.
Bobby O' Fallon, Adam Hemmesch, Jordan Haag, Scott Thomes, Josh Krupke, and Adam Kampsen congratulate Brandon Berg at home plate after Berg scored the Bulldogs' ninth run as a pinch runner in the fourth inning against ACGC. The Dogs won 10-0 in five innings on Thursday.
In the second inning, the Dogs scored six runs on five hits and one walk. Sophomore Justin Butkofski started the rally with a double to right, and senior Scott Thomes walked. Junior Adam Hemmesch and senior Russ Leyendecker had RBI singles, and Adam Kampsen had a two-run single. Josh Kampsen capped the rally with a two-run homer to left.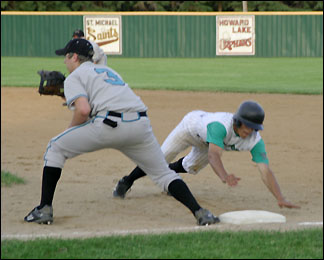 In the fourth inning, the Kampsen brothers teamed up again to give the Bulldogs a ten-run lead. Adam Kampsen singled and Josh Kampsen worked the count full before hitting his second two-run homer of the game and fourth of the week.
Adam Kampsen pitched five shutout innings, allowing only one hit, as the Bulldogs ended the game in five innings under the ten-run rule. Kampsen has now pitched 20 shutout innings and has only allowed one unearned run in his last 28 innings pitched.
Senior Russ Leyendecker dives back to first during the Bulldogs' six-run second inning against ACGC in the subsection final on Thursday in Maple Lake. Leyendecker had an RBI single and came around to score.
"We played excellent baseball," said coach Brad Skoglund. "We hit the ball well. We ran the bases well. I'm really pleased the way we played."
Skoglund said the coaches told the players to give it their best and they did. "We said, 'Now it's time to let the clutch out and let it fly.' We did. We played very aggressive," said Skoglund.
The Bulldogs have won five subsection titles (1991, 1992, 1996, 2002, and 2003) in the past 12 years.
They opened the Section 5AA tournament at Faber Field in St. Cloud on Monday against Waconia, losing 14-4. They played ACGC again on Tuesday evening with the winner advancing to the finals on Thursday.
| | | | | | | |
| --- | --- | --- | --- | --- | --- | --- |
| ACGC- | 000 | 00x | x | - 0 | 1 | 2 |
| Paynesville- | 260 | 2xx | x | - 10 | 9 | 1 |
ACGC - Batting: Quincy McNeil 1-2; Pitching: (ip-h-r-er-bb-k) Luke Wallace (L) (2-6-8-7-2-1); Brad Hopp (2-3-2-2-1-1).
Paynesville - Batting: Adam Kampsen 3-3 HR R-3 RBI-2; Josh Kampsen 2-2 HR-2 R-3 RBI-4; Adam Hemmesch 2-2 R RBI SB; Justin Butkofski 1-2 2B R; Russ Leyendecker 1-3 R RBI; Pitching: (ip-h-r-er-bb-k) Adam Kampsen (W) (5-1-0-0-0-5).
Paynesville 5, Maple Lake 3
Following a 12-day layoff, the Dogs rallied to beat #5 Maple Lake on Tuesday, May 27. Josh Kampsen hit a two-run homer in the bottom of the seventh inning - his second of the game - to give the Dogs the win.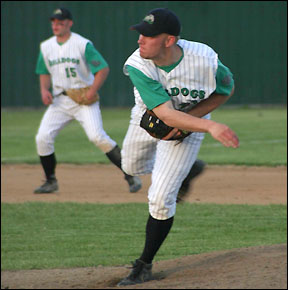 Maple Lake took the early lead by scoring a run in the second inning and two more in the third. In the third, Darrin Decker hit a bases-loaded double for Maple Lake, scoring two runs, but the Bulldogs threw a third runner out at the plate to end the inning. Centerfielder Josh Krupke threw to second baseman Russ Leyendecker, who made the relay to catcher Jon Hemingson.
That was a key play, according to Skoglund, as was coming back in the bottom of the third and scoring two runs. Adam Kampsen was hit by a pitch, and Josh Kampsen hit his first two-run homer.
In the fifth, the Bulldogs left the bases loaded and failed to score, with Maple Lake making a force out at home to maintain their lead. But in the sixth inning, senior Scott Thomes doubled and scored on a single by Leyendecker to tie the score 3-3.
Junior Adam Kampsen pitched five shutout innings against ACGC on Thursday, running his scoreless string to 20 innings pitched.
In the seventh inning, Adam Kampsen led off with a single, and Josh Kampsen followed that with his game-winning two-run homer. He also pitched a complete game to earn the pitching victory.
Skoglund said the Dogs started slowly against Maple Lake due to the team's long layoff between games. (The team played its last conference game on May 15.) Skoglund felt the players and coaches worked hard during that long stretch of practice - scrimmaging Melrose and Willmar and holding a practice under the lights - but their bats were slow to start against Maple Lake, made even more difficult because the Irish starter mixed speeds and arm angles well, he said.
| | | | | | | |
| --- | --- | --- | --- | --- | --- | --- |
| Maple Lake- | 012 | 000 | 0 | - 3 | 9 | 1 |
| Paynesville- | 002 | 001 | 2 | - 5 | 7 | 1 |
Maple Lake - Batting: Darin Decker 3-3 2B R RBI-2; Ryan Finke 1-3 2B RBI; Kenny Finke 1-4 R; Pitching: (ip-h-r-er-bb-k) Jeff Renier (5.2-3-3-3-2-5); Ryan Finke (L) (0.1-2-2-2-0-0).
Paynesville - Batting: Josh Kampsen 2-3 HR-2 R-2 RBI-4; Adam Kampsen 2-3 2B R-2; Scott Thomes 1-3 2B R; Russ Leyendecker 1-4 RBI; Chad Stang 1-3; Pitching: (ip-h-r-er-bb-k) Josh Kampsen (W) (7-9-3-2-0-5).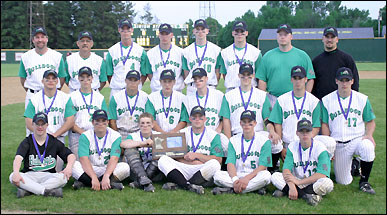 The Bulldog baseball team won the Subsection 20AAtitle for the second consecutive season. Team members area: (sitting) manager Matt Bayer, Justin Butkofski, Jon Hemingson, Josh Kampsen, Scott Thomes, and Brandon Berg; (kneeling) Kevin Mehr, Chad Stang, Russ Leyendecker, Chris Beier, Ross Jaeger, Adam Hemmesch, Tyler Kochman, and Michael Mueller; (standing) head coach Brad Skoglund, assistant coach Dick Realdsen, Jordan Haag, Adam Kampsen, Bobby O'Fallon, Josh Krupke, assistant coach Tom Ludwig, and assistant coach Justin George.

Section 5AA Tournament at Faber Field, St. Cloud
GAME 1
Subsection runners-up - ACGC vs. Belle Plaine
Monday, June 2, 5 p.m.
GAME 2
Subsection champions - Paynesville vs. Waconia
Monday, June 2, 7:30 p.m.
GAME 3
ACGC vs. Paynesville - Tuesday, June 3, 7 p.m.
GAME 4
Game #3 winner vs. Game #2 winner
---
Contact the author at paypress@lkdllink.net • Return to Sports
Home | Marketplace | Community
---