Girls advance two ninth graders to state track...
Hess in distance runs and Bachman in pole vault
This article submitted by Courtney Karsch on 6/2/99.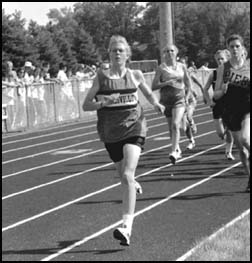 On Thursday afternoon, the Paynesville girls' track team had their section meet in Melrose. Fifteen members of the Paynesville team qualified to compete at this meet, based on their performance at sub-sections.

The competition at sectionals is the toughest of the season so far. It was a hot day, but the girls were ready to compete for a berth in the state meet. The top two finishers in every event advance to the state meet.

Jenny Hess, right, and Melissa Bachman will represent the Bulldogs at the state meet this weekend in Blaine. Overall, Paynesville, as a team, got seventh place with 40 points.

To start off the meet, the 3,200-meter relay team ran and placed seventh with a time of 10:58. This team has been real strong all year, and they have trained hard. The members are Carin Frenchick, Amanda Mayer, Leanne Kolb, and Danielle Lieser.

Jenny Hess is an outstanding athlete and has had a great season. She has been undefeated in both her mile and two-mile races. She is a competitive athlete and it definitely showed on Thursday. She took first place both in the mile and in the two-mile runs! In the mile she ran a 5:25, and in the two mile she ran a 11:58.

Hess won the mile run at sections for the second straight year.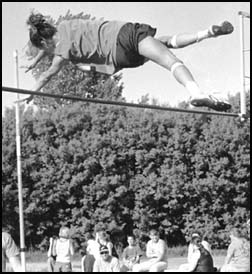 Melissa Bachman, left, got seventh place in the pole vault, but she cleared the state qualifying height of 9'0" on her third attempt. This is also a new school record, breaking her own record of 8'6". This event had eight girls qualify for state, which is very unusual..
"We didn't do as well as we wanted in certain events, but had some positive surprises in others. Jenny and Melissa will represent Paynesville well at the state meet," said coach Dave Randgaard.
Tiff Rausch barely missed qualifying for state again in the 400-meter run. She was third, just a half second away from second and a state berth.
The state meet will be held at the National Sports Center in Blaine on Friday and Saturday, June 4 and 5. Hess will run the 3,200-meter run on Friday, at 6:30 p.m. The 1,600-meter run will be on Saturday at 2 p.m.
Bachman will vault on Saturday as well, starting at 1:30p.m.
I would like to thank the seniors, Amber Michaelis and Gina Benson, for making this a great season for everyone and for being great leaders. I want to wish you the best of luck at college in all you do.
I, and the rest of the team, would like to wish Jenny and Missy luck at the state meet. Good luck girls!
Individual Results:
3,200-meter relay: (Carin Frenchick, Amanda Mayer, Leanne Kolb, Danielle Lieser), seventh,10:58;
100-meter hurdles: Amber Michaelis, 16.7, did not place (DNP);
100-meter dash: Tiff Rausch,13.5, DNP; Courtney Karsch, 13.6, DNP;
1,600-meter run: Jenny Hess, first, 5:25;
400-meter dash: Rausch, third, 1:02.96; Pyper Garmon, 1:06.8, DNP;
300-meter hurdles: Michaelis, 54.3, DNP;
800-meter run: Frenchick, 2:40.8, DNP;
200-meter dash: Rausch, sixth, 27.28;
3,200-meter run: Hess, first, 11:58;
1,600-meter relay: seventh, 4:31.88;
Pole Vault: Melissa Bachman, seventh, 9'0";
Triple Jump: Bachman, 31'11", DNP;
High Jump: Gina Benson, sixth, 4'10";
Long Jump: Michaelis, 14'11", DNP.
---