Frandson and Stoneburner qualify for girls' section golf meet
This article submitted by Mackenzie Merrill on 6/2/99.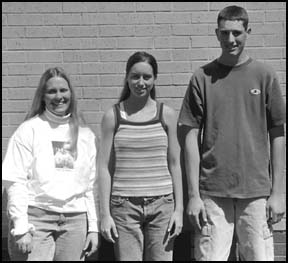 On Monday, May 24, the Bulldogs headed to Little Crow Golf Club in Spicer to defend their sub-section championship title. The weather was beautiful as the girls prepared for the 18-hole tournament.

At sub-sections, the girls competed against 11 other teams. None are from the Bulldogs' conference and this gave the competition a new flavor. It also makes it more difficult, for the skill level of the other teams is unknown.

The top two teams at the meet advanced to the section meet, as well as the top ten individuals from the remaining schools.

Advancing individually for the Bulldogs were Mary Frandson, left, with a total score of 94 and Lynn Stoneburner, center, with a 98. Frandson finished fifth overall. (Pictured far right: Ryan Wall qualified for the boys.)

Other scores counting for the Bulldogs were Maria Janotta with a 108 and Sally Heitke with a 109. Katie Wright and Mackenzie Merrill also competed in the meet. The Bulldogs' total for the day was 409, which placed them fourth in the sub-section.

Advancing as a team were Becker, with a score of 376, and Lester Prairie, with 389.

The best round of the day was a 78, shot by Dassel-Cokato's Kelly Dolan.

Sections were held yesterday at the Rich Springs Golf Club between Cold Spring and Richmond. The report for this meet will be in next week's Press.

The state golf meet for Class A will be held next Monday and Tuesday, June 7 and 8, at the St. Cloud Country Club.

Team scoring
1. Becker-- 376
2. Lester Prairie-- 389
3. Dassel-Cokato-- 402
4. Paynesville-- 409
5. Glencoe-Silver Lake-- 412
6. Annandale-- 418
7. Buffalo Lake-Hector-- 427
8. Belgrade-Brooten-Elrosa-- 441
9. Sibley East -- 460
10. Maple Lake -- 492
11. ACGC-- 511

Individual scoring
Mary Frandson-- 94
Lynn Stoneburner-- 98
Maria Janotta-- 108
Sally Heitke-- 109
TOTAL-- 409

A small awards banquet was held at the Koronis Hills Golf Course on Friday. Receiving the award for Most Improved was Maria Janotta. Lynn Stoneburner won Most Consistent for the third year in a row, and, once again, Mary Frandson was named MVP. Congratulations girls on a good season!
---